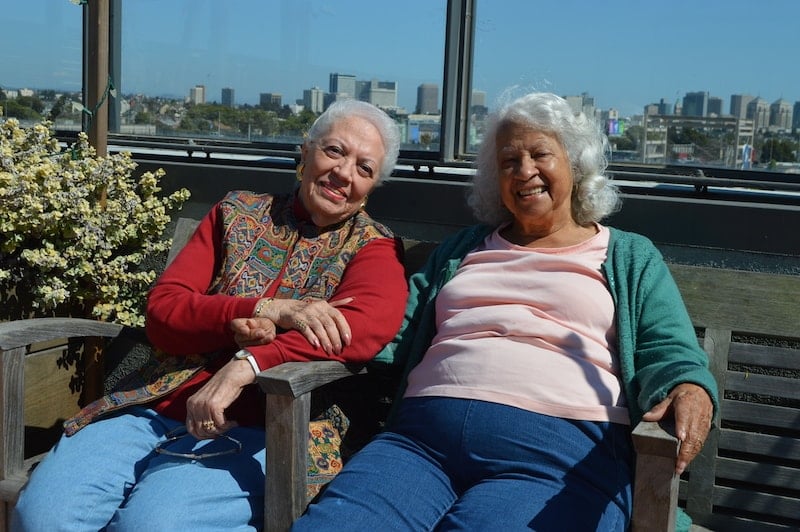 For many seniors, living on social security or retirement benefits can make it difficult to maintain the kind of living situation they had during their working lives. Living on a fixed income provides challenges in an increasingly expensive world, particularly in regard to the expense of maintaining a residence. In recent decades, a new trend has developed for affordable senior living: finding senior roommates to share the cost of housing.
Senior roommates provide many advantages for older people beyond helping with household expenses. One of the most significant is the companionship that a roommate can provide, when the loss of a spouse or the aging of a social network leaves older people socially isolated. A recent government report on the increasing social isolation among seniors notes that living alone is one of the risk factors for social isolation. It also points out that social support has "a strong protective effect on seniors' health." A roommate can reduce feelings of social isolation, and perhaps provide a new and enduring friendship.
Having a roommate offers other benefits as well. Having another person at home provides help when needed, as in the case of falling or needing medical help, as well as assistance with household responsibilities. A roommate may have a car to facilitate errands or to do things for entertainment outside the house. Having another person close by makes independent living more possible by eliminating some of the hazards of being alone.
The growing interest in alternative senior housing arrangements has taken many directions in recent years. In Los Angeles, the nonprofit Affordable Living for the Aging (ALA) has worked for the last 30 years to find compatible senior roommates for those who can benefit from a shared living arrangement. The arrangements can include a single roommate to share a residence, or group living situations where several people live together.
The trend towards seniors sharing residences has produced numerous online options, such as SeniorHousemates.com. As with all other Internet sources, users should exercise caution when sharing information. However, such sites provide profiles of potential roommates that can help seniors find others with shared interests and backgrounds that may be a good fit for a compatible living situation.
A 2012 Census Bureau survey showed that over a third of women in the US who are 65 or older live alone. One of the reasons cited in the survey is that the divorce rate for people over 50 has doubled since 1990, and other reasons include the death of a spouse or the choice to remain independent. But as the challenges of independent living become more difficult, the roommate option can be increasingly attractive, enabling people to stay in their homes and find interesting companions in the process.
Various sources online and through other forms of media report that senior roommate situations can be far better than living alone. One story, broadcast on ABC in Los Angeles, tells of one particularly successful living arrangement. It is important to remember, though, that not all roommates are good ones, and all contractual arrangements should have an escape clause, should things not work out. But if they do, a senior roommate arrangement can relieve the stress of fixed income living, provide valuable support, and potentially great companionship, all of which make independent living possible.
If you're interested in finding a senior roommate for yourself or a loved one, the Seniorly Team has a list of comprehensive resources that can help you find what you're looking for. Simply call (866) 855-4515 or email us at info@seniorly.com. You can also visit our friends at Silvernest to immediately browse homes with rooms available.