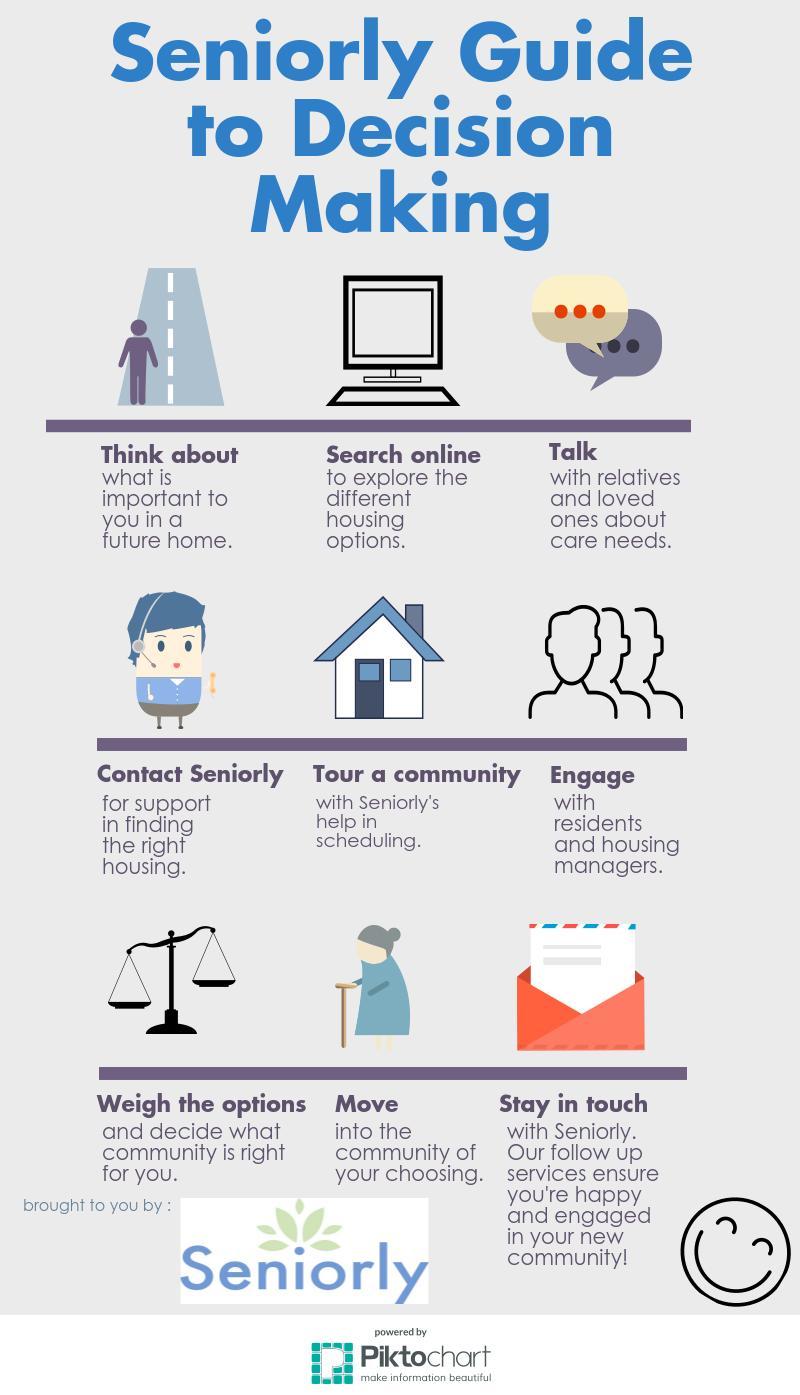 Finding assisted living can be a very difficult task. Two of the most important steps in determining your long-term health and well-being are deciding when to move and which community is the best fit your your needs.
Research has found that the more choice you have in this process, the easier the transition will be. One way to insure more choice is to be proactive and partner with the senior housing experts at Seniorly.
This "Seniorly Guide to Decision-Making" can help you through the search process. We aim to provide the most comprehensive, transparent options when it comes to senior care, by providing resources that will help you make the best decision for your family.
Step 1: Think about what is important to you in a future home.
Some of us are lost when it comes to understanding assisted living for seniors who want to remain healthy and independent as they age. Moving into a senior community, however, can be a positive experience for the whole family if you find a place that is a good fit for you. If you are experiencing fear or anxiety surrounding this major life change, Seniorly can help.
Senior living offers the opportunity to make important social connections and gain new hobbies that can keep you happy and engaged as you age.
To start the process, think about what is important to you in a future home. Some top questions to answer include:
How close do you want to live to family and friends?

Do you prefer an urban, suburban or more rural setting? Is access to public transportation important to you?

What types of services do you need?

Are you interested in having access to a variety of activities? Do you have a particular hobby or interest you want to be able to participate in?

Is it important to you to bring your own furniture? A pet?

Are you comfortable in a large housing community or do you prefer to have fewer neighbors?

Do you want to be able to have guests stay overnight?

How much structure do you want, for example, around mealtimes?
Step 2: Search online to explore the different housing options.
Seniorly.com has a variety of resources to help you find the right housing.
Visit the Resource Center to learn about how to get started and the variety of options that are available to you.
The search tools at Seniorly.com can help you find housing that meets your needs and wishes. For example:
You can find housing in a particular geographic area that meets your care needs, your monthly budget, and your wishes in terms of the number of residents.

You can look at photos and videos of hundreds of communities near you.

You can use search filters to find places where people speak a language other than English; have art and music programs, day trips, or other programs of interest; or meet your cultural and lifestyle preferences.
Here are some other online resources for information about different senior housing options and things to look for in a senior housing community:
How Do I Know Which Types of Senior Housing is Right for Me?
Traits to Look for In A Senior Housing Community Pt. 1
Traits to Look for In A Senior Housing Community Pt. 2
The National Institutes of Health Senior Health
AARP Assessing Housing Options
Seniorly currently has hundreds of options online for families searching for: Assisted Living in San Francisco, Assisted Living in San Mateo, Assisted Living in Palo Alto, Assisted Living in San Jose, Assisted Living in Oakland, Assisted Living in Berkeley, Assisted Living in Alameda, Assisted Living in Walnut Creek, Assisted Living in Santa Rosa, Assisted Living in Sacramento, Assisted Living in Los Angeles, Assisted Living in San Diego, Assisted Living in Philadelphia, Assisted Living in Pittsburgh, Assisted Living in New York, Assisted Living in Boston, Assisted Living in Washington D.C., Assisted Living in Chicago, Assisted Living in Dallas, Assisted Living in Atlanta, and Assisted Living in Denver.
Step 3: Talk with relatives and loved ones about care needs.
Advanced care planning is not easy. None of us want to think about the time when we will need help or, even more challenging, may not be able to make care decisions for ourselves. It's important, however, to have these conversations early on. Having the approval, assistance, and guidance of others is a key part of a good transition into supervised housing. Your family and health care providers may have insights that influence your own perceptions about what will work best for you. Allow them to offer advice and assistance during this difficult transition; finding the right place for you will give them peace of mind as well.
Follow these links for more information on planning for senior living:
What Are Advanced Directives, Powers of Attorney, and Estate Planning
How to Get Started with Advanced Care Planning
Getting Help Planning Your Senior Housing Options

Step 4: Contact Seniorly for support in finding the right housing.
In addition to Seniorly's online resources you can:
Call Seniorly at 415-570-4370 to speak with an expert.
Email Seniorly at ask@seniorly.com for more support.
Step 5: Tour a community with Seniorly's help in scheduling.
You can search for senior housing and access the Resource Center at Seniorly.com without logging in. Joining, however, is free and gives you access to more tools and support, including information on pricing and availability.
Seniorly can help you book tours at communities that interest you. Simply locate the communities on Seniorly, and click the "Book a Tour" link to select a time and date for your tour. The provider will message you to confirm, reschedule, or ask additional questions about your visit to the community.
Visiting a community is the best way to get a sense of how well you might connect with people there, as well as the size and location of the community. You will also be introduced to activities and amenities offered by the particular housing provider. There are a variety of checklists and guides online to help you identify what to look for and questions to ask during your visit. Here are a few to get you started:
Questions to Ask On Your Community Tour
10 Tips for Touring Assisted Living Communities
Step 6: Connect with residents and housing managers.
The residents and housing managers will be key members of your new community. It's important to make sure you will be able to connect with people in your new home. When you visit a community, make sure you get a chance to spend some time with the people you will see day to day, not just the administrators who will walk you through the application process. Have a meal with current residents or join in some activities to get a sense of how you would fit into the community.
Step 7: Weigh the options and decide what community is right for you.
Once you've identified what's important to you, gathered information, and visited a community or two, it's time to make a decision. Now you can weigh your options, revisit communities, and talk to your family and friends in-depth about the future. Research studies have found that this process can take anywhere from a few months to a few years. Either one is okay. Focus on what's right for you and take the time you need to be happy with your decision.
Step 8: Move into the community of your choosing.
Once you've decided to move, there is still a lot of work to be done. Here are some resources that can help make the transition easier.
Making the Move to a Community
A Step-by-Step Guide to Prepare For A Move
Step 9: Stay in touch with Seniorly for follow-up services.
The Senior Living Blog and the Seniorly Resource Center are regularly updated with articles on news, lifestyle, wellness and more! Check back frequently for new information; our resources are always growing to provide you with the most helpful information on senior living options!