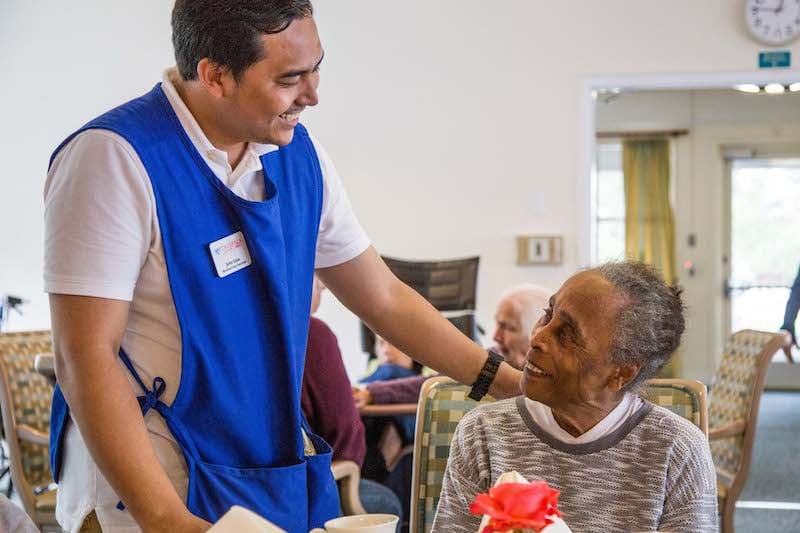 What are board-and-care homes?
Board-and-care homes are a special type of assisted living community. They are licensed facilities that provide room, board, 24-hour staffing, and assistance with things such as bathing, dressing, and medication management. Nursing and medical care are not provided on site. However, home health care, hospice, and other home-based services can be brought in from outside providers.
Board-and-care homes have been around for a long time, but the number of assisted living facilities of all kinds has been growing in recent years as more and more people look for alternatives to nursing homes. There is limited data on board-and-care homes specifically as many states, including California, have incorporated them into the broader category of assisted living for the purposes of licensure and monitoring. However, a 2010 survey conducted by the AARP Public Policy Institute found that across the United States there were over 50,000 non-nursing-home residential settings providing over 1.2 million beds, a dramatic increase from 38,000 facilities in 2007. In California, there were 170,000 beds in residential care facilities, including board-and-care homes, for those aged 65 and over.
There is a great deal of variety across board-and-care homes, but they are distinguished from other assisted living facilities in a number of ways.
They provide a more homelike atmosphere and tend to be situated in single-family homes that have been adapted to meet licensing requirements.

They are integrated into the community so that anyone driving through the neighborhood would not immediately know that the home is a residential care facility.

There are fewer residents, generally 8 to 10, and a lower staff to resident ratio, about 1 to 4.

Historically, the owner of the home tended to live onsite, however since the 1990s there has been a shift toward corporate or multiple ownership of small board-and-care homes by providers who do not live there, but hire staff to either life-in or work in shifts. Many board-and-care homes are started by nurses or other professional service providers who were frustrated with working in larger institutional care settings.
Seniorly Helps You Find Senior Living Options
Who lives in board-and-care homes?
Board-and-care homes have served a diverse group of older adults, especially those who are ill or have financial troubles. Today, the residents of board-and-care homes vary greatly across individual houses.
Overall they resemble the larger population of individuals living in assisted living and residential care. In 2010, residents of assisted living and residential care were mostly female (70%) and age 85 or older (54%). Three-quarters received help with activities of daily living and 425 had Alzheimer's Disease or other dementia. Nineteen percent received Medicaid assistance and 43% of facilities had at least one resident who received Medicaid.
------
How do I pay for a board-and-care home?
Most board-and-care homes are private pay with residents paying out of pocket or perhaps through long-term care insurance or other means. Board-and-care homes tend to be a more affordable option than larger assisted living facilities.
In California, Medi-cal will pay for home health care services just as if you were living in your own home. There are requirements and limitations to this service related to preauthorization, duration, and amount of visits. Requirements may change and can vary by county so it is best to visit the website directly or visit your local county office.
How do I choose a board-and-care home?
Because of the variety across homes, it's important to do some research up front.
Visit a number of places and talk to staff and current residents. Finding a setting and mix of people that is comfortable for you is important.

Ask a number of people what a typical day is like in the facility. Is there lots of activity? Are the residents social and doing things? Or, is it a quieter place where individuals do more of their own thing? Both are fine, but you want to be in a place that fits your personality and lifestyle.

Ask to see the state's most recent inspection report. Find out how many and what type of complaints have been filed against the facility in the last year, if any. The Community Care Licensing Division (CCLD) in the California Department of Social Services is responsible for the licensing and monitoring of all assisted living facilities, including board-and-care homes. A random selection of approximately 20% of facilities are visited unannounced each year. A facility may also be visited in response to a complaint. Results of these visits are publicly available through the CCLD, but the facility is also required to have the report and complaint information on site for your review.

Ask for information on the ratio of nurse aides to residents for the day, evening and night shifts; the amount of staff turnover; and the training given to staff.

Find out if this is the only facility or if the house you are considering is part of a company with a number of houses? Sometimes a slightly larger company with more houses can provide additional services. For example, in addition to the on-site staff they may have nursing staff who visits multiple houses on a regular schedule. They may have events and activities that involve residents from multiple houses. You may have more options about the house you live in.

Ask how the staff cares for residents who become incontinent (e.g., how often they check and clean them) or residents with memory or cognitive problems (e.g., is the facility safe for those who wander, do they use restraints or medications to control behaviors).

Find out if they provide transportation to doctor appointments and community activities.
In short, board and care homes can be a good alternative to nursing homes or larger assisted living facilities for many older adults. There is a lot of variety so upfront research is important, but can be very rewarding when you find the best fit for you.
If you are interested in board and care style assisted living homes for yourself or a loved one, Seniorly makes it easy to find and contact these housing providers online. Simply visit our homepage and search for long- or short-term care in your preferred area. Then filter for resident capacity, specifying that you would like to view homes with up to 20 beds. You can also call the Seniorly Team at (415) 570-4370 for assistance location options that work for your family. We're here to help!