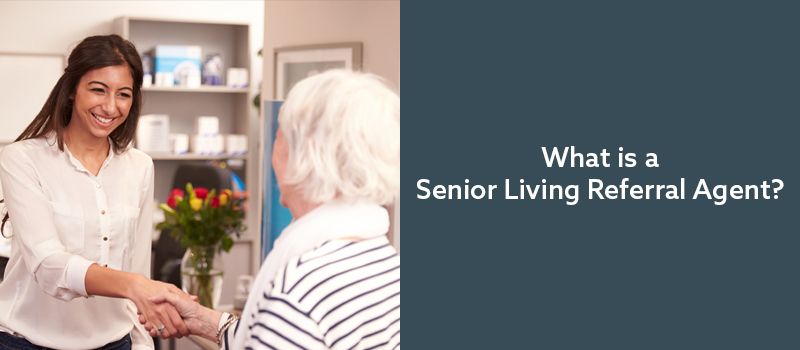 Making the move into a senior living community can be a complex process, whether you're seeking the right situation for yourself or a parent or other loved ones. Fortunately, you don't have to do it on your own. Referral services are available to help you understand what your loved one needs and how to choose the right living environment for them. And the best part — these services are free.
What Is a Senior Living Referral Agent?
Senior living referral agents, sometimes also called elder care referral agents or senior placement agents (we call them Seniorly Partner Agents), can be a company with several employees or just one senior living expert. In either case, they have a wealth of valuable information about all the various senior living options available to you and your loved ones in the local area you are searching.
Referral agents are passionate about helping you make the right decision. They'll help you find and connect with local senior living communities that provide the type of care your loved one needs, they'll answer all of your questions, and they'll work within your budget.
Think of them as local senior housing experts, almost like real estate agents, but with a more specific clientele — senior living communities. Part of their expertise is to ensure you are not overwhelmed in your search. To achieve this, they will personally set up tours of your desired communities, as well as take you on those tours and serve as your advocate, especially getting you answers to questions you might feel uncomfortable asking on a tour (i.e. How much is this going to cost? What do residents complain about? What are your occupancy and turnover rates?).
Some Seniorly Partner Agents may even be able to help you negotiate your contract with a senior living community.
Here's something to pay attention to, for the sake of transparency: You may be asking, "How can they provide their services for free?" The answer: Most Seniorly Partner Agents and agencies have relationships with specific senior living communities, and they get a referral fee if you move your loved one there.
If that concerns you, look for senior placement agents who are members of the Society of Certified Senior Advisors. You might also want to ask whether the agent you're working with is a trained geriatric care manager, gerontologist, or social worker.
Should You Use a Senior Living Referral Agent?
You are the only one who can answer this question. We work with families who want that kind of personal support, and other families who have the time and resources to go it on their own. There is one thing we have found helps ensure the best decision is made for each family: research!
If you have the luxury of time, don't rush the process and research all of your options. Start with a referral agent, asking for basic information about all of the different community types (from independent living to assisted living to memory care). See how the introductory conversation goes. Again, this is all free, so there's no harm in having these early, educational talks.
However, if you don't have time, need to decide quickly. but don't know the options well, truthfully, referral agents are your best bet since they are experiences with all of the local communities.
Whether you live near your parents and know an assisted living nearby, or if you are far away, if you decide to work with a senior living referral agent, they really can be the perfect partner in your process. We're not just saying that because we believe our Seniorly Partner Agents are the best. We are saying this because we know how complex the process can be. Having an expert on call ensures for the best experience for everyone.
This becomes especially true if your loved one is about to be discharged from the hospital and you need to quickly decide — a referral agent can be invaluable. They are experienced in this high stress situation and understand the pressures you are under.
Your Seniorly Partner Agent or senior housing referral agent should be able to provide a comprehensive list of options, with information about each community that you might not be able to get from the internet or even from a visit to the communities. They can speed up your search and take you through the process of narrowing down options quickly. Best of all, we have found that their help can also save you money.
How to Choose a Senior Living Referral Agent?
At Seniorly, we have referral agents ready to help you find the community that will be the best fit for you or your loved one. In addition, local gerontologists or hospital social workers can refer you to senior living referral agents in your loved one's neighborhood. When you talk to a senior living referral agency, asking a few key questions can help you find someone you're comfortable working with. Consider these:
How familiar are they with the local neighborhood and its services for seniors?
Can they provide referrals to other services you might need (moving companies, accountants, or attorneys familiar with elder law)?
Are you a member of the Society of Certified Senior Advisors? What training do you have?
Are you paid for your referrals to the communities you recommend? Do you ever recommend communities that don't pay you?
How often do you update your information on these communities? Do you check for health violations regularly?
See how comfortable you feel with your agent — and feel free to make a change if you're not getting the kind of responses you want. To keep on track with your search, use the Senior Guide to Decision Making — an updated infographic that walks you through the entire process of looking for senior housing. After all, you're helping your loved one make a big change, and you want to do it right.
Would you like to connect to a Seniorly Partner Agent near you? Simply email us at ask@seniorly.com or call us now at (855) 866-4515. We are commited to finding you a home to love.