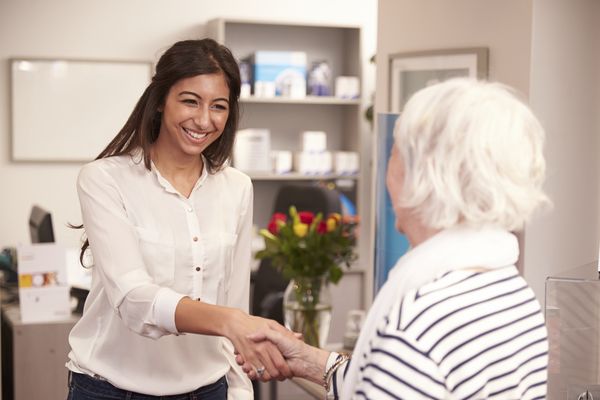 Over the last few years real estate marketplaces like Zillow and Trulia have changed the way people search online for real estate. At the same time, there are now more than 2 million licensed real estate sales agents in the US. While changes in the way people search continues to grow, the vast majority of people still use an agent to help them with transactions. They do this because the process of buying and selling homes is complicated.
The process of finding and moving into a senior living community can also be a complicated process, especially when families are looking for assisted living communities. As the baby boomers age, the little known industry of senior living referral agencies (also known as elder care referral services and placement agencies) has been growing rapidly. These referral agencies are meant to help save time for families in crisis, simplify the search, consult on options, and often assist with the coordination of the move.
Unlike real estate agents, senior living referral agents are usually not licensed. In 2011 Washington was the first state to regulate senior living referrals. Since then, many states have taken steps towards regulating the space as well to protect consumers. While many agents are social workers, geriatric care managers, gerontologists, and senior advocates, the lack of regulation has allowed some issues to happen from time to time. The most common issue, or complaint, is the failure to disclose all options. This happens because senior living referral agents offer their services at no-cost to the consumer. They charge the senior living communities they partner with a percentage of rent (referral fee). Therefore, they only share those partner communities with families. Most agencies do disclose this fact, however, like in all industries, there are good and bad companies. With the rise of the profession there is a growing need for transparency in information on senior living communities and also the senior living referral agents.
While there is no formal training required to become a senior living referral agent, many choose to become Certified Senior Advisors, or join the Society of Certified Senior Advisors that "educates and supports specialists in aging dedicated to improving lives of older adults." There are also many large companies, similar to real estate brokerages. The largest one is called A Place For Mom, which has over 400 agents throughout the 50 states. There are also large franchise companies like CarePatrol, Assisted Living Locators, Oasis Senior Advisors, and Always Best Senior Care. The majority of the industry, however, is comprised of small agencies often with only one agent. These local agents typically focus on one area and get to know the senior living communities pretty well. Many of these local agents have backgrounds in social work, gerontology, or in the senior living industry.
Geriatric Care Managers also assist families find senior living communities. These professionals switch the business model around and typically charge families directly. This allows families to have better knowledge of all options, since the Geriatric Care Manager is not being compensated by partner communities. Ultimately, families need to feel comfortable with whomever is helping them, and some families are willing to pay for that extra knowledge.
There is also a growing Realtor designation called Seniors Real Estate Specialists. This is a certification program by the National Association of Realtors to address the needs of home buyers and sellers 50+. Part of their expertise is assisting families with "lifestyle transitions in relocation." This includes going over housing options, downsizing, and also finding retirement communities.
Most senior living referral agents are found through referrals from friends and family, hospitals, skilled nursing facilities, or caregiver advocacy groups. Finding these agents online can be very difficult. Yelp has an Elder Care Planning tag, and the Society of Certified Senior Advisors also has a search option.

Recently, Zillow has partnered more closely with local agents. They are now able to offer consumers a comprehensive view on real estate listings, and help consumers connect directly with local real estate agents to take them to the finish line. Seniorly is bringing this same concept to the senior living search with our comprehensive listings and partnering with local senior living referral agents. Seniorly believes in delivering the best possible user experience both online and offline. While we certainly have created the best online search experience, we are partnering with more local senior living referral agents to deliver the best possible offline experience as well.