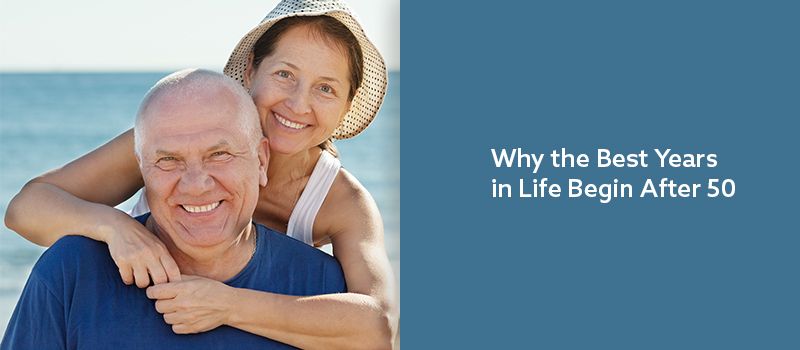 Are We Happier After 50?
According to a study by scientists at Stony Brook University in New York, people are happier and most satisfied with life after the age of 50.
Despite the threat of chronic illness that comes with aging, a majority of those surveyed found their stress, anger and worry fade, while feelings of happiness surged.
Dr. Arthur Stone, one of the authors of the study, called the findings "striking." He said, "The people we talked to were more likely to focus on the good things in life like family and friends than aging and potential illness."
This finding also backs up a "positivity effect" wherein older people recall fewer negative memories and more positive ones, and they are better at regulating emotions than younger people.
It supports a British study as well, which showed happiness is U-shaped over life, being at its highest in the young and the old, and bottoming out in middle age.
Many think this is because people begin to accept their limitations as they age and just appreciate the gift of life.
What Else Attributes to Happiness in Our Senior Years?
There are many theories as to why we seem to be happier as we age. Here are just some of them:
Increased "wisdom" or psychological intelligence in handling life's ups and downs
Fewer aspirations and expectations of self
Sense of fulfillment and accomplishment
Greater appreciation of life
Living in the moment with less worry about the future
Greater ability to regulate emotions than younger people (more patience and understanding)
Less worry about pleasing people all the time
Fewer "negative" memories than younger people
Overall tendency to view situations positively
Great Ways to Stay Happy in Your Senior Years
According to the website Happify (A great website to check out at any age), here are five secrets to finding happiness after age 50.
Focus on Your Passions
Wes Moss, author of "You Can Retire Sooner Than You Think," says older people are happier when they have at least 3-5 core pursuits. So, what are you waiting for? Get out there, start those hobbies and follow your passions!
It's Not Too Late to Get in Shape
Exercise is a proven way to improve both your health and your happiness over 50. Why not keep your body and your brain working the way they should be?
Build Strong Social Relationships
Getting out in the world with other people is essential to happiness. People with strong social networks tend to live longer than those who don't have them. Join a club or invite someone to lunch. You'll be happier for it.
Invest in Your Marriage
This is not an easy one for everybody. And it's true not all marriages were meant to last.
However, it is true that those who are able to maintain a strong marriage as they age tend to stay happier and healthier later in life.
If you are happily married, do everything in your power to keep it that way. In addition to receiving the gift of love, you may also get the gift of a longer, happier life.
Find a Sense of Purpose
After you turn 50, you have so much to give back to the world. Beyond donating your money, why not give back some time to a cause you're passionate about? Volunteer in an animal shelter or tutor a young person.
Giving back to the world has shown to increase the emotional well-being and happiness of seniors.
For more inspiring content on aging, visit the Seniorly Resource Center.