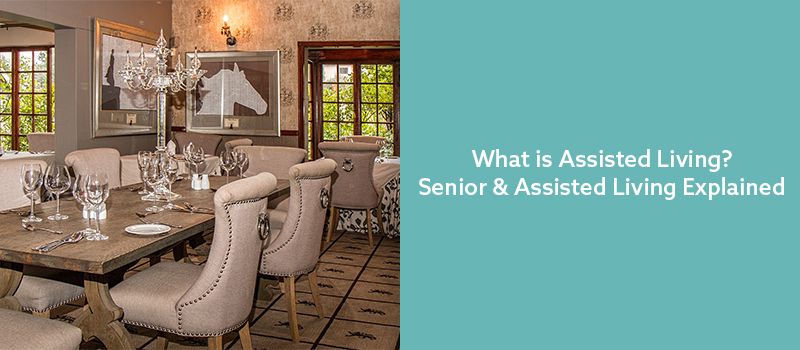 What is assisted living? And is it right for you? Let's review the types of assisted living and senior living definitions to find out which one is right for you.
What is Assisted Living?
Assisted living is a type of housing for the elderly that provides support for daily living tasks and includes a variety of senior housing options. Most assisted living residents don't need full-time medical care and are largely independent but often need assistance with daily living and personal care tasks, including bathing, dressing, housekeeping and eating.
Assisted living is the most common type of "senior living" since it includes support for daily living but still allows for some independent living activities, such as social activities and having your own living space.
If you're starting your search into senior care communities and assisted living communities near you, there are so many options available, it can often be confusing. This article explains what are the different types of assisted and senior living options to make sure you're choosing the right assisted or independent living communities for your loved one.
Assisted Living vs. Senior Living
Senior living defined includes assisted living but is also a broader category that includes other independent living communities or in-home care housing options for older adults. Senior living includes terms such as assisted living, memory care, active adult, 55+ housing, and continuing care retirement communities.
Senior living communities are built for folks simply looking for a maintenance-free lifestyle to those that need 24-hour medical care or skilled nursing care. We've put together this guide to explain some of the most common property types of senior living and assisted living communities to help you decide what's right for you.
Housing with Assistance for Seniors
Assisted living housing for seniors comes in all different levels of care, including medical and non-medical communities. Here are four common types of housing with assistance for seniors explained, including:
Assisted living communities

Residential care homes (board and care homes)

Alzheimer's care or memory care communities

Skilled nursing community or nursing homes
1. Assisted living is the most common type of senior living. Assisted living communities come in all shapes and sizes, but are meant to deliver 24-hour non-medical care. They typically do not have nurses or doctors on staff, and instead focus on assistance with activities of daily living like eating, bathing, dressing, etc.
2. Residential care home, also known as board and care homes, are small home-like properties that deliver the same services as larger assisted living communities. Residential care homes are often single family homes that are converted care communities for 4-6 people. Board and care homes are usually a more affordable choice to larger assisted living communities, but do not have the same level of services, skilled nursing care and amenities.
3. Alzheimer's Care, also known as memory care, are typically wings inside large assisted living communities that focus on non-medical care for residents with Alzheimer's or other Dementia related diseases. There are some "stand alone" memory care communities that only accept residents with dementia. These are typically purpose built communities designed for people with cognitive impairment or behavioral issues associated with their dementia.
4. Skilled Nursing Communities, also known as nursing homes, are senior living communities that deliver medical care. They are public paid through Medicare or Medicaid programs. Often older adults are in skilled nursing communities for a short period of time, rehabilitation period, before returning home after a medical procedure. Custodial care, or long-term care, in skilled nursing communities is when residents move into these communities long-term.
Housing for Independent Older Adults
Senior living also includes independent living communities and housing for older adults. These type of communities are designed to provide support of others with socialization, safety and community. Here are three common types of independent living communities for seniors, including:
Senior apartments

Active adult living or 55+ housing

Independent senior living
1. Senior Apartments, sometimes also called Age-Restricted Apartments, are conventional apartment buildings for older adults. Often they are built in areas zoned for age-restriction, and many times the rent is subsidized by a governmental organization (known as Affordable Senior Housing). Senior apartments do not usually offer any services or special amenities for seniors, although there are some exceptions.
2. Active Adult Living, also called 55+ housing, are apartment buildings, condominiums, and/or suburban housing developments for people over 55. The bulk of these properties offer units for sale, although there are some rental properties included. Many of these communities are "lifestyle" focused, catering to folks in their 60s and 70s looking to downsize. They typically include a clubhouse with a lively social calendar, and many times are located on golf courses. They usually do not include care services or dining. There is a growing trend of people hiring in-home care as care needs come up to remain in these communities.
3. Independent senior living communities are typically large hotel-like communities. They often are full-service including housekeeping, transportation, dining, and social engagement. These independent senior living communities are more expensive than conventional apartments, but are purpose built to allow folks an easy retirement. Many of these communities have partnerships with in-home care agencies and can offer care services for those that want to remain in the community.
Aging-In-Place Housing
Aging-in-place housing communities provides seniors many options with health care, daily living support and community. Here are two of the most common types of "aging-in-place" housing communities, including:
Continuing care retirement communities or life plan communities

Program of All-Inclusive Care for the Elderly (PACE)
1. Continuing Care Retirement Communities, also called Life Plan Communities, are developments built to allow older adults to age-in-place. This means that they can support all levels of care from fully independent seniors to 24-hour medical care. Continuing care retirement communities typically have large entrance, or buy-in fees, that then allow residents to pay a flat monthly fee no matter what level of care they need.
2. Program of All-Inclusive Care for the Elderly, or PACE programs, are comprehensive social and medical services for older adults who are dual eligible for Medicare and Medicaid benefits. Seniors in this program must switch all their medical services to the PACE program, and benefit from care at home, in day programs, and Skilled Nursing. PACE programs are growing and becoming a strong alternative to the struggling Skilled Nursing segment.
There are more segments within each of these categories, but this list includes the major property types in senior living communities.
To see what other senior housing options are available, enter your zip code below to find other senior living options in your area.
For more detailed information read our other articles on assisted living: