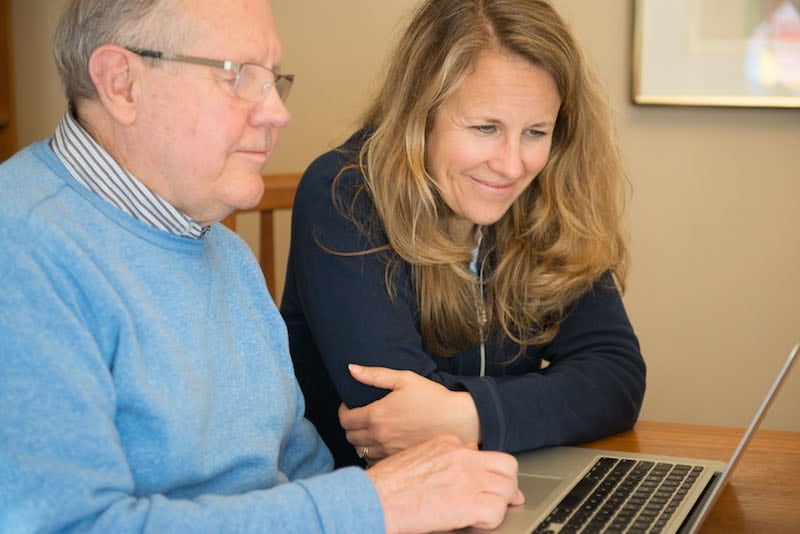 It's never too late to jump on board the volunteer bandwagon. National Volunteer Week is April 12–18, 2015, and it offers a great excuse for children and senior parents to come together to volunteer their time and talents to others. If your parent is in assisted living, we've got you covered there too.
Benefits of Volunteerism
The volunteer door swings both ways with the volunteer gaining as much, if not more, than the recipient does. Volunteering offers:
Ways to add new purpose to your life

Ways to stay engaged while aging

Ways to stay mentally alert while aging
Volunteer Options for Mobile, Healthy Seniors
In addition to the usual volunteer opportunities—staffing the desk at a hospital, working the polls on Election Day, working with the Red Cross—look over the opportunities below.
USO – The USO exists to support the military community, military families and former military members as they transition back to civilian life. Volunteer experiences vary by location, and you might be able to welcome home soldiers, sailors, airmen or marines when they return from a foreign tour of duty by meeting their airplane or ship.

SCORE (formerly Service Corps of Retired Executives) – SCORE volunteers mentor entrepreneurs as they start, run and grow a small business. Helping someone to score a success is one of the ways to keep your parent mentally alert while aging.

Volunteer vacations – If your parents are in good health and like to travel, a family volunteer vacation is one that you'll remember for a lifetime. A world of opportunities from assisting on an archaeological dig to working with at-risk children in exotic locations awaits you at Transitions Abroad, where they've compiled an outstanding list of opportunities. Organizations that offer disaster relief are always looking for a helping hand.

Disaster relief – A natural disaster hits the psyche as hard at it does the home. When a disaster hits your area, watch your local media for volunteer opportunities or call community and/or faith-based organizations to find out how you can help.

Docents – Botanical gardens, museums, and historical buildings and homes and are often in need of docents. As a guide, you are guaranteed to make new friends and soak up a little culture at one of these venues.
Seniors Helping Seniors
If your parent calls assisted living "home," that arrangement presents ways to volunteer with seniors in a less structured manner. Ask the residents and staff how you can help, and start with the ideas below.
Reading Club – Set up a weekly "reading club." This works best with short stories or serialized fiction. You and your parent can read aloud to the club and encourage others to join you. Lead the discussion about the story at the end.

Visiting Scribe – Help residents write letters to their grandchildren or nieces and nephews. A letter in an envelope with a stamp is something many of today's children have never received.

Adopt a Senior – Adopt a lonely resident at your parent's senior living facility and pay a weekly visit. Bring a small refreshment or a newspaper, maybe a deck of cards. Visit the resident on holidays and make them feel like a part of your family.

Welcome Committee – Collect cards for a resident returning from the hospital and decorate the room with balloons and streamers.

Set up a Newsletter –Work with the staff to run a small, monthly newsletter for the residents.
If you expand your definition of volunteerism to include concerted acts of kindness, you and your parent will find opportunities to spend meaningful time together in bringing joy to others.