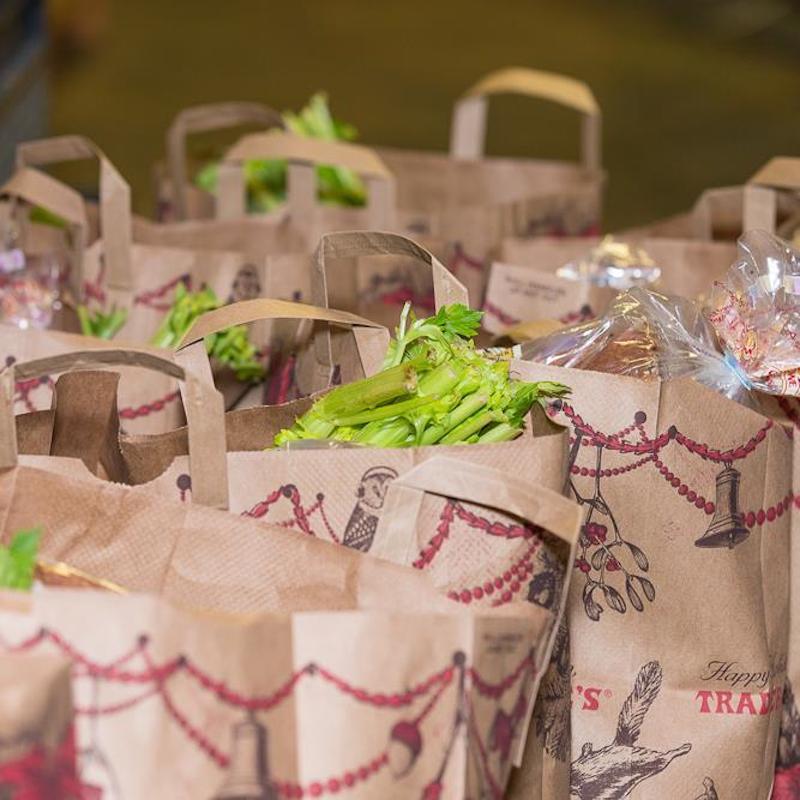 As the holidays draw near, people are seeking volunteer opportunities that will allow them to give back to their communities. Seniorly believes that the Mercy Brown Bag Program in Oakland, California is an excellent choice for getting involved this holiday season.
For more than 30 years, Mercy Brown Bag Program volunteers have been working to provide food to San Francisco Bay Area seniors in need. Operated through ElderCare Alliance, the Mercy Brown Bag Program was started by the Mercy Retirement and Care Center which partners with the Alameda County Food Bank. Together, they identify seniors in need of food, and they work tirelessly to meet those needs.
What's in a Bag?
These old-fashioned brown grocery bags are filled to the brim with nutritious foods. Approximately 19 pounds of food will fit into one of these bags, and the program distributed approximately 53,000 bags in a recent year.
Bags traditionally have a mix of fresh and shelf-stable foods, making it possible for recipients to make their own healthy meals for several days after recieving the bag.
Who Qualifies?
In order to receive a bag of food, individuals need only meet a few minimum qualifications. They must:
Be 60 years of age or older.

Live in Alameda County, California.

Have a monthly income of under $1,354 for an individual or $2,192 for two people.
Donations and volunteers are necessary to make this project work. Each year, approximately 500 volunteers donate 21,000 hours to sort, pack, and deliver the bags. Without their help, the bags would never reach the intended recipients.
Why is This Important?
In the last year, the Mercy Brown Bag Program has been able to reach 4,569 seniors in need. These recipients were provided with 975,807 pounds of food. Senior care of this type is vital to individuals who would otherwise be scraping by. Especially during the holiday season, it is important for those who are more privileged to give some of what they have to the less fortunate.
In the last year, 52 percent of all Alameda seniors contacting the Food Bank had to choose, at some point, between purchasing food and purchasing medicine or medical care. And approximately 46 percent had to choose between buying food and paying bills. Senior living is a challenge when food insecurity is perpetually a concern, and Seniorly wants to do its part to alleviate this serious hunger problem in the San Francisco Bay Area.
We understand that senior living can be expensive; that's why we're constantly updating our website with more senior housing options, so every Seniorly family can find the type of care that fits their needs and budget. Our new updates now make it possible to compare different communities by things like pricing, availability, and amenities. With Seniorly, you can have a partner in the search for senior housing.
National Needs, Local Solutions
According to statistics provided by the National Conference of State Legislatures (NCSL), approximately 75 percent of older Americans depend entirely on Social Security for their income. And more than nine percent of seniors were food insecure in 2012.
When additional factors such as bills and medical expenses were taken into account, the percentage of senior adults who were considered food insecure rose to 15 percent. This is not a problem localized to the Bay Area, but thanks to programs like the Mercy Brown Bag Program, San Francisco Bay Area seniors who need assistance have a way to receive the aid they need.
Volunteering is its Own Reward
So many people volunteer at the holidays because it feels like the 'thing to do.' Little do they know, giving can actually have a host of benefits that can help volunteers develop a better quality of life.
Volunteering with programs such as Mercy Brown Bag in Oakland give participants the chance to build social connections by interacting with the community. This can lead to a boost in mood and spark new friendships that can help relieve holiday loneliness and isolation.
Part of what the program strives to do is to provide holistic and vocational wellness to volunteers, to engage them and give them a sense of well-being. So try it out this year; you may even find yourself coming back for more!
Give and Receive
While looking for an opportunity to practice the theory of 'it is better to give than to receive,' this holiday season, look no further than the Mercy Brown Bag Program. But be prepared to receive more than you had expected, while providing hungry seniors with the food they need to survive and thrive during the holidays. No matter if you give a few hours or a few weekends of your time, your effort will be much appreciated, and you could even make some new friends along the way!
Seniorly can be found at a plethora of holiday gift drives and charity events, so look out for our blue and white t-shirts, and feel free to come say hi! We're proud supporters of the Mercy Brown Bag Program in the San Francisco Bay Area, and we look forward to the connections we make while volunteering.

If you would like other ideas on how to get involved in volunteering during the holidays, Seniorly has several articles to get you started on the path to volunteering in San Francisco.