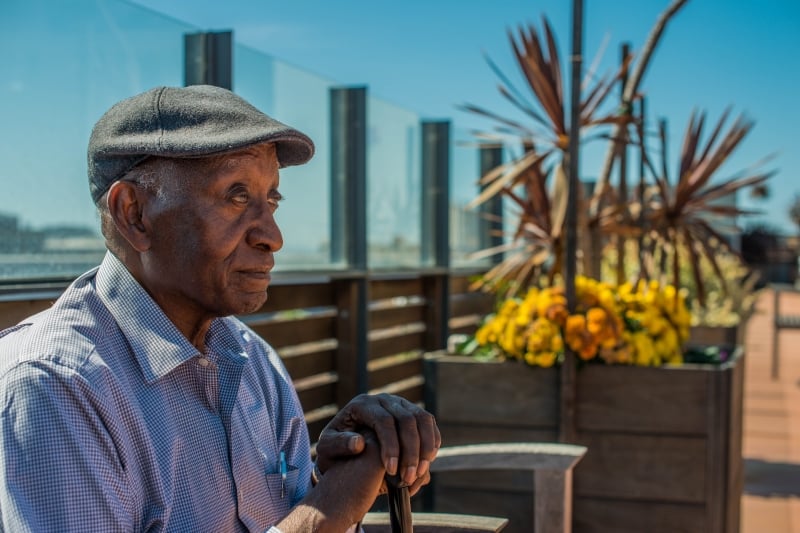 By far, isolation is one of the most persistent problems that can affect our elders. Often, when their spouse dies or their children move away, they can suddenly be left alone during a time in their life when they most need companionship. Not only can this be dangerous if they fall or have some other health issue at home, but it can also lead to depression which further deteriorates their health.
In an effort to combat elder isolation and fulfill their mission to provide a "continuum of residential and innovative aging services that actively promote intellectual, physical, social and spiritual well-being," Episcopal Senior Communities (ESC) began the ElderWISE program in 2009. This service matches seniors aged 60 and over with volunteers who visit with them one-on-one several times a month. Its goal is to give elders someone who will be a compassionate presence in their life, and who will remind them that they are not alone.
Episcopal Senior Communities is a nonprofit organization that has taken care of elders in the San Francisco Bay Area for over 50 years. They operate a number of assisted living senior communities in San Francisco, Oakland, Santa Rosa and Palo Alto, as well as a home care agency that serves seniors who live independently.
The ElderWISE program in San Francisco relies on volunteers concerned about the health and well-being of their most vulnerable elders. Each volunteer is carefully vetted and must pass a background check. They are also required to attend a two-hour training course in San Francisco, where they will learn valuable interpersonal and listening skills.
Afterwards, they begin building a relationship with an elder who is at risk of remaining isolated in the San Francisco community. These local visits can involve as little as sitting and having a conversation, or as much as taking them outside the house for activities or helping with errands, such as picking up groceries or prescriptions. They will remain with the elder for a minimum of six months, although many volunteers will keep visiting — and remain friends — for many years.
Although the volunteer commitment may seem small, the impact it can have on the elder's life is significant. For many elders, these volunteers may be the only regular visitor they receive. They give the elder something to look forward to and can help them engage once again with the outside world. The reward for the volunteer can also be large. By giving just a few hours of their time each month, they can help create a sense of companionship with their elder and eliminate the pain of their isolation.
In their seven years of service, ElderWISE of San Francisco has paired hundreds of volunteers with isolated seniors, creating a much-needed supportive community for them to rely on. If you are interested in joining this program, you can contact San Francisco Program Director Vanessa Sacks at (415) 563-8143 or vsacks@jtm-esc.org.
Seniorly is the trusted resource for comprehensive information on senior care in San Francisco. Visit www.seniorly.com or call us at (415) 570-4370 to learn more about communities the San Francisco area offering supportive environments and activities for your aging loved ones.