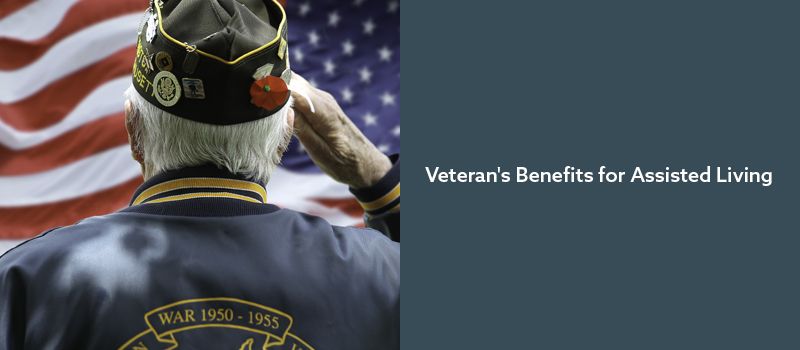 The Veterans' Administration provides financial help for veterans in long-term residential care. These benefits can make a massive difference in the quality of care you or your spouse can afford if you're retired or were disabled as a result of your service. The system can get a bit complex, but there is financial help for senior veterans looking to move into assisted living communities. This article features highlights from our comprehensive Veterans Benefits Guide that you can download for free by clicking on this link.
What is Assisted Living?
Assisted living is the common term for long-term residential care, usually in a community of other adults who need regular help with one or more tasks. These activities of daily living (ADLs) include bathing, dressing, meal preparation and several other daily chores.
Types of Financial Help for Veterans
While there are exceptions, exclusions and special programs galore, the most common types of financial aid veterans and their spouses get fall into two broad categories: Service-connected disability benefits and veterans and survivor pensions. Under Title 38 of the U.S. Code, you can only get one type of benefit at a time, so it's important to apply for the one that will result in the highest benefit award for you.
Service-connected Disability Benefits
Disability benefits are intended for veterans who have become disabled during their service. The degree to which you're disabled is given a percentage rating, and at the end all your percentages are totaled up. Sometimes this results in a more than 100-percent disability, in which case you get paid 100 percent of your disability amount each month.
Veteran Pension/Survivor Pension
Veterans and survivor pensions are intended to help out with retirement costs for seniors. To qualify, you must meet all of these criteria:
Be an honorably discharged veteran or the surviving spouse of a veteran
Be over 65, or collect SSI/SSDI
Live in long-term residential care, such as a nursing home or assisted living community
To claim this benefit, you must meet certain time-in-service requirements, demonstrate a medical need for assisted living or other long-term care arrangement and show that your current finances are not adequate to take care of your needs. The service time varies by decade when you served, but the medical and financial needs are fairly well defined.
Medical Needs
As a rule, to meet the medical need requirement, you must demonstrate an inability to perform at least two ADLs, such as getting into or out of bed, preparing meals and eating by yourself and bathing or getting dressed without help. The difficulty you have with these tasks can be a sign that assisted living is an appropriate choice, and you may be eligible for the benefit.
Financial Needs
The VA looks over your finances, both your current income and your substantial assets over the last 36 months, and then it assigns you a minimum monthly income. If you already make more than that amount, then no benefits are paid. If you make less than the VA's threshold, then each month you'll get a check for whatever the difference is.
Would you like more details on this? Click here to download our free Veterans Benefits for Assisted Living Guide.
Are you ready to search for housing? Simply enter your zip code in the search box below.
What Assets are Allowed?
In the old days, claimants for either type of financial aid were essentially on the honor system for income and asset reporting. Laws have since changed to be more stringent. Income and asset limits are set by Congress, and what counts as an asset can be tricky to establish. In general, however, the VA is looking at your net worth. Net worth is the total value of everything you own, plus your annual income for 1 year, minus the value of your house and up to 2 acres of land. If you own more than that, there's a chance it could be exempt too. Net worth is capped at $123,600, as of 2018.
Veterans' benefits for assisted living is a complex system that takes many factors into account when your eligibility is being determined. The financial aid these benefits offer can make the difference between being able to afford assisted living for yourself or your surviving spouse, and having to struggle. That makes it important to get accurate advice during your application period, which can take months.
It's the law that only an accredited VA consultant can give you official advice about your benefits. It's important to make sure you're only getting the most trustworthy information from a benefits counselor or attorney. You can check the status of a consultant's accreditation on the VA's website for free. Learn more about the veterans' financial assistance you may be eligible for from this document.
If you would like to speak to us directly you can email us at ask@seniorly.com or call us at (855) 866-4515.
For more resources, click here to enjoy all of the free content in our senior living resource section.