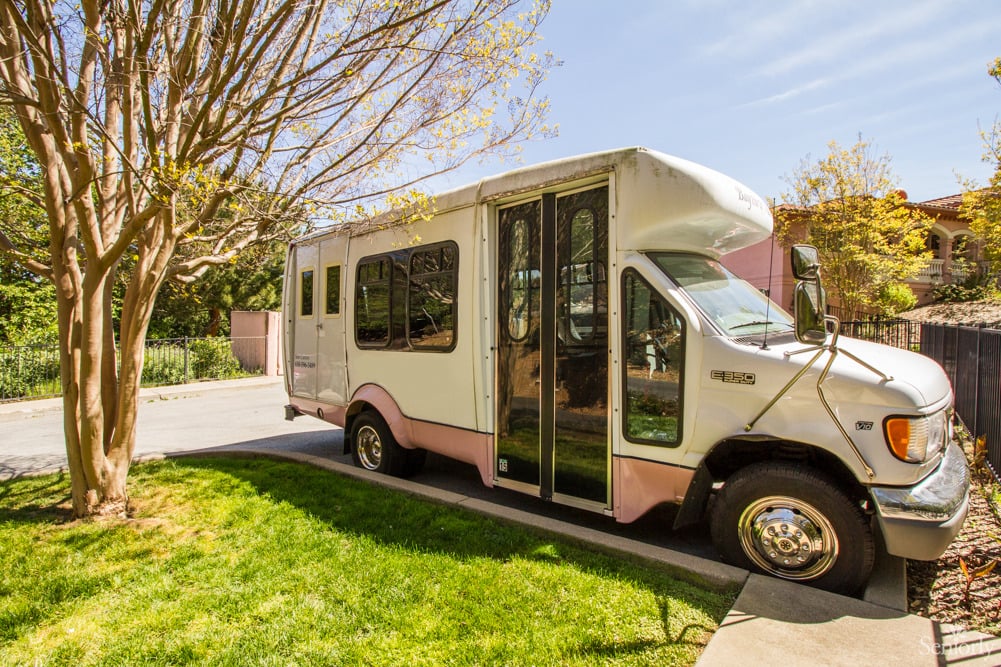 One of the toughest parts about being a caregiver for an elderly loved one is getting them to and from doctor appointments, grocery stores and other places they have to go on a regular basis. Leaving work, children or other responsibilities isn't always an option, and sometimes you just need a little support. Luckily in California, there are many different state and private transportation services available that seniors and their caregivers can take advantage of. Depending on your loved one's level of mobility, there are most likely a wide variety of options in the city or community you live in.
Here are just a few of the places providing help with senior transportation:
1. Silver Ride
Silver Ride provides flexible transportation options and door-to door service for seniors in the San Francisco Bay Area. All Silver Ride drivers and escorts have clean driving records and have gone through extensive background checks prior to being hired. They will take you or your loved one, whether they are disabled or have mobility problems or not, directly to the door and make sure they arrive safely at their location. In addition, this service comes with an on-time guarantee and has a cashless policy so all rides are charged directly to a credit card. Check out the Silver Ride website for more information.
2. Paratransit
Paratransit Inc., is a private non-profit company dedicated to providing transportation services to individuals with disabilities and the elderly. Recognized as a national leader in transportation, Paratransit can take your elderly loved one to and from wherever they need to go. You can also make a standing reservation for regular weekly or monthly appointments. Reservations are available 365 days a year. Paratransit is now available in several communities throughout California. Search online to find options in your area.
3. California Department of Aging
For transportation services and programs in your community, check out the California Department of Aging website. Here, you can find services near you providing non-emergency medical transportation to health and social service providers as well as special events for elderly loved ones who otherwise do not have access to transportation. This safe, reliable transportation can take some of the burden off of your caregiving duties as you balance other responsibilities.
4. Family Caregiving Alliance
The mission of Family Caregiver Alliance is to be a voice for family caregivers. According to the FCA website, The Americans with Disabilities Act requires transit agencies to provide curb-to-curb service to those individuals who are unable to use regular public transportation. Services generally consist of wheelchair-accessible vans or taxis for people with disabilities. This service may be run by private, nonprofit, and/or public organizations and is usually free or low-cost. To find out more go to the Family Caregiver website.
5. Lyft
The rideshare company Lyft offers on-demand transportation services to older adults in the San Francisco Bay Area and beyond. This cashless, transparent alternative to traditional limo services offer reliable transportation to seniors and their caregivers, so they can spend more time getting things done and less time worrying about driving and trying to find parking in the city. With Lyft, caregivers can simply push a button and a car arrives in a seamless manner. This company is slowly transforming the lives of older adults who would otherwise be stuck at home, relying on caregivers, friend and relatives to help them get around.
6. Senior housing and assisted living communities
When your elderly loved one resides in senior housing or an assisted living community, there are often transportation services already in place to support them. In addition to making regular social outings like trips to museums and concerts, many communities also offer shuttles to the grocery store and even trips to local clinics and hospitals for medical appointments.
If you decide to look at a senior housing community for a respite stay, your loved one may be able to take advantage of these services during their short-term stay as well. For more information on the benefits of short-term stays, check out this article on Seniorly.

Seniorly is the trusted resource for comprehensive information on short-term senior housing. Visit www.seniorly.com or call us at (415) 570-4370 for a free consultation with our gerontologist today!