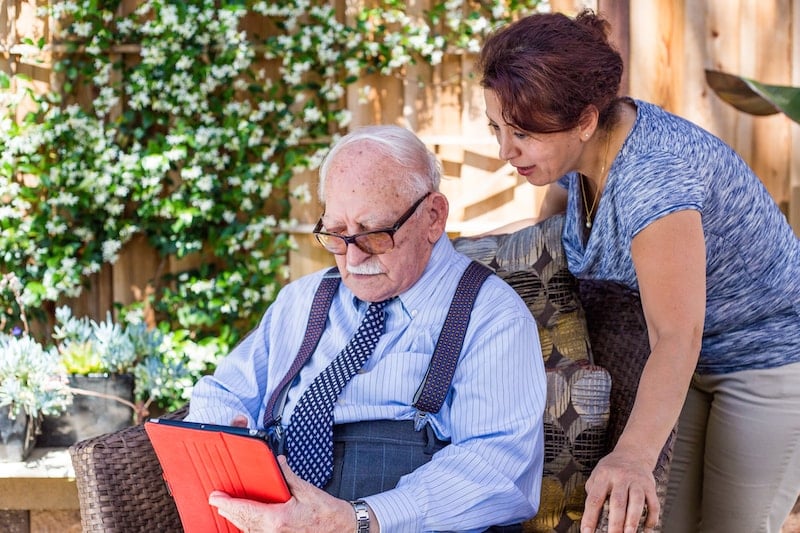 In this age of technology and information abundance, it can be hard to know which products are the best for our loved ones. That's why we created this guide to the top five tech products for seniors. If you have a senior loved one in assisted living nearby, here are Seniorly's best recommended tech products that will get them on the road to a better quality of life.
1. Senior Care Robots
While this may sound like a product of the future, the reality is that senior care robots are already available for those who can afford them. Designed by Smart Homes, this robot named Hector is an in-home caregiver for seniors who want to live independently as they age. He can provide reminders for everyday tasks, detect falls and respond to verbal commands. This is the future of senior care.
2. Medical Alert Systems
Medical alert systems are essential for seniors who wish to age in place. Falls can be extremely dangerous for older people who may not be able to get up and call for help. Medical alert systems can be installed in the home and alert emergency services or caregivers when a fall has occurred. If you have a loved one that insists on taking care of themselves, installing a medical alert system can simultaneously give you peace of mind and allow them to have their independence.
3. Walking Aids
Walking aids have changed aging for the better. Those who have limited mobility and need assistance can now stay active with the help of new technology such as these walkers designed to help people with disabilities. These products are designed to be both sleek and functional, allowing the user to remain mobile and active even as they age.
4. Medication Dispensers
As doctors will tell you, taking your medication at the same time everyday can help you get the most benefit out of your treatment. Rather than using an ordinary pillbox, seniors can now take advantage of medication dispensing devices that decrease the prevalence of adverse drug reactions, while improving the overall quality of care and safety.
5. Smart Beds
Smart beds are another great innovation changing the way we age. These beds feature sensors that collect vital signs and health information as you sleep, and upload this information to the cloud where it can then be accessed by medical professionals and family caregivers. In addition, the sensors can detect when someone has gotten out of bed, which can come in handy for Alzheimer's patients who tend to wander.
6. Phone Amplifiers
For older adults with hearing problems, a phone amplifiers can not only make conversations clearer, but they can also help relieve social isolation. Clearer phone calls mean more valuable time spent speaking with relatives, friends and loved ones….
7. Electric Kitchen Tools
Electric kitchen tools are especially useful for older adults with arthritis or weakness associated with disease. This electric whisk, for example, alleviates the weight and grip problems associated with normal electric mixers.

For more information on tech products that are great for older people, visit Seniorly's Pinterest board "Helpful Technology" for inspiration and links to where you can purchase them.