For those who want to age in comfort and style, these 5 communities provide the most luxurious senior living options in the San Francisco Bay Area. With state-of-the-art residential units, beautifully manicured outdoor spaces, and all of the amenities you could ever need, these communities take extravagant living to a whole new level.
1.) The Vi at Palo Alto
The Vi at Palo Alto looks more like a five-star hotel than a retirement community. Fit for a life of luxury, this high end community is complete with a stunning rose garden, resident art gallery, billiards room, and indoor swimming pool, this community is the creme de la creme of senior living. With a buy-in fee up to $6M and additional monthly services fees, this community is not for casual shoppers.

2.) San Francisco Towers
San Francisco Towers is the city's premier senior living community. Elegant dining options, a rooftop lounge, porte cochere, library, chapel, and beautiful terraces all mark this community as the ultimate San Francisco senior living experience. Don't worry if you can't get a parking space with your $1M buy-in fee; in this city, you'll never wait more than 5 minutes for a Lyft.

3.) Varenna at Fountaingrove, Santa Rosa
The Varenna at Fountaingrove is an exclusive community named after a small historic village in Italy. Varenna at Fountaingrove offers world-class resort-style living at its finest, with chauffeur and concierge services, spa treatments, gourmet cuisine, and more. Entrance fees can cost up to $1.5M. Better bring your golf clubs!

4.) Stoneridge Creek, Pleasanton
Stoneridge Creek is the ultimate residential living experience for those seeking a peaceful, upscale retirement. Luxury amenities include a putting green, bocce ball courts, an open air pool, spa, billiards room, fitness center and card rooms. Buy-in fees at this resort-like community reach upwards of $1M.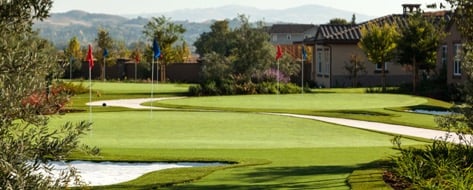 5.) Kensington Place, Redwood City
Redwood City's newest memory care community, Kensington Place, offers a cozy, home-like environment for residents with Alzheimer's and other forms of dementia. Their multifaceted memory care programs ensure that residents get all the support they need to remain happy and engaged as they age. But with high quality care comes an even higher price tag; 2 bedroom units at this community cost a whopping $18K per month!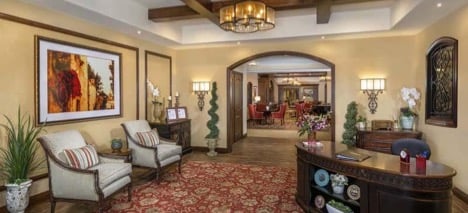 Although this article focuses on solely high end options, Seniorly also offers communities with lower monthly rates. If you're looking for an assisted living near you, enter your city and zip code in the search box below.