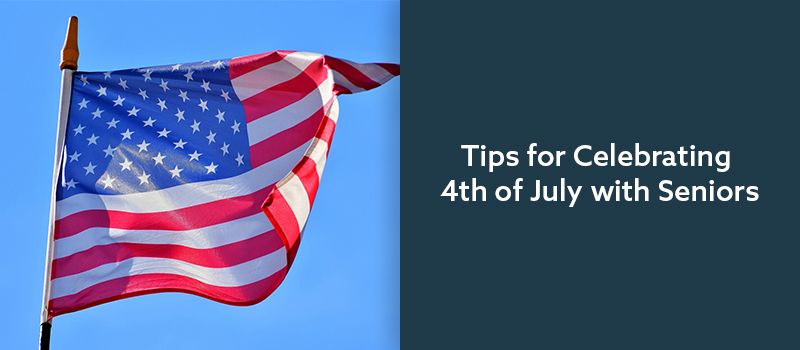 The 4th of July is coming up, and of course you want to include your senior loved ones in the celebration. Whether your loved one is still in their own home or in an assisted living near you, they'll be happy to be part of the festivities. Make the day easy on yourself and on them by following these tips:
Provide a Shady, Comfortable Spot
Aging citizens can't always spend a long time on their feet, so make sure you have chairs available for them to sit and relax. Mark the chairs so others don't claim them, and set them up so your loved ones have a good view of the fireworks, bandstand, or other festivities.
Because many seniors have skin that requires protection from the sun, look for a spot under a tree, or pop up a shade umbrella to keep them comfortable and safe. In case the festivities get to be too much, try to find a quiet spot indoors where your loved one can escape for a little while if they need a break.
That sun is going to go down, though, and it may get chilly. Most 4th of July celebrations run into the evening so everyone can enjoy fireworks together. Even if the day was a hot one, make sure your loved one has a light jacket available to guard against the nip in the evening air.
Have an Accessible Restroom Handy
Seniors may need access to a restroom on a regular basis, so make sure they're aware of the location of the facilities at your event. Walk the path to the bathroom with them to make sure it's safe and clear and to help them find their way. You may want to check in with them during the festivities and encourage them to take bathroom breaks to avoid any accidents.
Provide Food and Drink
The weather can be hot in July, so make sure your loved one is staying well hydrated. If they're enjoying a beer or other alcohol, add some water into the mix for hydration.
Barbecue and other festive foods are a staple at many 4th of July events, and your loved one is likely to enjoy what's being served. Help them with a plate if needed. If they want to lend a hand with cooking or other food prep, by all means let them show off their culinary skills, all while keeping an eye out for their safety, of course.
Be Prepared for Changes of Circumstances
If the weather won't permit you to go outside, or if your loved one isn't feeling well, you may not be able to head out for the traditional barbecues, parades and fireworks on the 4th. That doesn't mean you have to give up your celebration, though. Bring the festivities inside by watching America-themed movies together, taking fun history- and holiday-themed quizzes, and playing some games.
You might have to be prepared for a change of circumstances even if the weather's fine. Aging citizens sometimes change their minds at the last minute about long-scheduled plans. Go with the flow, and be prepared to do what's needed to give your loved one a good holiday no matter where you are.