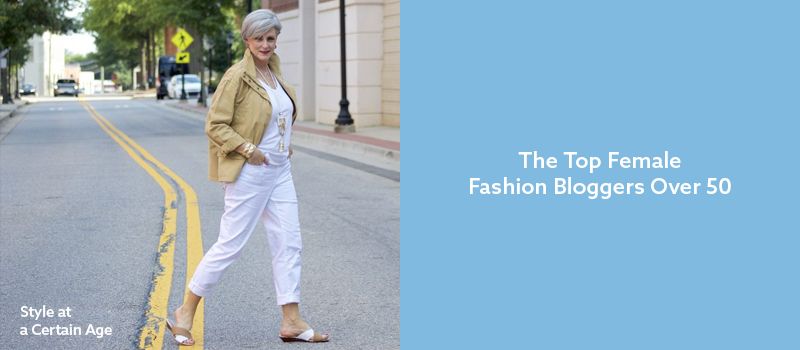 When many think of fashion bloggers, they think of young models who have barely reached adulthood. However, fashion has no boundaries and it certainly doesn't have an age limit. Here are five women who not only have followings as large as their younger counterparts, but also show that good style is truly age-less.
1. Lyn Slater - Accidental Icon

With over a half a million followers on Instagram and features in Cosmopolitan, Marie Claire, and Elle Magazine, 65 year-old Lyn Slater has no problem keeping up with the successful fashion bloggers of our time. By carefully pairing garments and pieces to create looks that are "original without being eccentric", Lyn captures the attention of other driven, city women around the world. On her blog, An Accidental Icon, you will find an assortment of Vogue-worthy outfits as well as updates on her interesting day-to-day life and personal thoughts.
2. Beth Djalali - Style at a Certain Age

Beth Djalali had ditched her hometown of Omaha, Nebraska to travel the world and eventually settle with her husband in the beautiful, Southern town of Athens, Georgia. There she writes for multiple publications and her award-winning blog, Style at a Certain Age. Since starting her blog, her chic and timeless outfits have been featured in Reader's Digest, The Telegraph and Pop Sugar.
3. Cathy Williamson - The Middle Page

Apart from coming up with the clever name, The Middle Page, Cathy Williamson brings both edge and feminine touches to the looks she features online. A great highlight of her fashion blog is it's Chic At Every Age series, a collaboration between her and three other fashion bloggers who represent every age group between 20 and 60.
4. Dorrie Jacobson - Senior Style Bible

Dorrie Jacobson doesn't believe in the term "age-appropriate." For that reason, age-less fashion is the main theme behind her Senior Style Bible. Being a retired Playboy Bunny, model and make-up artist, Jacobson leads a life that's far from lackluster. The 83 year-old fashion maven currently resides in Los Angeles where she shares bold outfits packed with plenty of attitude and sass.
5. Jennifer Connolly - A Well Styled Life

Jennifer Connolly is a certified stylist and image consultant who uses her expertise to help women over fifty find their most confident and stylish selves. Her blog A Well Styled Life doesn't only provide fashion tips but also covers subjects such as health, beauty and lifestyle.
For more about senior style: