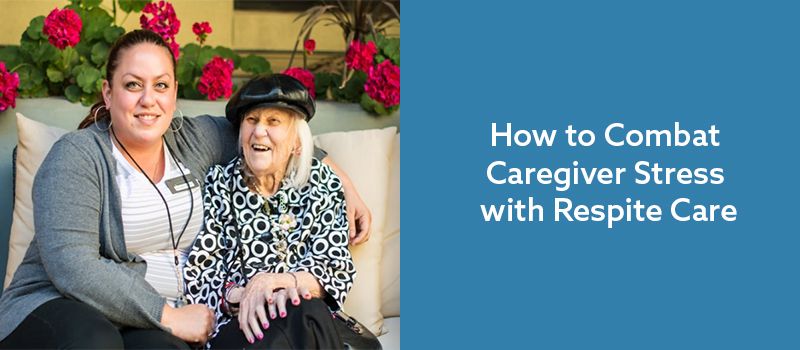 Over 65 million Americans, that's 29% of the U.S. population, are caregivers for an elderly family member or loved-one during the course of any given year. Most, on average, spend about 20 hours a week providing that care. And that's on top of taking care of their own families, working a part-time or full-time job and juggling sometimes dozens of other responsibilities - no wonder caregiving can be stressful.
Caregiver stress is the emotional and physical stress of caring for someone else. While caregiving is something that many individuals want to do, rather than put their loved one in a senior living community, this stress can cause a physical and emotional breakdown.
Caregiving is rewarding but can be stressful
For most caregivers, taking care of an elderly family member can be rewarding and is a way to show appreciation to loved ones. However, caregivers often forget to take care of themselves and this can be a detriment to both the caregiver and their loved one.
The stress of caregiving an often cause the caregiver to become angry and resentful, which can put a strain on relationships and personal life.
Evidence shows that most family caregivers are ill prepared for their role and while providing intense care to a loved one, they are themselves suffering from poor health.
The bottom line is that stress takes a toll on the family caregiver. According to Family Caregiver Alliance, when you're caring for an aging loved one on a regular basis, you may be suffering from:
Lack of sleep

Poor nutrition and eating habits

Inactive lifestyle

Lack of self-care when ill

Failing to see a doctor regularly
You may also be at greater risk for depression, excessive alcohol, use along with tobacco and other drugs.
It's no wonder that family caregivers, perhaps more than anyone else, need to schedule time to relax and take breaks from the task of caring for an elderly loved one. The good news is, there's help available to make scheduling that time much easier.
How to deal with caregiver stress
Using short-term care or "respite" care stays can be highly effective with combating caregiver stress. Respite care stays allow caregivers a "vacation" from the day-to-day of caring for someone else.
Besites respite programs, there are other ways to relieve stress of being a primary caregiver, including:
Regular physical activity

Meditation and self-care

Help from friends and family

Adult day care options
These options will require the caregiver to accept help and make time for themselves, which should be long-term goals.
What are respite care stays?
Respite care stays are short-term stays for an elderly loved one in a senior community designed to give caregivers a much needed vacation from the stress of caring for an elderly loved one. Respite care provides a short-term break for both the caregiver and the loved one.
Depending on the kind of care your loved one needs; including memory care, assistance with dressing or eating, nursing care, medication or help with overall mobility, there is a assisted living community designed specifically with their needs in mind.
How to find respite care options
Respite care stays are an excellent short-term option to "try out" long-term assisted living communities. There are many resources to help you find a respite community that will fit both your needs and those of your elderly loved one. You'll even find that many assisted living communities near you offer this type of care.
Many community agencies, home health care companies, and assisted living communities now offer respite care as a way for caregivers to recharge and rejuvenate. Some offer overnight stays as well as daytime care. Although there is usually a fee for these services, there are agencies that offer scholarship programs without cost to caregivers.
To find the best respite care solution in your area, enter your zip code below for a complete list of communities near you that offer respite care.
You can even sort through available options by location, services needed, and price. Seniorly makes finding the right solution for you or your loved one as easy as possible.
For more information on respite care and caregiving, click here.