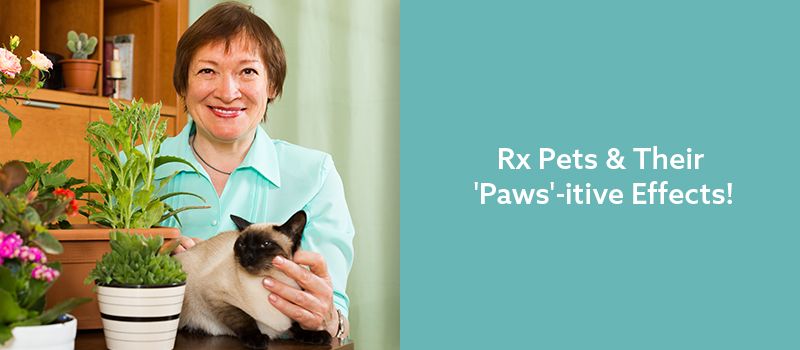 They say an apple a day keeps the doctor away, but for seniors, pets can be the best prescription for overall health and well-being. Numerous studies show that our four-legged friends have the power to alleviate depression and senior loneliness, while keeping seniors active, both physically and mentally.
As our aging population grows older, there are numerous life-changing events that take place, such as losing a spouse or a sibling, experiencing a change in one's own medical condition, or moving into an assisted living community. While these things can often be traumatic, having a pet is known to help people stay engaged in society and become less susceptible to despondency over their own evolution.
According to The Pets for the Elderly Foundation, pets for seniors, e.g. dogs, cats, birds, fish, etc., have exponential benefits.
Here are just four ways adding a bundle of fur, feathers or fins to your life has such a positive impact:
1. Lower blood pressure and less stress during life-altering events.
A pet owner is less likely to focus on their own problems because they have something to take care of. This shift in focus brings emotional stability during difficult times.
2. 21% less likely to visit the doctor.
Having a pet increases activity levels physically and mentally, thereby improving overall health. The other great byproduct of fewer visits to the doctor and shorter hospital stays is lower health care expenses.
3. Less depression.
Pets bring companionship to an otherwise empty home. While they offer affection and unconditional love, they also provide opportunities to socialize with other people and engage in stimulating activities, which results in happy elders.
4. Feeling useful.
From childhood to adulthood, there are a myriad ways we keep busy. Grade school turns into college, college evolves into jobs, a career, marriage and family. When the nest empties and the work fades, our purpose in the world changes, but our desire to be useful stays the same. Pets not only make their elderly owners feel useful, but they have also been known to improve the quality of life.
Now that we've established the joys and benefits of keeping animals around, what is the right pet for you? Is a Golden Retriever the best dog for your golden years or is a feline going to make the 'purr-fect' friend? While the preference is a personal one, other factors to consider when picking a pet depends on whether you've chosen independent living or have moved into a senior living facility. Also, what are your physical abilities and activity levels? Here are some choices:
Small Dogs
For older citizens, small dogs are often a popular choice because they are easy to handle, transport (some are lighter than others) and require less space and food. Having a small dog gives you the option to stay inside if needed, but also encourages regular walks to the park or around the block. For example, French Bulldogs, Corgis and Maltese have great personalities and are easy to groom and maintain.
Cats
Cats, on the other hand, are very independent creatures, so regular babysitting is not required and they do most of their own grooming. Their soft fur and tendency to cuddle are a pleasant respite during the day.
Fish
Ever wonder why so many doctors offices have aquariums? Gazing at fish is known to relax and reduce stress. In fact, one study shows that elders with Alzheimer's disease had an increase in appetite by 17% by having a fish tank placed in their room. And, depending on how elaborate the aquarium, owning fish is less expensive than a cat or a dog.
Birds
Canaries, cockatiels, and parrots make up a few species of birds that make great pets and responsive companions. With little encouragement, they can be talkative and enjoy the contact they have with their human owners.
Of course, there are other exceptions to these common choices, such as rats and mice, reptiles, or the kind of animals that traipse on hooves. Whatever fits your lifestyle, the ultimate goal boils down to seniors living happily.
Cited: The Pets for the Elderly Foundation
http://www.petsfortheelderly.org/articles.html
Journal of American Geriatrics Society
http://ajot.aota.org/article.aspx?articleid=1862311
http://jag.sagepub.com/content/26/5/472.short
For even more information on senior living, click here to read other useful resourses.