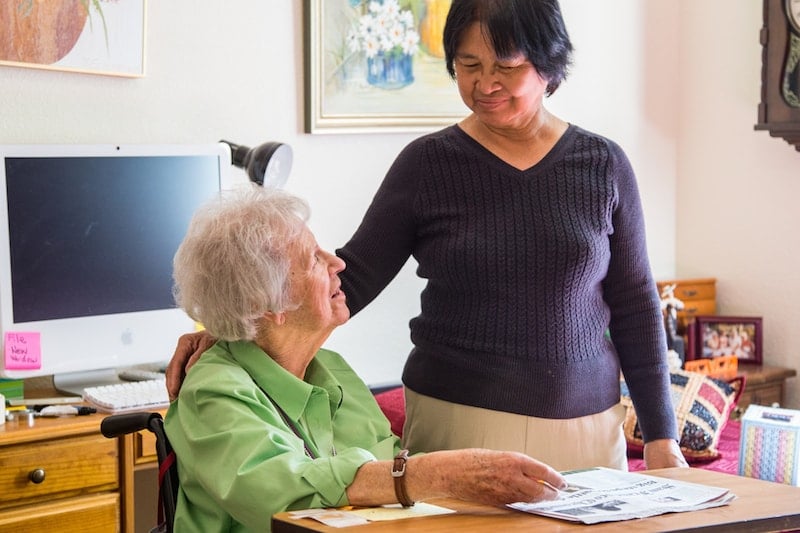 "In the event of an emergency, put the oxygen mask on yourself first before you assist others."
Anyone who's ever been on an airplane has heard that phrase. It's a part of the safety instructions before you even leave the ground. And there's a good reason for it. If we don't take care of ourselves first, we can't take care of anyone else.
And that's the whole idea behind respite care. For those of us caring for an elderly friend or loved one, we're putting in long hours, on top of trying to balance our own lives and families. And that's why it's more important than ever to give yourself some breaks. You'll be better for it and if you're calmer and less stressed, your loved one will be, too.
The National Respite Network recommends that family caregivers consider respite care before they become overly stressed or tired.
"To be most effective, you should use respite services much earlier than you think you will need them. Respite will be most helpful if you use it before you become exhausted, isolated or overwhelmed by your responsibilities."
In addition to needing a break from everyday caretaking of a loved one, there can be other reasons for respite care. Perhaps the primary caregiver has fallen ill, or urgent business or family travel is necessary.
Unfortunately, not everyone has friends or family who can take over for a period of time. Fortunately, there are helpful options available.
Where to get help
If you're searching for respite care, you'll find that many assisted living communities near you offer short-term stays for family caregivers who need a rest from the strenuous task of caring for a loved one. Many times, you can find communities willing to take your elder loved one for a weekend or even a week, without further obligation to sign on for other services.
You would pay for only the day, week or weekend of care needed. In addition, your elderly loved one would be able to participate in social gatherings, meals and special events that may be going on during their stay. That may a great emotional boost and new social connections for them as well.
The important thing you need to remember is to do the research and plan ahead of time to be certain there is room for a short-term stay for your loved one in the community and time you desire.
Financial help may be available
If you are unable to afford respite care for your loved one, there may be government help available. Check with your local Council on Aging or Social Services Department.
In addition, it is possible to apply for a grant. The Alzheimer's Foundation of America makes a limited amount of Family Respite Care grants available to families who are caring for loved ones with Alzheimer's disease or related dementia. Here is a link for details.
Seniorly is your go-to source for information on short-term respite stays. Visit www.seniorly.com or call us at (415) 570-4370 to speak to our gerontologist today!