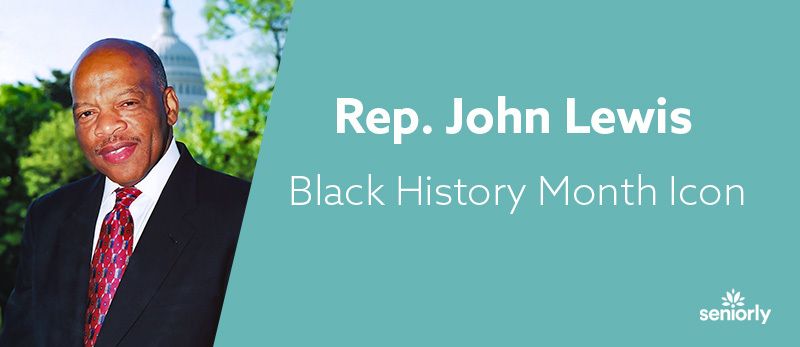 John Lewis: A True American Hero
At 77, Congressman John Lewis shows no sign of slowing down. He might be a senior citizen on paper, but in his daily life he proves age is just a number. Since Seniorly wanted a chance to focus on a senior who was inspiring and defying expectations, we're highlighting this important figure in American politics and civil right. John Lewis is such a person, a dedicated trailblazer for civil rights in America.
John Lewis - His Youth
Born February 21, 1940, outside of Troy, Alabama, Lewis grew up on a family farm and attended segregated schools. Later, inspired by the Montgomery Bus Boycott, and the words of Dr. Martin Luther King, he decided to become part of the Civil Rights Movement. While attending Fisk University, he arranged sit-ins at segregated lunch counters in Nashville, Tennessee. In 1961, Lewis volunteered to participate in the Freedom Rides across the south. He was beaten severely and arrested more than once for giving voice to the injustice of Jim Crow segregation laws. During the height of the Civil Rights Movement, Representative Lewis helped found and was named chairman of the Student Nonviolent Coordinating Committee (SNCC). This committee was largely responsible for organizing student activism on college campuses throughout the country. But Lewis is probably best known for his walk beside Dr. Martin Luther King on March 7, 1965 when he was only 25 years old.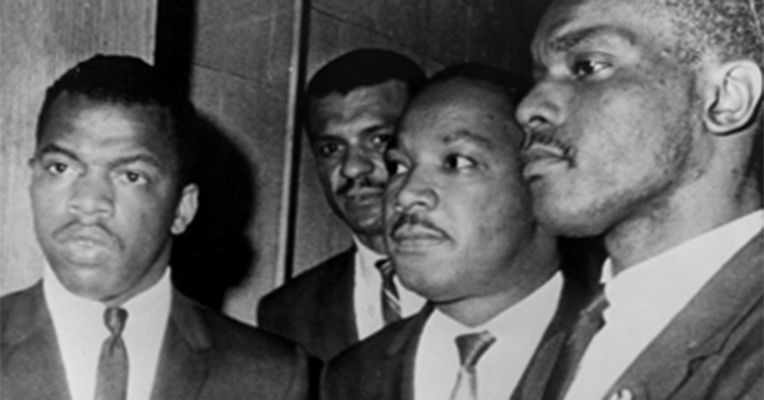 (Photo of John Lewis (left) with Martin Luther King Jr (center right))
John Lewis - The Civil Rights Movement
While leading a group of marchers across the Edmond Pettus Bridge on their way to Montgomery, Alabama to protest the lack of voting rights for blacks across the state, the marchers were beaten back by police officers using clubs, whips and tear gas. Fifty-eight people, including Lewis, were treated for injuries at a nearby hospital. Lewis later described the ordeal: "I was hit in the head by a state trooper. I thought I saw death. I thought I was going to die." Lewis was arrested 40 times during the Civil Rights Movement. He went on to become the Director of the Voter Education Project (VEP). Under his leadership, the VEP transformed the nation's political climate by adding nearly four million minorities to the voter rolls. He spent years in public service and sat on the Atlanta City Council as an advocate for ethics in government and neighborhood preservation. In 1987, he was elected Representative of Georgia's Fifth Congressional District.
John Lewis - Today
To this day, Representative Lewis is still fighting for civil rights with both passion and grace. In a recent feud with President Trump over the opening of the Civil Rights Museum in Mississippi, Lewis had this to say: "President Trump's attendance and his hurtful policies are an insult to the people portrayed in this civil rights museum." For this reason, Representative Lewis refused to attend the opening himself. He also boycotted Trump's inauguration and refuses to invite him to Selma, Alabama where he repeats his famous civil rights walk across the Edmond Pettus Bridge every year.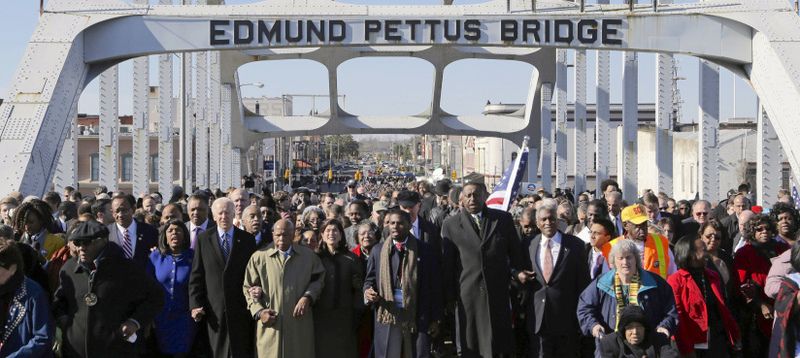 Lewis often uses the same civil rights tactics he helped implement in the 1960's in his work on Capitol Hill. He has held sit-ins at the Capitol to protest a number of issues, from gun control to immigration. He has received numerous awards from high profile national and international institutions, including the Medal of Freedom, the highest civilian honor granted by former President Barack Obama. Representative John Lewis is a hero to many, a controversial figure to some, but an exemplary profile in courage and a shining example of what can be accomplished at any age. Regardless of your opinion, he is an icon to be respected and celebratated this Black History Month, but more importantly, an American senior citizen who shows no signs of slowing down.
For more senior inspiration, take a look at the following articles:
Article written by Tami Rogers. Tami is an award-winning writer, blogger and frequent contributor to Seniorly.com and additional publications dedicated to Seniors and aging well. She also writes for a wide-range of parenting publications and websites that help promote the emotional well-being of parents and children.