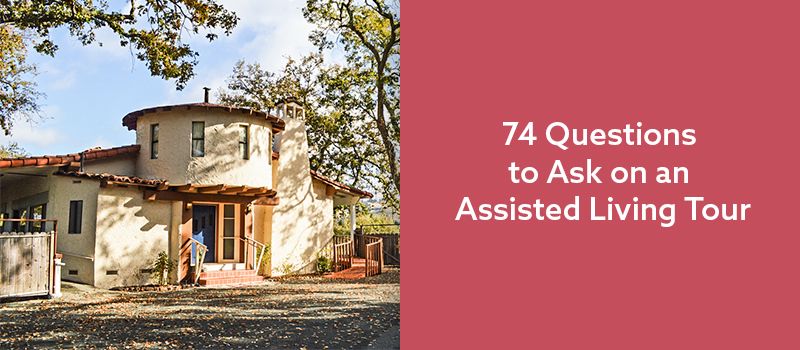 The Seniorly Assisted Living Tour Assessment Guide
Looking for senior housing doesn't have to be a stressful or arduous task. We recommend following a methodology for this process that will empower you to find the home you will love.
Remember, the person giving you the tour is most-likely used to getting a lot of questions from potential residents and their families, so don't be shy! It's important to be comfortable with not only the physical features of the property, but also the staff, the culture and the services and care provided.

If you've found an assisted living near you that you would like to tour, here's printable version of this Guide that can be accessed by clicking here.

74 QUESTIONS TO ASK DURING YOUR TOUR:
Staff
What is the ratio of staff to residents?
What is the staff turnover rate?
What types of training do the staff members have?
Is the staff trained on elder abuse and neglect?
Is there a policy for reporting suspected abuse?
Do the staff members speak your or your loved-one's language fluently?
Are background checks performed on staff members?
Is there a Registered Nurse, Licensed Vocational Nurse, or Certified Nursing Assistant on staff? If so, how often?
Is there staff available to provide 24-hour assistance with activities of daily living (ADL's) such as dressing, eating, bathing and toileting?
Resident Living Spaces
Do residents have the option of a private or shared room?
Can residents personalize and decorate their own apartments?
Can residents bring their favorite chair or other furniture or large items?
What furnishings are provided?
Does each room have a private bathroom, or are the bathrooms shared?
Are bathrooms designed to accommodate wheelchairs and walkers?
Do rooms come equipped with 24-hour emergency response systems?
Is it possible to view all of the types of rooms available?
Is there a TV in the room?
Is cable, internet/wifi available or included in the rooms? If there is a fee, how is the billing handled?
Is a kitchen provided with a refrigerator, sink, and cooking element?
Are residents permitted to keep food in their apartments?
Are pets allowed? If so, what kind?
Is housecleaning for personal living spaces included in the price? If not, what is the fee?
Can residents lock the door to their units?
Food
How many meals are provided per day?
Does the menu vary from day to day? How often is the menu changed?
Is the food freshly prepared daily?
Is there a focus on organic ingredients?
Are there snacks, and if so, how do residents access them?
Can meals be provided at a time the resident prefers, or are there set times for meals?
Can meals be tailored to a resident's specific needs or special requests?
Can residents take food back to their rooms?
Can visiting family members and guests dine with the residents? If so, is there a charge?
Is special food prepared for special occasions, such as birthdays and holidays?
Are there any dishes that are especially popular with the residents? If so, what are they?
Can I / we sample the food? (If you sample the food, how was it?)
Common Spaces
What common spaces are available to residents?
Are there any outdoor spaces?
Is smoking allowed? If so, where?
Are there any shared community animals, such as dogs, cats, birds, and fish?
Does the community have any special amenities or services worth mentioning, such as a beauty parlor, fitness room, therapy pool, etc.?
Is there a place where residents can do their own gardening, arts and crafts, or other hobbies? Is there a media/TV room?
Activities
Is the Activity Professional certified? (This will ensure that activities are safe and engaging for you or your loved one.)
What types of activities are available to residents, and how often do they occur?
Is there a posted schedule of events and activities? (Do they match the interests of your loved one?)
Do residents interact with the surrounding community? If so, do residents go on regular outings or do volunteers come into the community?
Is there any live entertainment provided? If so, what kind, and how often?
Are residents actively encouraged to participate?
Medication & Health
What is your medication management policy?
Is self-administration of medication allowed?
Is there someone on staff who coordinates home healthcare visits from a nurse, physical therapist, etc., if needed?
Are services such as hospice and physical therapy available? If so, is there an additional charge? If so, how much?
Is there a clearly-stated procedure for responding to a resident's medical emergency?
Is transportation offered to residents for doctor's appointments? Is the transportation wheelchair/disabled-friendly? Is there a fee? If so, how much?
Are incontinence supplies included in the price? If not, what is the cost?
Is there a written plan of care for each resident? How often is it reviewed and updated?
Does the community have a process for assessing a resident's need for services? Does this process include the resident, his or her family, and the resident's physician?
Other
Are additional care and services available if the resident needs change? If yes, what types of additional care and services are offered, and at what cost?
Is transportation available for personal or family outings? Is there a fee? If so, how much?
Are visitors allowed at any time, or are there specific visiting hours? If you have specific visiting hours, what are they?
Monday: ______________ to ______________
Tuesday: ______________ to ______________
Wednesday: ______________ to ______________
Thursday: ______________ to ______________
Friday: ______________ to ______________
Saturday: ______________ to ______________
Sunday: ______________ to ______________
Holidays
Are residents allowed overnight guests? If so, what is the overnight guest policy?
Is there parking available for residents and/or guests?
Are barber and beauty services offered? If so, is there an extra cost?
Are there religious services available onsite or nearby? If so, what kind?
What's the official policy on sexual interaction between residents?
How does the community accommodate private time for couples if only one of them is living in the community?
Are residents required to have renter's insurance?
Is a consumer disclosure form available that discloses personal care and supportive services, move-in and move-out policies, and all fees?
Is a residency agreement available for review before move-in? (Keep a copy and read the entire document, including the fine print.)
Is the state inspection report available for review?
What are the most common reasons a resident may be asked to move out of the community?
What is the community's emergency preparedness strategy?
Is there a backup generator and an evacuation plan for residents?
Are there any other extra fees that we should know about? If so, what are they?
---
It will be helpful for you to take notes and rate the different aspects of each senior housing community right away - either right after your tour, or during your tour. This will help you remember the details and your impressions about a particular property when you're comparing it with other properties later. Here's a post-visit rating system you can also find in our Tour Assessment Guide (available HERE):
POST-VISIT RATING:
| | | | | | |
| --- | --- | --- | --- | --- | --- |
| (Circle for each) | Poor | | | | Excellent |
| Location/Neighborhood | 1 | 2 | 3 | 4 | 5 |
| Proximity to Loved Ones | 1 | 2 | 3 | 4 | 5 |
| Staff | 1 | 2 | 3 | 4 | 5 |
| Resident Living Spaces | 1 | 2 | 3 | 4 | 5 |
| Food | 1 | 2 | 3 | 4 | 5 |
| Common Spaces | 1 | 2 | 3 | 4 | 5 |
| Activities | 1 | 2 | 3 | 4 | 5 |
| Other | 1 | 2 | 3 | 4 | 5 |
Monthly Rent: $__________
+ Additional Fees (if any): $__________ Describe:_________________________
= TOTAL MONTHLY COST: $__________
| | | | | | |
| --- | --- | --- | --- | --- | --- |
| OVERALL VALUE RATING: | 1 | 2 | 3 | 4 | 5 |
| (Cost vs. Community Attributes) | Worst | | | | Best |
NOTES / IMPRESSIONS

Last, but not least...
Make time to go and do something you and your loved one enjoy. This can be a difficult process, so spend some quality time together. It will help in the process immensely.

For more information on senior housing in your area, email ask@seniorly or call us at (855) 866-4515 to help you find a home to love.
For even more resources, browse through all of our senior living articles by clicking here.