We all need community.
At Seniorly, we believe that senior living communities can be key to healthy aging. We believe that life in a senior living community is a solution to social isolation. We also believe that the senior living search experience to find the right community should be simple and personalized.
There are thousands of communities to choose from across the country, each one unique. Our mission-driven team is hyper-focused on improving the search experience to ensure families have everything they need to find that perfect community for their loved one. 2018 was an exciting year of progress.
We hit over a million visits.
Over 1 million searchers have visited Seniorly.com. We've learned from them what is most important in their search, the common questions they ask (see graphic above), and how we can best personalize the search experience for them. In line with industry data, 67% of our searchers were female. This is because the most common searcher of senior living is the "adult daughter" looking for her parents.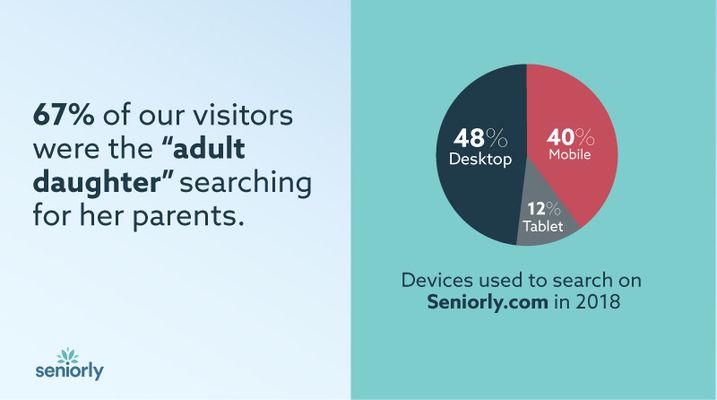 A lot more people used mobile and tablet devices to search for senior living this year. In fact, the percentage of mobile and tablet users compared to desktop grew more than 25% compared to 2017.
It's a great time to be a senior living consumer.
2018 brought occupancy levels in assisted living communities to an historic low. Overbuilding has caused a shift in supply and demand. This means it is a great time to be a consumer. In fact, in a recent survey we learned that 50% of our Partner Agents (local experts who know best the communities in their neighborhood) were successful in negotiating price for at least one family they helped in 2018.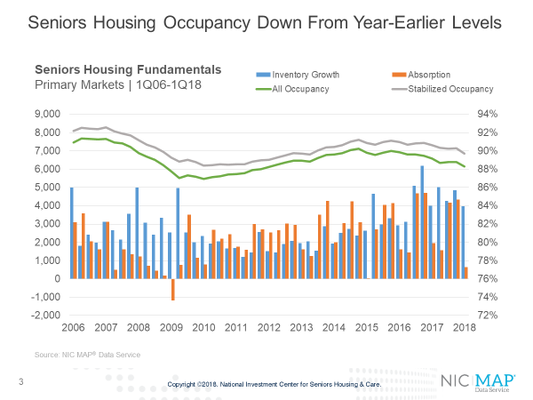 We became a nationwide service.
In 2018, we used a combination of user-generated content and public data to create thousands more listings available on Seniorly. Now, there are over 30,000 senior living communities featured in our marketplace. As a result, we solidified our position as a nationwide service.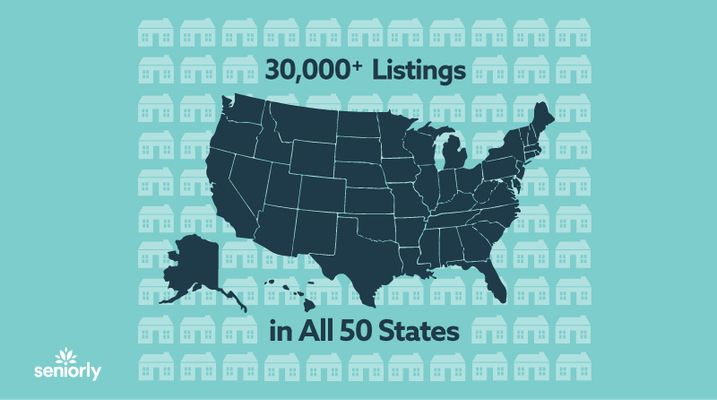 Families browse, search, share, save and select properties on our modern, open search platform where we provide unlimited access to the important community information and features they seek.
We built a network of hundreds of local experts across the nation.
We've built and connected the largest network of local experts in the country. We call them Seniorly Partner Agents. Unlike "senior advisors" at call centers, our Partner Agents are local experts that live in the same neighborhoods as the families searching. They are as committed as we are to ensuring families get the most customized and enjoyable experience. They augment the search experience by helping narrow down the senior living options, arranging and accompanying families on tours, and assisting with the admissions and move-in process.
In 2018, we partnered with over 200 of these local independent and franchise-owned senior living referral agents across the country. They help families with the last-mile of their search process and deliver a hyper-personalized experience. The response from families has been overwhelmingly positive.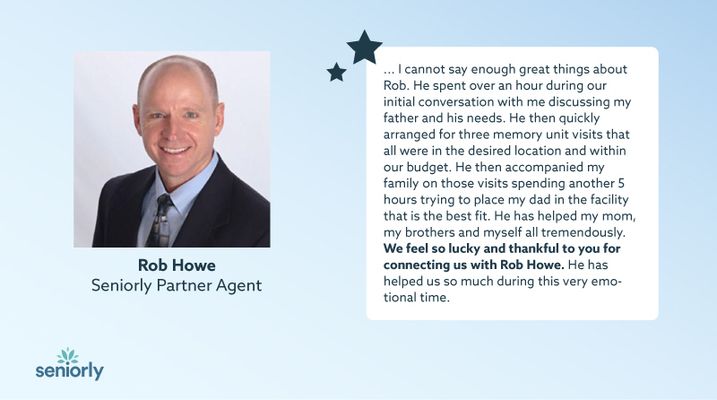 Our team grew.
To build a world-class user experience, you need to build an amazing team. We brought on many new team members to join in our mission. In fact, our team more than tripled in size this year.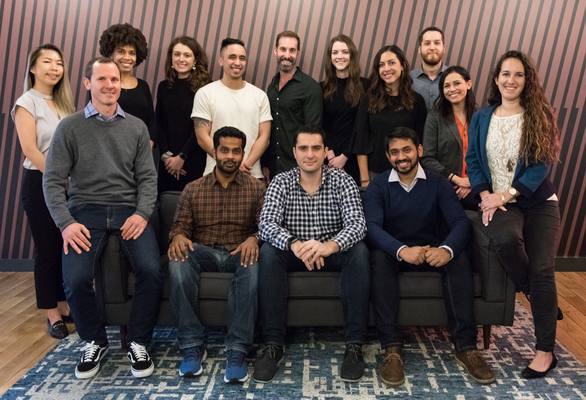 (back row:Cindy Kuang, Milan Freeman, Eleni Walters, Jared Calinisan, Andrew Barrett, Erica Powell, Emma Rodbro, Andrew Vargas, Stephanie Files
front row: Stephen Anderson, Sushanth Ramakrishna, Arthur Bretschneider, Kunal Shah, Marlena del Heirro
not pictured: G. Sean Cassidy, Abel Kuruvilla, Amal Francis, Alfonso de la Osa, Pranesh Kumar)
We have a lot to look forward to in 2019.
While we had a lot of success in 2018, there is much work ahead of us. We estimate that over 750,000 Americans will move into a senior living community in 2019. We promise to provide the best experience for as many of these families as we can. Let's do this!
Explore all of the features we provide. Click on the links below:
Independent Living Communities