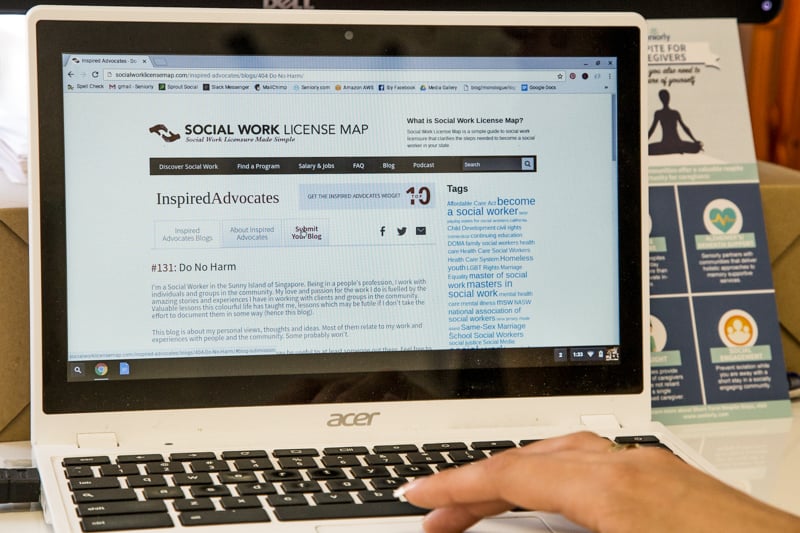 Social workers provide care for all sorts of people, including the senior community. They coordinate care with health care providers, make transportation arrangements, direct mental wellness and respite programs, plan resident activities, and much more.
But it is not easy work. Anywhere from one third to three-quarters of social workers experience burnout depending on the setting and nature of the work they do.
Burnout includes emotional exhaustion, feeling overextended, and fatigued; a changing attitude toward clients and work in general; and a negative perception of their effectiveness in their work with clients or in the job overall. Burnout comes from stress and is certainly not limited to social workers. However, burnout in social work and other helping professions is often linked to compassion fatigue (the strain of continuously expressing empathy for people who are suffering) and secondary trauma (re-experiencing personal traumatic experiences when working with victims of trauma or abuse).
Burnout is associated with physical and mental health problems, poor work performance, staff absenteeism and turnover, and poor client outcomes because of disruptions in the continuity of care.
However, while stress in social work is inevitable, burnout is not. The likelihood of stress leading to burnout increases when you don't have the resources you need to deal with the demands of the job. These include help improving coping skills through training in client treatment techniques, communication skills, and tools such as mindfulness and meditation to manage emotions. Changes to the work environment, such as decreasing excessive caseloads, making sure roles are clear, increasing autonomy, and sufficient rewards can also help prevent or reduce burnout.
Among environmental changes, social support is one of the most important ways to address burnout. Formal supervision and support from co-workers are useful, but can sometimes feel threatening. This is your job after all and it can be hard to admit that you're having challenges to coworkers and your boss. A support group outside of the work context can provide a safe place to share feelings about your job, receive emotional support, learn coping techniques, problem solve, and get feedback.
However, with little time or energy, attending a support group outside of working hours can feel like yet another source of burden.
Online support groups are one way to make peer support more accessible. An online group lets you log on at any time and from anywhere. You have more control over how much you interact with others than in face-to-face groups because you can read discussions and join chat groups without sharing anything about yourself.
Online groups can take a variety of forms. On listservs and bulletin boards you don't interact with others in real time. They are typically not facilitated, unlimited in terms of the number of participants, and are available 24 hours a day, 7 days a week. In a chat group, you interact with other participants live. Sometimes chat rooms are open for participants to drop in whenever they like. Others may have scheduled times for focused sessions that are limited to a small number of people. These chats tend to have a moderator to keep the conversation on topic and sometimes will have guest experts visit for questions.
There is limited research available currently on the efficacy of online support groups for social workers. However, preliminary results suggest that participants find online groups helpful for coping with personal and professional stress.
Seniorly is the trusted resource for comprehensive information on all things senior living. Visit www.seniorly.com or call us at (415) 570-4370 for a free consultation with our gerontologist today!