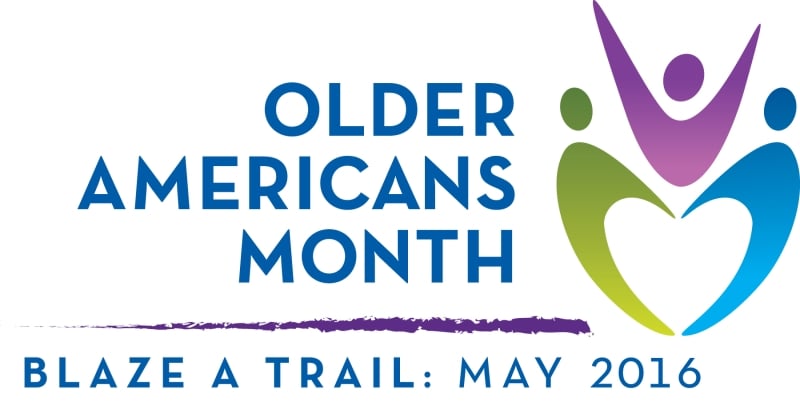 In 1963, at a time when many seniors had little access to supportive resources, President John F. Kennedy designated May as "Senior Citizens Month." Later on, it was renamed "Older Americans Month", honoring older Americans and their contributions to our communities and nation. This month was named as a result of legislation signed in 1965 called The Older Americans Act, which now funds programs for seniors all across the country.
Recently, President Obama signed the Older Americans Reauthorization Act of 2016, guaranteeing this important piece of legislation remains intact. As a result, there are numerous programs around the country designed to help seniors, but we still have a long way to go.
Older Americans Theme
This year's theme is "Blaze a Trail." The goal will be to raise awareness about important issues facing older adults and highlight the ways that older Americans advocate for themselves, their peers and their communities.
Across the country, local agencies and communities will be focusing their attention on assisting seniors as part of Older Americans Month.
Programs in the San Francisco Area
Around the San Francisco metro area, there are many senior centers and activity programs designed to celebrate seniors. These programs are a direct result of this vital legislation. You can visit the Human Services Agency of San Francisco online for more information.
At these centers, older adults can learn tai chi, painting, quilting, computer literacy and computer access, or sign up for exercise programs, social events, day trips, English language classes, and so much more. Services are free or inexpensive. Many centers also offer low-cost meal programs and social services referrals on-site. Best of all, the centers are a great way to make friends, have fun and stay connected with the community.
Here are just a few of the centers in the San Francisco area and their offerings:
Swimming, aerobics and fitness, ballroom dancing, Cantonese dancing and social clubs.
Swimming, Argentine line dancing and belly dancing for fitness.
Tap lessons, singing clubs and social gatherings.
Weekly line dancing and Bingo.
Golden Gate Park Senior Center
Dancing, exercise, bridge games, art classes, bingo and more.
San Francisco Public Library
Free computer classes for older adults.
If you or a loved one is unable to take advantage of of programs and services near them, consider a move to a senior housing or assisted living community. Most have a wide range of activities and social programs to engage in. For more information, check out this article on Seniorly.
Many older adults feel more comfortable checking out senior housing before they decide to move in. A respite or short-term stay may be the perfect thing for you or a loved one. Click here for more information on respite stays.
Seniorly is the trusted resource for comprehensive information on short-term senior housing. Visit www.seniorly.com or call us at (415) 570-4370 to learn more about communities in your area offering short-term stays.