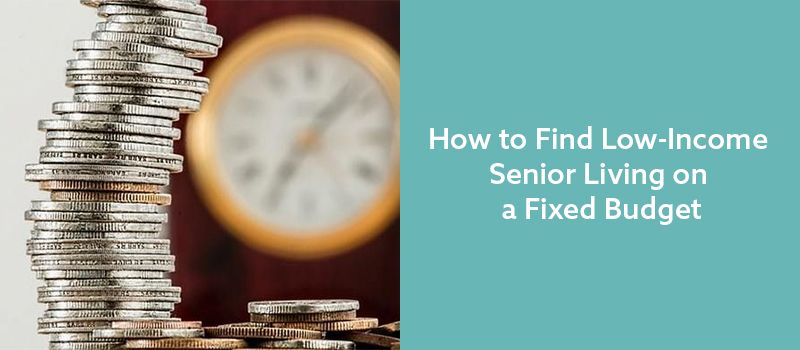 All senior citizens deserve to be taken care of in old age, including those who have lower incomes. Many seniors have fixed incomes or are on government subsidies, such as Social Security, which can make finding affordable senior housing challenging.
Most assisted living facilities near you offer a range of services that can help make life easier for the elderly, but unfortunately they often come with a steep price tag. Finding the right low-income senior living facility can be challenging, but can be worth it for your pocketbook for quality long-term care.
Types of low-income senior living options
There are a few different types of low-income housing options available to seniors and the elderly. Different options will be determined by income requirements, age and medical needs, as well as availability and wait lists.
Senior apartments: these apartment-living options can provide a budget-friendly housing and senior community option to elders.
Subsidized senior housing: sponsored programs with HUD and other government entities can assist with costs and care for seniors.
Search for housing options near you by entering your zip code into the text box below.
Department of Housing and Urban Development (HUD) Options
Fortunately, the government can help to subsidize housing, beyond Social Security benefits, and includes a few different living options through the Department of Housing and Urban Development (HUD). Here's a quick breakdown of the HUD housing options:
Low Income Housing Tax Credit (LIHTC): HUD participants can offer seniors low-income housing by setting aside a specific number of units. Seniors can qualify if they meet the HUD income requirements.
Housing Choice Voucher Program: This is the Section 8 housing option where individual income must not exceed 50% of the medium income in the local area.
Section 202 Supportive Housing Program: This is a HUD sponsored program specific to seniors (adults over 62 years of age) that meet a "very low income" requirement. Section 202 housing can be excellent options but typically have long waiting lists.
How to qualify for low-income senior housing options
According to the SF Gate news site study of local senior citizens, "federal statistics show that a quarter of the country's senior citizens are poor, a third say it's hard to meet monthly expenses, and nearly half say they have housing problems. In some places, this translates into cramming in with family, or at worst, homelessness." Fortunately, there are viable housing options for seniors with low income as they search for assisted living communities.
Each assisted housing option has different guidelines, income limits, and eligibility requirements and should be evaluated independently.
If you'd like assistance finding an affordable senior housing option, contact your local HUD rental office.
California Medi-Cal assisted living support
Luckily for California state residents, Medi-Cal provides benefits to the elderly and financial support for low-income senior living options. According to California Advocates for Nursing Home Reform, the new Assisted Living Waiver (ALW) allows Medi-Cal to be able to pay for assisted living care for qualified residents.
As noted on the website, "A key goal of the program was to enable low-income, Medi-Cal eligible seniors and persons with disabilities, who would otherwise require nursing facility services, to remain in or relocate to a community setting in a Residential Care Facility for the Elderly (RCFE) or public subsidized housing."
The Medi-Cal affordable housing program allows people in need to find suitable assisted living services, regardless of their background or financial status.
Services provided for Medi-Cal ALW participants:
Personal assistance and help with daily living activities
Laundry services
Housekeeping services
Skilled nursing care
Daily meals and drinks/snacks
Transportation
Recreational activities
Social services
In terms of payment, participants in the ALW program will pay for their own room and board at the chosen assisted living community, while Medi-Cal will pay for medical care and other services.
According to the California Assisted Living Association (CALA), the total payment standard for Supplemental Social Security Income (SSI) and State Supplementary Program (SSP) is $1,173.37 for non-medical out of home care. This payment standard covers the following expenses:
Room an board: $505.37
Care and supervision: $534
Basic services: $1039.37
Personal and incidental needs: $134
For more information on who qualifies for assisted living support and how to apply, contact the CALA or National Center for Assisted Living (NCAL).
For more information on who qualifies for assisted living support and how to apply, contact the California Department of Health Care Services or the appropriate department in your home state.