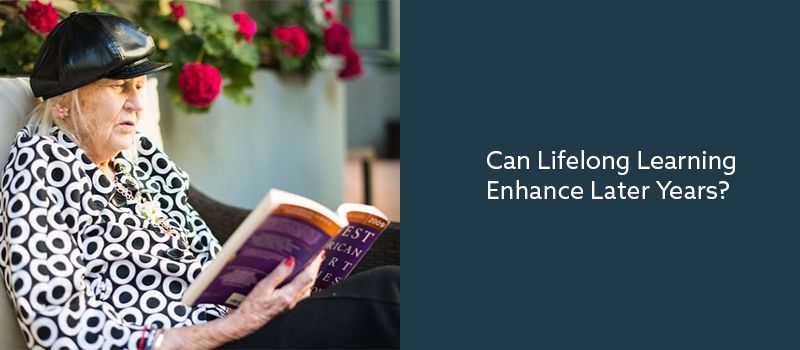 It's no secret that engaging your mind and keeping your brain active and stimulated can help ward off some of the disadvantages of growing older. Studies have shown that being a lifelong learner can help prevent both mental and physical decline during the aging process.
Benefits of Lifelong Learning
The BeLL study, which looked at participants in 10 European countries, aimed to determine the true results of continuing education on older adults. Scientists reviewed 10 benefit factors, including:
locus of control
self-efficacy
sense of purpose in life
tolerance
social engagement
changes in educational experience
health
mental well-being
work
family
When the study was concluded, the majority of participants reported that they felt a positive response to these factors, based on the continuation of their education or additional learning opportunities.
Continued learning allows individuals to be able to adapt to change, even in later years. This may lead to an increased ability to meet new people and form new relationships, which is an important skill to overall well-being. Socialization is especially important to elderly individuals, and the ability to build new friendships may be the key to moving forward and being happy.
So, whether you are a senior looking to pick up a new hobby or have a loved one in an assisted living nearby, here are a few ways for you or your beloved senior to stay intellectually engaged.
Going Back to School
Many colleges and universities around the country have begun to offer specialized course programs just for older individuals. These are tailored to those people who are looking to attend classes just for the enjoyment of learning something new.
1. Osher Lifelong Learning Institutes
The Bernard Osher Foundation began offering grants to schools with programs targeting more mature students in the fall of 2000. Today, the Foundation assists 119 programs around the country.
These programs are:
Non-credit educational programs designed for individuals aged 50 years and older.
Have the strong support of the school's administration.
Have a diverse group of course offerings.
Click here for a list of schools offering courses within the Institutes available in all 50 states.
2. edX
All edX students need is a computer, online access and a desire to learn. Courses are taught online by college professors at schools around the world. Students are able to interact with one another via videos and online chat discussions. All courses are free to audit.
Courses range from architecture to literature and science. Unlike traditional university courses, these have more on-going start dates to fit with many different schedules.
More Learning, Less Structure
For individuals who want to stretch their minds without the formality of a regular class, there are many options available.
Join a Book Club
Do a Google search or visit your local library. Most communities have multiple book clubs, some which specialize in topics of interest. If the book club you want isn't available, you could always start one yourself. Persuade one or two friends to join you and ask them each to bring a friend or two.
Visit a Local Museum
Many historical museums and art galleries offer discounts or free days during the week for older individuals. Don't just breeze through – really take the time to study the works and read the information about the artists. Get to know the time period in which the works in the exhibit were created. Most museums and galleries have rotating exhibits, so each visit will offer something new to learn.
Learn a New Language
Work with a friend to learn a new language using a computer program such as those offered by Rosetta Stone (many libraries have copies that may be borrowed). The practice of learning a new language is an excellent way to challenge your brain to think in new ways.
Become a Serial Hobbyist
Take up a new hobby or several of them. The local craft store will most likely offer short-term classes in a variety of crafting techniques. From knitting to painting and pottery, learning to work with your hands is a good way to keep your mind occupied while also creating something beautiful.
Learning On the Go
It's true that learning doesn't need to end when careers end. But it also doesn't have to be structured. Think outside the box when it comes to learning. Consider a podcast that explains a new idea while you go for your morning jog or clean the house. Listen to a book on tape while you drive to the golf course in a neighboring city.
Lifelong learning is something that can keep your mind agile and help you stay healthy longer. For more information on lifelong learning, click here for our Seniorly resources.