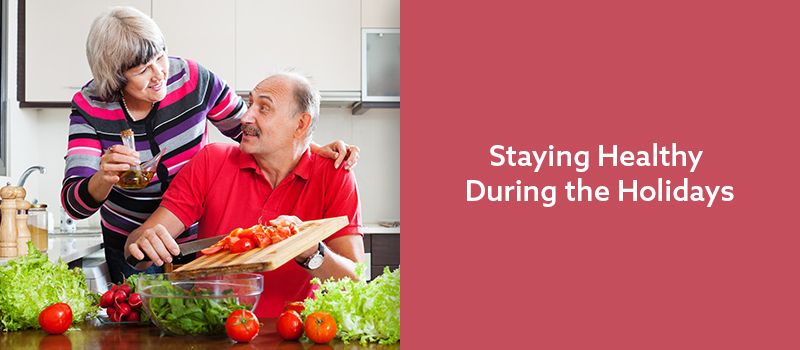 Whether you live alone or in a retirement community, weight gain during any holiday is a struggle for almost everyone. As we age, it can be even more difficult to keep our weight in check. Besides staying active with physical exercise, here are seven tips that doctors and experts recommend for keeping those extra pounds at bay.
Portion control
Instead of filling your plate to the brim, exercise caution when you take your place in line at the next cookout or holiday buffet. Using a small plate is a great strategy. So is keeping the majority of the food on your plate green. Make larger portions for vegetables rather for chips or sweets.
Don't arrive hungry
A big mistake many make is "saving up" calories beforehand in order to splurge later in the day. If you show up starving, you're way more likely to overdo it. Eat normally before and then you'll be less likely to overindulge when all that good food is in front of you.
Be the cook, not the "taster"
If you're the one making food and hosting, be careful about how much tasting you do while you're cooking. Those calories can add up quickly without you even realizing it. Instead, ask a family member to help by being the "taster" (grandchildren in particular love this job).
Don't give the food all the attention
By diverting your energy to things like talking with loved ones and taking part in the holiday festivities, your focus will shift to enjoying the celebrations and living in the moment.
Psychologist Carol Goldberg, PhD says, "Don't look at the gathering as just a food event. Enjoy your friends' company and socializing. Focus on something other than food."
Pace yourself
If you fill your plate up all at once, right off the bat you're going to eat faster. Eating fast is the surest way to gain weight. When you pace yourself, you'll be more likely to chew slowly, enjoy some conversation, and give your body a chance to feel fuller sooner. Start with a few items like salad and an appetizer and come back for the main course a little later.
Limit alcohol
Cutting back on alcohol is a great way to save calories. And it's not just about the calories. The more you drink, the more you lose control over decision-making and what you eat.
If you feel uncomfortable walking around without a drink in your hand, put some water or club soda in a glass. That way, you won't feel left out.
Bring your own treats
If you feel you can't resist some of those holiday goodies, bring some lower calorie alternatives to share. It'll make the fattening ones less tempting. Even if it's just a fruit platter, others will appreciate having an alternative to the rich food options.