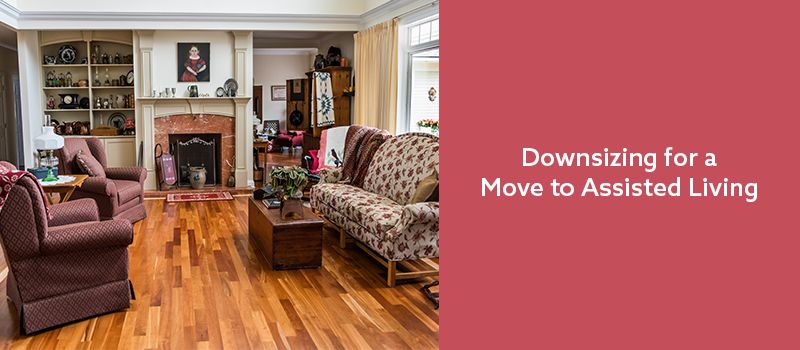 When your elderly loved one decides to make the move to assisted living, it's a major step. Assisted living nearby or in one of Seniorly's highly rated senior housing communities will give everyone in the family peace of mind for this important next step in life.
But what to do about a lifetime of cherished accumulated possessions that no longer fit an elderly loved one's new living space or lifestyle?
Balancing Stewardship and Letting Go
Even when a transition to assisted living for an elderly loved one is something they welcome, it is important to be respectful about the process. Moving to assisted living is a life change that ranks on the life stress scale. If other significant life stressors such as death of a spouse or major illness have also occurred, it can make even the most easy-going person more emotional. Loss of mobility requiring help from caregivers and/or loss of memory necessitating memory care can make an elderly loved one feel anxious. They may feel that they are losing control of so much that they may want to cling more fiercely to possessions they may no longer need.
Your challenge in helping them, according to Seniorly experts, is to be a good steward to their belongings and respectful of the deep emotional meaning items may have for them. Yet at the same time, you need to be practical about the need to downsize their possessions to what will be useful for them in assisted living, so you can empty the family home. This is especially important if the home has to be sold to provide resources for their future care needs.
Decluttering vs. Cherishing Possessions
Some current trends push the idea of decluttering and getting rid of things. The idea is to cherish memories, not things. But we at Seniorly, who pride ourselves on our sensitivity and experience as caregivers for those who live in senior housing, see things differently. An elderly loved one in assisted living may enjoy having keepsakes near that help prompt happy memories. You can always get rid of things, but once they are gone they are gone forever. So if possible, take it slow and try to determine what is important.
For example, someone who needs memory care may no longer be able to read their cherished books the way they once did. But the presence of their favorite books in a bookcase in their room may give them a great feeling of reassurance and continuity.
Family photo albums provide another important source of continuity. Although you may want to digitize them to preserve them for posterity, having the photo albums available for your elderly loved one when they move to assisted living can provide a helpful transitional link. Looking through the photo albums when you visit the assisted living community can give you both a pleasant meaningful activity to do together.
Helpful, Not Hurtful Ways to Downsize Possessions
No matter how gentle and understanding we are about the sentimental value of many of an elderly loved one's lifetime of possessions, there is no doubt that much of it will have to go when they move into assisted living.
One option is to have your elderly loved one try short-term respite care stay in an assisted living community. This will help them feel reassured that they have choices. The chances are that the socialization opportunities in senior housing will keep them so busy, they may not miss most of the things they thought they would.
Keeping heirlooms and other beloved items in the family can help an elderly loved one feel better about letting them go.
Give your elderly loved one a package of round stickers they can use to write a family member's name on to keep track of items they would like that family member to have.

Help your elderly loved one place all of the items they wish to give away on a table. Use printed photos of large pieces. Have family members draw straws to determine who goes first etc. Family members take turns walking around the table and choosing things until everything is claimed.
After family members have had a chance to choose, ask your loved one if there are any items they would like to give to close friends or neighbors. Then help them choose a charity and call to donate extra items.
If it seems too much to deal with at present, you can rent a storage unit so you can sell or donate items at a later date once your loved one is happily settled in their new assisted living community.
Review our other articles on helping a loved one transtion to senior living:
For more resources on moving to senior housing, click here.
If you or a senior loved one are looking for an assisted living community near you, enter your city or zip code in the search box below.