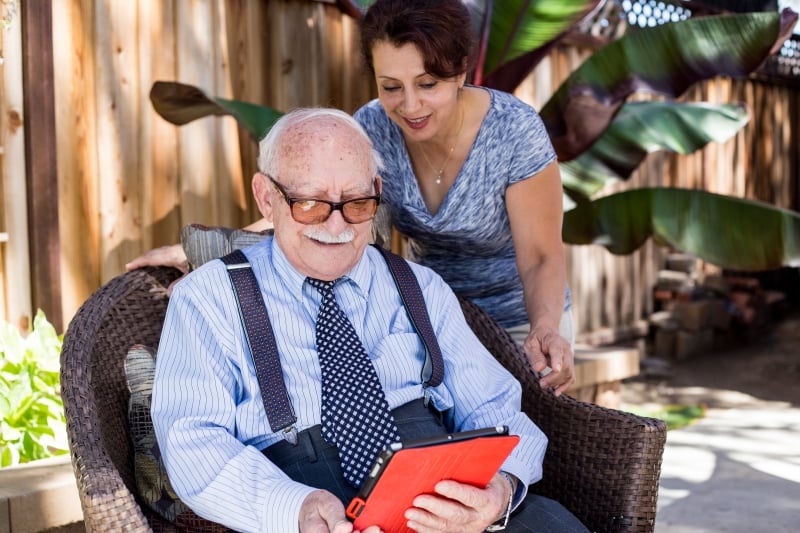 GreatCall Products for older adults offer a range of supportive gadgets that can help families navigate aging transitions and better care for their loved ones at home. Seniorly is proud to support this innovative company as they strive to better the lives of older Americans. If you're the primary family caregiver to an aging loved one, you're a force to be reckoned with. But you also deserve support from time to time. Read on for the top family caregiver products to support you in a challenging role and help your loved one stay safe as they age independently and actively at home.
Products
The Splash Urgent Response Device
The Splash Mobile Personal Emergency Response System is a lifesaver for families caring for elderly loved ones at home. It's more than just a medical alert device; it's a completely mobile tool offering fall detection and instant access to help in the case of an emergency. Users can wear this sleek, stylish device around the neck, on the wrist, or carry it around easily on a keychain. It's simple to use and easy to charge, so even less tech-savvy adults can learn how to use it in no time. For seniors hoping to age actively and independently at home, there's no better device for ensuring senior safety than the Splash Mobile.
Lively Wearable
The Lively Wearable Senior Activity Tracker supports family caregivers by offering an urgent response button connecting your loved one with the help they need in an emergency situation or other moments that require assistance. So whether mom is out walking alone, locked out of the house or feeling ill, you can rest assured that she will have instant access to the care needed to keep her safe.
The wearable connects with the Lively app on a smartphone, so your loved one can keep track of their health and fitness goals. It also sends a message to designated family members when the urgent response button is pressed.
GreatCall Link App
The GreatCall Link App was designed as a caregiver technology tool that allows you to simplify your responsibilities and feel more in control of your daily routine. The app keeps you informed about the safety of family members and allows you to check in on them whenever you want. You can even check the power level of their device and see their location through the GPS technology, which is especially helpful for caregivers of Alzheimer's patients who have a tendency to wander.

If you're the primary caregiver to an aging loved one, you often feel like the world is resting on your shoulders. And you're not alone. Fortunately, there are tons of supportive products out there designed to make your role a little bit easier. GreatCall offers some of the top gadgets at affordable prices, so that you can find peace of mind and keep your loved ones safe at home.