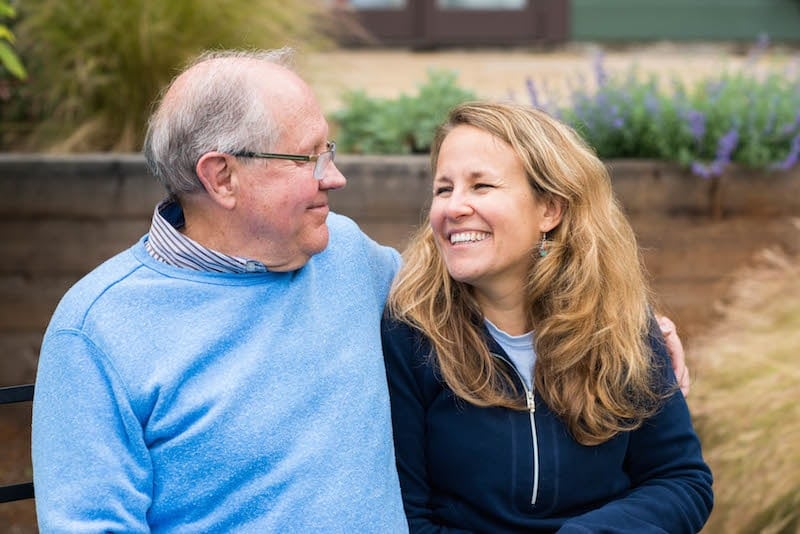 The majority of older adults who need help because of physical or cognitive limitations are cared for by family or friends. At some point, however, your loved one may need more care than you can provide, even with the support of in-home services. When this happens, you may need to consider moving them into a residential care community.
This decision, and the subsequent transition from caregiver to visitor, can be filled with emotions, both positive and negative. Everyone's story is, of course, unique; however, research has found common patterns and experiences. While much of this research focuses on caring for loved ones with dementia, the findings are relevant to caring for older adults who are physically frail as well.
Understanding what to expect, can help you prepare for what may lie ahead. Here are some things to think about:
As difficult as it may be to consider, talk about the possibility of residential care early on when your loved one can actively participate in the conversation. Put a plan in place and revisit it as circumstances change. You may not need it, but if you do it will make the transition easier for everyone involved.

Respondents in various studies reported that some sort of crisis forced the decision to move their loved one to residential care and they were unprepared. Often, that crisis was the hospitalization of the care recipient. Sometimes the tipping point was the physical challenges of caregiving such as incontinence, agitation and sleeplessness, or behavioral changes associated with dementia, such as aggressiveness.

In some cases, the precipitating crisis was the death or decline of a caregiving spouse. Sometimes children or other family members were not aware how much care the spouse was providing. By the time the crisis occurred, the care recipient's physical or cognitive decline was often far advanced. In these circumstances, children or other family have to suddenly deal with both the emotional and practical issues of caregiving.

Take advantage of in-home community-based services (health care, personal care, housecleaning and other chores, respite care) early on.
The potential impact of caregiving on health and well-being is well documented including lack of sleep, stress, anxiety, and social isolation. These are offset by the positives of caring for a loved one, but only up to a point. As the need for care increases, caregivers become less able to cope. Often, caregivers wait until they're already close to the breaking point before they take advantage of these types of services, but by then they are may already be in over their head.
A few hours of respite care, for example, when you're already completely exhausted won't benefit you nearly as much as it will early on when you still have some energy reserves. Getting these kinds of supports in place early will increase the chance that you can care for your loved one at home for longer and will decrease the negative impact on your own health and well-being.
Expect lots of emotions and get help and support in dealing with them.

Many caregivers initially felt relief after their loved one was placed in residential care. This was, however, intermingled with guilt and grief. There was also a sense of loss, not only loss of the person, but a lost sense of purpose as well. Spouses who were living alone for the first time in many years had to cope with loneliness.

There are a number of ways to get help with these emotions. Some caregivers found individual counseling helpful. Others preferred to participate in a support group with others who are experiencing the same thing. This might be an issue focused support group, for example, a group for caregivers of individuals with Alzheimer's Disease. Others participated in a support group at the facility where their loved one was living.

Be prepared to adjust to a new caregiving role.
Caring for a loved one is an intense and intimate experience. It can be hard to hand that care over to someone else. You are no longer the expert in your loved one's care and the professional staff may not do things exactly the same way you would. Of course you should continue to advocate for your loved one, particularly if they are unable to do so on their own. But you also have to let the staff do their jobs and decide what will best help you cope with this new role. Some caregivers like to get regular updates from the staff. Others found these updates more stressful than useful because they added to their sense of helplessness. It may take time to determine what works for you and it may change over time. That's okay.
Get to know the staff and the facility.

Caregivers who felt disconnected from the staff and the facility reported more grief because they felt like the system was taking over. These caregivers said that they had not been encouraged to be involved in the care of their relative, they were not given enough information in the beginning, and they had little contact with staff. At the same time, they still felt an obligation and a desire to be involved. After all, they were intimately familiar with their loved one's needs and wants. This need for communication with the staff grew as their loved one's ability to communicate declined.

Caregivers felt that the transitions would have been easier if they had been able to build understanding with the staff, improve their own knowledge and understanding about dementia or other relevant illnesses, and learn how to communicate better with their loved one as their cognitive functioning declines. Ideally they would have one contact point with staff, although there can be issues with staffing levels and schedules that might not make this possible.

The transition was easier if they began this relationship building before the actual move took place. Caregivers found it helpful to visit the facility and talk to staff, residents, and other caregivers. They found it helpful to have a neutral party go with them. It's an emotional time and some caregivers reported in retrospect that they didn't ask all of the questions they should have and didn't hear some of the answers that they weren't ready to accept (for example, that their loved one would eventually need to be in a dedicated memory care unit).
For more information on caregiver support visit the Seniorly Resource Center and enter the topic "caregiver support" into the search box. If you prefer to speak to someone over the phone about respite care options or supportive services during the transition, feel free to email us at info@seniorly.com or call us at (415) 570-4370.