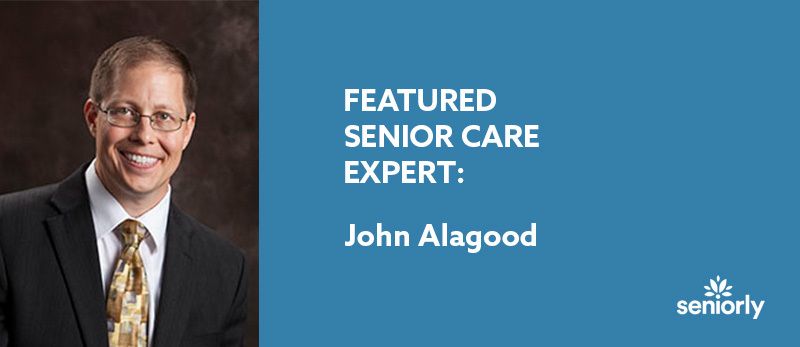 John Alagood, CSA, CPA, CDP is a senior living and care advisor serving Dallas-Fort Worth as Area Owner for Senior Care Authority. He and his team have helped hundreds of families seeking the best options for seniors to live safely and receive proper care. His extensive personal and professional experience with dementia and the needs of older adults allows him to help families make courageous and informed decisions under difficult circumstances.
1. What do you enjoy most about being a senior living and care advisor?
I love helping families find dignity and quality of life in their later years. With the right senior living and care, our seniors get to share their experience and values with a new generation of their family and extend their legacy.
2. What positive changes in senior living care have you seen happen over the years?
Excellent assisted living communities have been slowly and persistently overcoming the stigma of the "convalescent home." More of the families we help have seen true communities adding life to later years and there is slowly, gradually less fear and occasionally even positive anticipation.
3. What would you like to see change to improve the senior living experience?
The role of the in-person placement agent is essential to senior living and care. Too many families proceed without an agent and pay too much, move multiple times, or run out of money. Others believe that soley a phone or online search service can protect their interests. Senior living decisions involve the cost of a house, the complexity of a car lease, and the trust of a marriage. An independent professional advocate is needed to advise regarding care, cost, and safety as well as long-term quality of life.
4. What is the first piece of advice you give to anyone working with you for their senior care needs?
Slow down and talk it through – we'll get through this together. Once we thoroughly understand your family and needs, we'll personally take you to the best options for you and help you avoid pitfalls for the unwary.
5. How can someone looking for help with their senior care needs contact you?
John Alagood, CSA, CPA, CDP john@scadfw.com (469) 333-8833
For more resources on senior living, click here.
Ready to search for senior living for yourself or a loved one? Simply enter your zip code below to begin your search: