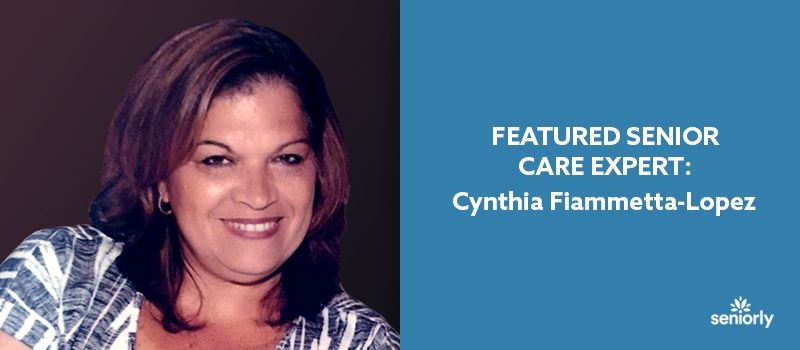 Cynthia Fiammetta-Lopez is a senior living and care advisor serving the South Florida area as the owner of Adult Senior Placement. Adult Senior Placement provides complete and personalized assistance to families in their decision-making process by helping them locate the best senior home away from home environment to meet their loved ones personalized medical care, social, spiritual and financial requirements. Adult Senior Placement works with over 500 licensed and certified independent and assisted living communities in Broward, Palm Beach and Miami-Dade Counties. For those who qualify: Medicaid Waiver, and/or Veterans Programs are also available. They take away the worry and trouble of finding a home with absolutely no cost to the families they assist.

1. What do you enjoy most about being a senior living and care advisor?
I enjoy being able to provide complete and personalized assistance for seniors and/or their loved ones who are searching for a home away from home. My favorite moment is when families find out my services are totally free to them, as well.
2. What positive changes in senior living care have you seen happen over the years?
Today's assisted living communities reflect the interests and personalities of their residents. Assisted living communities exist to cater to the cultural backgrounds and preferred lifestyles of their residents. This is a far cry from the dreaded "nursing home" idea people have from the past.
3. What would you like to see change to improve the senior living experience?
I would like to see more services offered to help seniors and families explore assisted living options. The industry doesn't do a very good job promoting these kinds of services. Granted, we are a small company focused on a specific community, so our resources are limited. But it would be wonderful if there was some national mechanism that could help connect families more easily to local services, like my company. I'd also like to see families become more informed earlier in their lives. Subjects like managing finances, or what to ask when touring a community, to arranging movers when a family member is ready to relocate to their ideal assisted living communinty, all of these and more are available so easily when families work with a company like mine. But the more families I work with, the more I realize how little information is shared from generation to generation and within communities. I wish there was more sharing going on. It wouldn't just make my job easier, I know it would make the process so much more enjoyable for the families.

4. What is the first piece of advice you give to anyone working with you for their senior care needs?
We understand that this is probably a decision you were not planning on making so soon or never wanted to make at all. That is the first thing we acknowlege. It helps families feel confident in our service. We undersatnd where they're coming from at the start. What we try to reinforce throughout the process is that our experience and knowledge, like any goodcare advisor, should provide the comfort and peace of mind needed so families can focus on finding the best living arrangement, nothing else. Though that isn't the first piece of advice we give, it is certainly something we convey as often of possible throughout the process.

5. How can someone looking for help with their senior care needs contact you?
Cynthia Fiammetta-Lopez, asplacement@aol.com (888)593-2743
For more resources on senior living, click here.
Ready to search for senior living for yourself or a loved one? Simply enter your zip code below to begin your search: