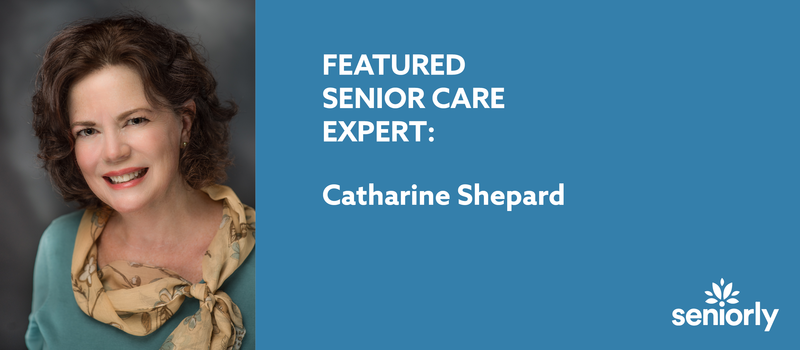 Catharine Shepard and her team of local consultants have extensive knowledge and experience at all levels in the eldercare field. Her team consists of gerontologists, social workers, and former senior community professionals. They have assisted thousands of families in their search for appropriate senior living and care, and are a resource for hospitals, doctors, and others in the senior care industry, who refer to them frequently.
Catharine Shepard is the President of Senior Care Referral Specialists, Inc. She grew up with her grandmother living with her family until she needed a level of care that could not be provided at home. Her first volunteer position in junior high school was in a nursing home, where she continued developing a love for the elderly. Her background in Human Resources, Training and Development, and Project Management, in various fields eventually led to a career in healthcare, where she was responsible for the training and management of many eldercare consultants before starting Senior Care Referral Specialists, Inc. We took a few moments to interview this industry leader. If you seek her professional services, information is available at the end of this interview.
1. What do you enjoy most about being an eldercare consultant?
Because I and my team of professional eldercare consultants have a heart for the elderly in our community, and their vulnerability, we find it a joy and privilege to do work that positively impacts their lives. The need to find a suitable care situation for so many seniors is critical, so we strive to find an environment which meets not only their clinical needs, but their social needs as well – we want them to thrive, not just survive! If we can help them remain at home by providing resources to in-home care, that is wonderful, but there are so many that need 24/7 care in a long term care setting, and that move is very difficult. We want to help ease that transition as much as possible by finding a care community that suits their personalities as well as their physical needs… and hopefully make their remaining days as happy and safe as possible.
2. What positive changes in senior living care have you seen happen over the years?
Senior living has seen many changes over the years – most significantly the shift from institutional and sterile nursing home environments to active and engaged assisted living communities and memory care communities. They cater to the social needs now as well as the care needs… Many of them are like cruise ships on land, with an abundance of activities like movies (often in movie theatre like rooms), events like casino nights, or big band music night, holiday parties, and more, in addition to outings to theatres, ocean drives, etc. They have added computer centers with skype capabilities, and memory enhancement games. Dining has changed in many communities as well, now offering not only the primary dining room with a large menu of food from which to select, but also offering al fresco dining with outdoor grills, and indoor cocktail lounges or coffee and pastry bistros. Many care communities understand also the value of animal interaction, and so will accept small pets, and/or have pet therapy visits available as well, in addition to small pet parks on the properties. In California, there is also an abundance of small care homes licensed by the state that provide 24 hour care, housing, and meals for 4 – 6 elderly residents, and this meets a great need for those with very high care levels who need a lot of one-on-one attention, or those whose care budgets prevent them from considering the larger communities.
3. What would you like to see change to improve the senior living experience?
Many states have ways to manage the care for seniors who have very low income status. Unfortunately, in California, there is very little provided for seniors who rely solely on their social security income. Medi-Cal only pays for either nursing home care, or a very small amount of assisted living options, but overall, seniors with low income struggle to find care, and their families struggle as a result to try to balance their work and family lives with providing the care needed by their elderly loved ones, which is often extreme. At one point the state had a good amount of senior daycares available that were subsidized for those who needed oversight during the day until their families could come home after work. That has largely been eradicated in California, and most have shut down. These are the areas I would like to see addressed in the state of California.
4. What is the first piece of advice you give to anyone working with you for their senior care needs?
Each situation is unique in its own way, and we try to be sensitive to the stresses that are happening within each family as they strive to find the right options. The first piece of advice I like to give people is to breathe…. to take a moment and relax. They are under SO much stress, and it is all so overwhelming. When they can stop and listen, and understand we are going to be there for them to provide the education, resources, and guidance they need to make an educated decision, they can begin to take the steps needed to move forward in a productive manner.
5. How can someone looking for help with their senior care needs contact you?
We only serve Southern California, and can be reached a number of ways:
Phone – 951.824.8299 or 800.587.4410
Email – Help@SrCareInfo.com
Website – www.SrCareInfo.com – where they can complete a request form for assistance.
For more on senior living care click on this link.