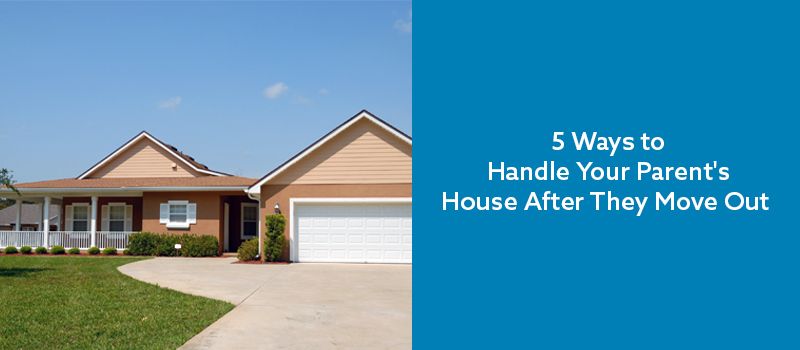 You've had the conversation with your parents, and you've both decided it's best that they move into a nearby assisted living community. The only question now is: What do you do with their house? Luckily, you've got several options here.
Option 1: Sell the House
Selling is the obvious thing to do with an empty home. You might want to wait until your parent is situated in their new living situation, especially if you're helping them move out — selling a home is stressful enough, without adding any extra factors!
But the process doesn't have to be painful. HomeLight recently put together a pretty straightforward guide to getting your house ready to sell that might help you get things organized.
Namely, you'll be spending a lot of time decluttering, deciding what goes in storage, what's getting distributed among the family, and what needs to stay in the home for staging purposes. You'll also have to decide if you want to get an agent or sell it yourself — it's tempting to try to sell the home on your own, but an agent's marketing and sales expertise (along with knowledge of all the paperwork!) can save you a lot of time and energy.
This might be for you if: Neither you or other family members wants to live in the home, renting sounds like too much of a hassle, and you're uninterested in maintaining the home to sell at a future date.
Option 2: Find a Tenant
If you don't want to sell the house, but don't want it to sit empty, you can look into renting. If you maintain the property but share some of the profits with your parents, this could also be a good way to ensure that they'll have a healthy savings account to keep in case of health emergencies (or to continue paying for their assisted living community).
Before going this route, you'll want to:
This might be for you if: You're not ready to sell the house, but you also don't want to move in, and you'd rather have someone living in it than leave it empty.
Option 3: Move Yourself In
Maybe you're renting your current home, and you want to move in to your parent's old house. Or maybe your parent's house is just preferable to your current abode. Either way, moving in is arguably the easiest thing to do with the home, and is also a good option if you don't want to sell the home (for whatever reason).
Depending on where your parent's health is at, how long you intend to live in the home, and their preferences on the matter, you may want to formally transfer ownership of the house. The most common way to do this is with a Quit Claim Deed, a type of deed which is typically only used to transfer a house title between family members or other individuals who have a longstanding and trusting relationship.
This might be for you if: You're currently renting or were preparing to sell your home soon anyways, and you/your parents don't want to sell the house right now.
Option 4: Keep it in the Family
If you're not interested in moving in, maybe someone else in your family is. Whether it's your children, a cousin, or one of your siblings, someone else in the family might be interested in living in the home. If it's been in the family for generations, why not keep it in the family? As with moving in yourself, you may want to look at a Quit Claim Deed, depending on the details.
This might be for you if: Everyone wants the home to stay in the family, but you're not interested in moving in or can't move in right now.
Option 5: Leave it Empty
Maybe the home is in an area that's increasing in value, so you want to hang on to it for a few years before you sell it. If you leave it empty, make sure that you:
Take weatherproofing precautions. Before winter, you'll want to drain the pipes and toilets, disconnect outdoor hoses, and turn off the water, gas, and electricity. During the summer, keep empty fridges and freezers propped open to minimize moisture and prevent potential mold buildup.
If you're leaving the water connected, have someone come in the house every few months to run water in all the sinks, flush toilets, turn on showers, etc. to keep the pipes from getting dried out.
Keep the house looking liveable so that it doesn't become a crime risk. The last thing you want is for someone to assume the owners are gone on a trip and break in looking for valuables, or break in just to squat. Take care of the landscaping and stop by regularly to clear out any junk mail that may have piled up.
This might be for you if: Property value is rapidly increasing in your area, and you can afford to wait a year or two to sell (and you're also not interested in managing the rental process right now).
Review our other articles on helping a loved one transition to senior living:
For more resources on moving to senior housing, click here.
This post is a guest contribution from Michelle Nickolaisen. Michelle is a writer for HomeLight, arguably the best way to find a real estate agent. If you're selling a house, you can compare real estate agents by their historical transaction data and find the agents who specialize in selling properties just like yours faster and for more money.