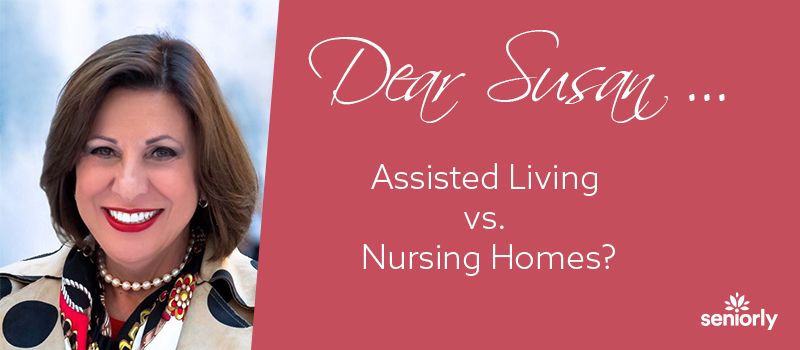 Dear Susan,
My father is no longer allowed to drive. My siblings and I are trying to find the best living option for him. What is the difference between assisted living and nursing homes?
Concerned Son in Cleveland
Dear Concerned Son in Cleveland,
Giving up our ability to drive is often times one of the most difficult choices we make! We are so mobile and accustomed to the independence that driving offers that I applaud your dear father for complying. I'm sure it is for his safety and that of other motorists. Choosing a senior living community that offers transportation will help make his transition to no longer driving a bit smoother.
The difference between assisted living and a skilled nursing community can undoubtedly be confusing to consumers. Assisted livings have enhanced their care services and the old "nursing home" has stepped up their physical settings, hospitality and recreation offerings so much that we now call them "skilled nursing" communities.
While researching options for your father you want to look for the most independent level of care he can safely occupy. We've talked about this before in a previous article but this can be all so confusing and new so it's worth repeating:
Assisted Living: This is where your father would reside in a closed door apartment. Room and board (monthly rent) usually includes weekly housekeeping, one to three meals per day (depending on the community), recreation opportunities and transportation. Also offered is support with activities of daily living or ADLs (think of all the self care activities you took care of this morning). Basic medication administration is also available. In assisted living these "add on" services are usually available on an à la carte basis. In other words, fees for services rendered are in addition to the room and board. As I have frequently mentioned, assisted living regulations vary from state to state. If you live on or near the border of two states, I would check out assisted livings in both states.
Skilled Nursing: Since their primary focus is on medical care, these senior properties are subject to both state and federal regulations. So while not identical from state to state there will be more similarities in what they are able to provide. Skilled nursing communities have private or shared living accommodations, daily housekeeping, three meals per day, recreation opportunities and some offer transportation. Skilled nursing communities offer greater supervision such as licensed nurses around the clock and higher staffing ratios. Since there is a clinical team in place, a skilled nursing community has the ability to evaluate and monitor more complex medical conditions on the premises. For example, they can dispense a full range of medications, IVs, catheters, dressings and if needed, provide total ADL care for residents. As a result, their rates are usually higher than those of an assisted living. However, costs are on a daily basis and include the person's care as well as their room and board.
I hope this is somewhat helpful. I strongly recommend that you tour both assisted living and skilled nursing communities on your own and look for the most independent level of care that your father can safely occupy. If he is borderline in terms of care needs, I recommend you opt for the higher level of care to avoid the need for an additional move in the near future. Reaching out to your father's primary care physician to discuss your father's care needs may offer some much needed expert insight, as well. Good luck!
------
Dear Susan,
My mother has been very happy in an assisted living community, but she is beginning to suffer from signs of dementia. At what point will the property recommend moving her into memory care? What questions should I be asking? How do I prevent them from keeping her too long?
Perplexed in Pittsburgh
Dear Perplexed in Pittsburgh,
So glad to hear that assisted living has been a good fit for your mother. It means you both made a wise choice! But as wonderful as assisted living is, it may not be a "forever choice."
Since not all assisted living communities have a devoted memory care neighborhood that would be the first question I would ask. Often a move to memory care is necessitated by a resident who is constantly exit seeking or an exacerbation of behaviors or an increase in anxiety. These can often be remedied by a well trained specialized staff in a memory care neighborhood enabling the resident to feel calm, safe and secure.
You have excellent questions. Since you've been content with your mother's assisted living community my sense is you will be displeased (do listen to your "gut") when it is no longer a safe, suitable setting. But here are a few tips: When an assisted living community consistently builds on additional services resulting in escalating fees it is time to start looking at skilled nursing communities (please read the first question above). I would only look at skilled nursing communities that have a memory care neighborhood so another move will not be necessary. Also, you do not want to keep your mother in assisted living until her assets exhaust. Since you obviously chose well before, you will do so again!
Are you seeking an assisted living or skilled nursing community near you? Enter your city or zip code below to start your search:
------
Dear Susan,
Aside from meals, housekeeping and assistance with activities of daily living what do you see as the greatest benefit of senior living?
Struggling in San Francisco
Dear Struggling in San Francisco,
What a great question! I would have to say the "sense of community." Let me explain...
While most working adults look forward to retirement, we take for granted the amount of socialization incorporated into our work. Whether interaction is in person, via phone or on line, our work connects us to other humans. Don't misunderstand, retirement looks grand as a time when we can establish our own schedules. But if you are no longer driving and have decreased mobility it takes a lot of effort to create a social life and we risk becoming isolated. That's not good for us at any age. We can become sad and lonely focusing on losses we may have endured during our lives. We all know it is not possible to "rewind our life" to when we were young (sounds great though). This is when I believe "distraction" is a healthy antidote.
With all the events and activities available in senior living it's almost effortless to remain stimulated and engaged. It also affords us privacy when needed. Residents tend to frequent the things they enjoy most and friendships, sometimes even romances develop. Our need for human connectedness and touch never leaves us, no matter our age. Being an integral part of a thriving community is priceless!
Heartfelt thanks to all and please continue to write! If you have any questions about senior living for your loved one, feel free to email me at susan@seniorly.com.
Susan
To read Susan's previous articles within this column, click here.