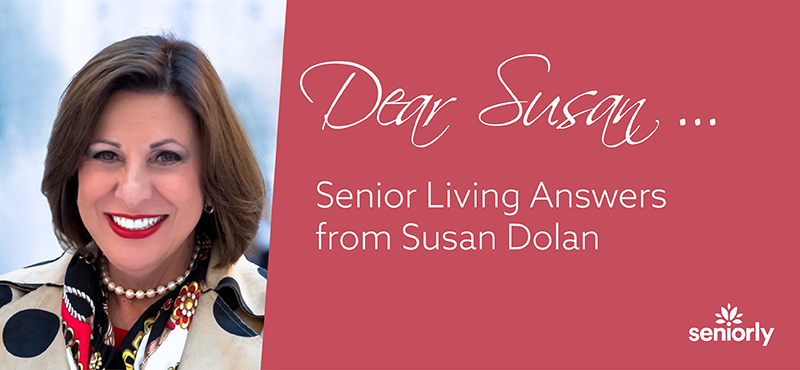 With a background in social work, Susan Dolan has worked in the Senior Living Industry for over 20 years. Having been a Community Relations Director, Marketing Director and Executive Director, Susan now focuses on Customer Service and Staff Training. Passionate about people and living life to the fullest at every age, Susan takes your questions about senior living care and senior housing to bring you her honest and thoughful responses. Send your questions to susan@seniorly.com
Dear Susan,
I'm worried about my 80-year old mother. A few of her friends have recently died and she seems a bit lonely and isolated. I try to do my best to keep her busy, but between my work schedule and other commitments it just doesn't seem like enough. Please help!
Worried Daughter

Dear Worried Daughter,
Sorry for your dear mother's losses. It is an unfortunate part of the aging process. Have you considered Assisted Living? Most assisted living communities offer private apartments, meals, housekeeping and an array of events and activities. Think cruise-on-land where a person can be as social or as private as they wish. The friendships that develop and the camaraderie of community living may enable her to flourish and give you well-deserved peace of mind. No matter what adult children are able to provide we all need our contemporaries. If you're reaching out to me via Seniorly, then you already know they are a great resource for your assisted living community search.
In addition, one of Seniorly's friends, Anne Johnson LCSW, who is a Caregiver Support Coordinator, wanted to suggest your mother get evaluted for depression or adjustment disorder. She really might benefit from talking with a professional about her losses.
Please let me know what happens with your mother.
Susan
Dear Susan,
I think my parents are in need of assistance. The house is too much for them and they can no longer drive. Should I bring them with me when I look at all the senior assisted living communities nearby?
Searching Son

Dear Searching Son,
This is a question I get asked quite a lot. It's a good one! I would recommend that you initially tour the senior living communities on your own. Based on your parents needs, narrow it down to your favorites (2 or 3) and then involve your Mom and Dad. It can be overwhelming to look at many properties. Think of what it was like when you were looking at colleges. It is a similar process and there is a connection that you and your parents will feel when it's the right one. I'd love to know which senior community you select.
Susan

Dear Susan,
My husband and I are getting older, things are getting more difficult and we're starting to have a few health problems typical of senior citizens. When is the best time to start looking at Assisted Living?
Ellie from Rhode Island

Dear Ellie from Rhode Island,
What a luxury to be able to explore your options when not in crisis. I would recommend you look now. The trusted team at Seniorly can provide you all the guidance you need to get started. And they don't charge for their services. Things you should be asking for- prices, floor plans, photos, and be sure to set up tours at the senior living communities that appeal to you based on location, price and aesthetics. Your favorite may even allow you to book a trial stay, also known as a "respite stay." Nothing like a "test drive" to see if it's the right fit. I applaud you for initiating this process as it puts you and your husband in control of your own destiny. Nothing better than that!
Susan
Susan will be back again soon with more answers to your questions. Please reach out to her via her email, susan@seniorly.com. There is no question related to senior living she isn't qualified to answer. And if she can't answer, knowing Susan as well as we do, she will find someone who can!

For more senior living and senior care information click on this link.