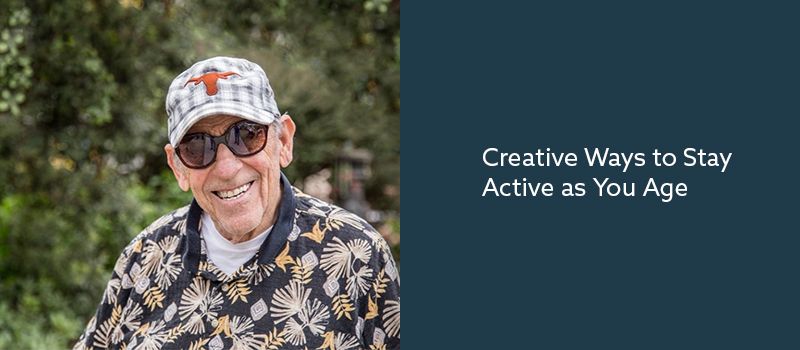 It is inarguable that staying active – mentally, physically, and socially – is vitally important as we age. The challenge lies in finding creative ways to continue to do that, even if there are difficulties involved.
Keep Moving
If you have access to a pool at home or in your local community, you have one of the best workout tools available. Pools offer a wide array of workout options for people looking for low-impact exercise. You can swim laps or do water aerobics. If you have had surgery or have difficulties with your joints, water exercises may be perfect for you. They allow you to move and stretch without putting any pressure on those joints.
Walking may sound simple, but it has always been one of the best exercises for older adults. So walk your dog or get outside with a friend for some fresh air and good conversation. Once a week, find a new hiking trail near your home and take photos of the beautiful scenery. Join a local walking club. Discover your city on foot. It may give you a whole new perspective!
Stretch Your Mind
Lifelong learning can help you stay active as you age and keep your brain sharp as well. If you don't already have one, create a bucket list and begin crossing items off your list. Regardless of your age, there is no reason you can't dream big and live life to its fullest.
Take a class. Many community colleges and universities allow seniors to audit classes without any fees. Some senior living communities nearby may even offer an educational program. Consider classes via edX, a free, online series of course offerings taught by instructors at universities around the world. Learn a new language or new hobby.
Teach. Regardless of what your skill set is, there is someone who needs to know it. You can teach someone to read at your local library or offer to teach a sewing class at a local youth center.
Read. Read anything and everything – books, magazines, newspapers. Keep a book (print or electronic) with you when you go out so you can read while you wait. You may even want to join a book club.
Play a game. Play Sudoku or a crossword puzzle or word search. Download the app and challenge your kids or grandchildren to a game of Words With Friends. You'll both get a mental workout, and you'll enjoy the added bonus of a bit of friendly competition with someone you love.
Engage socially. Join a club that corresponds with one of your hobbies. Organize a supper club with people in your retirement community. Gather a group of people to meet weekly to see the latest independent film that is garnering positive critical notice. Whatever you can imagine, you can do. Take a couple of friends with you.
As you consider ways to stay active socially, remember that one of the best ways is to volunteer for charitable organizations. Not only will you keep your social calendar full, but you'll also feel good about helping others and bettering your community. As Abraham Lincoln said, "To ease another's heartache is to forget one's own."
Keep Creating
The key with anything – whether staying active or keeping your mind alert – is to being creative in all you do. Give yourself over to possibility and keep a keen interest in the world around you. Soon, staying active will become a habit instead of a chore.
If you need more tips on ways to stay active and engaged as you age, click here for even more helpful Seniorly resources.