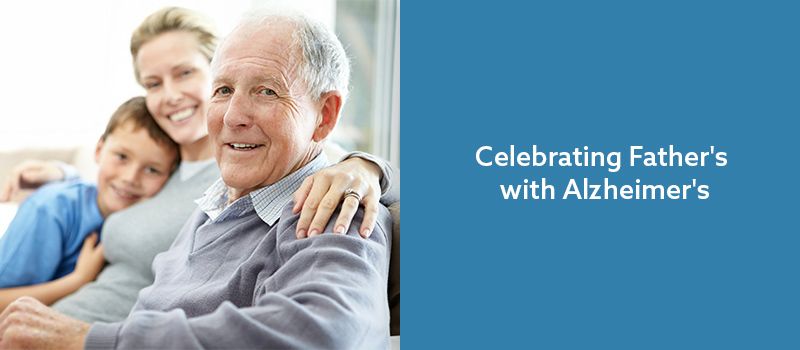 You probably have a long tradition of Father's Day celebrations with your dad. That new tie. A game of golf. The latest summer blockbuster. A festive lunch or a cookout in the backyard.
However, what do you do when Alzheimer's disease starts to slowly peel your dad away from you? Suddenly that new tie seems to mock the life your dad once led, and the idea of going out to lunch as a family seems more difficult than fun.
Like any life change, Alzheimer's disease can present its obstacles... but it doesn't have to rob you of the chance to wish your dad a happy Father's Day.
What You Can Do Together
Share a Meal. You don't have to dine at a restaurant to share a special meal together. Pick up lunch from Dad's favorite restaurant and enjoy it together, or cook a family favorite to share in the backyard. Aim for brunch or lunch rather than dinner, since some Alzheimer's patients can end up with "sundowning" symptoms, getting more confused as the day goes on.
Play a Game. No, Dad might not be able to make it through 18 holes of golf anymore, but could he handle an hour on the putting green? Or what about a simple, no-stakes game of cards or a board game with the family? Some gentle Wii Sports can also get Dad up and moving in a fun way.
Talk About Old Memories. Yes, your dad might not remember what happened yesterday. But older memories stay intact longer during Alzheimer's, so ask your dad to tell some stories about his childhood (yes, even if you've heard them so often you could tell them yourself). Don't be surprised if this brings Dad some real joy.
What You Can Give Your Dad
DVDs of Old Favorites. Don't try to introduce Dad to new movies or TV shows, but pick up DVDs of some of his favorites. You can even sit down and watch a few episodes together on Father's Day.
Handy Odds and Ends. Warm socks. A small dry-erase board so your dad and his caregivers can write down reminders easily. Homemade goodies, such as those oatmeal chocolate chip cookies Dad loves. A soft, cozy blanket.
The Importance of Just Being There
Your dad's life with Alzheimer's can get lonely. As he becomes increasingly cut off from his own memories and unable to connect with his community, your time with him becomes even more important. Even if all you can do is spend time sitting with him, that might be enough. He'll realize he's loved, and you'll know you did the right thing in honoring Father's Day.
Alzheimer's is a progressive disease, so what works with your dad this year on Father's Day may be different from what worked last year. Even if Dad isn't fully aware that it's Father's Day, you can do a lot to make the day special and build some new traditions that acknowledge the present while honoring the past.
Still looking for more ways to celebrate a father with Alzheimer's? Read our list of 13 Activities for Alzheimer's/Dementia Care at Home.
For more resources on memory loss and senior living, click here.