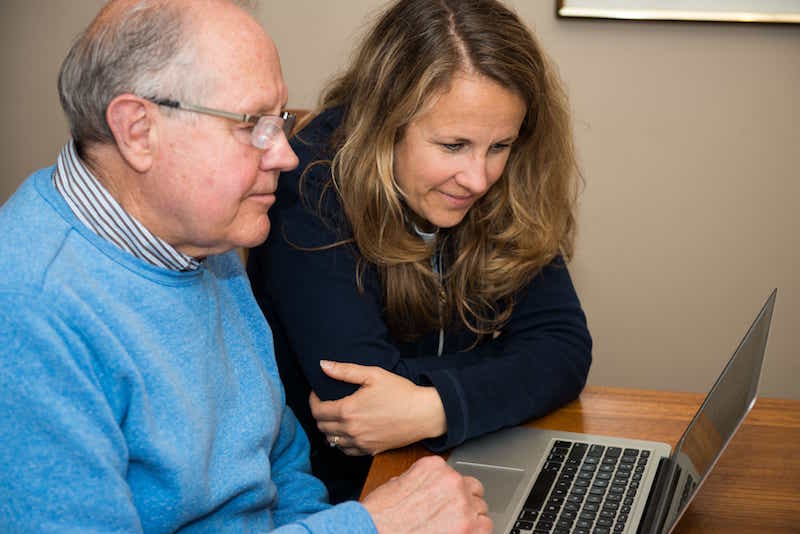 You take pride in the fact that you take such good care of your aging loved one on your own. Maybe you're an empty nester or a retiree and this is what you want to do. But even with the best intentions, caregiver burnout can set in. Especially if your elderly loved one has Alzheimer's and/or mobility challenges.
About Caregiver Burnout
Burnout, the utter depletion of our emotional and spiritual well-being, can happen slowly without a caregiver realizing it.
Caregiver burnout is defined as "a state of physical, emotional, and mental exhaustion that may be accompanied by a change in attitude -- from positive and caring to negative and unconcerned."
Everyone who takes care of a loved one whose health is declining needs support and assistance from family, friends or caregiver support groups, including online communities.
Taking care of yourself is also a way of taking care of your loved one, because they depend on you to be at your best every day. Don't feel guilty or wait until you feel burned out to begin taking care of yourself. Here are some definite signs of caregiver burnout suggested by AARP that indicate it's time to make some changes.
5 Signs of Caregiver Burnout
1. You feel happy one minute, and then sad and helpless the next, you're probably experiencing burnout. As you ride the emotional roller coaster of caregiving, you can swing from joy to anger. Mood swings are a definite sign that something's wrong.
2. You catch every bug that comes your way. Stress can suppress your immune system. If you are getting sick more often and staying sick longer than you used to, your body is trying to tell you something. Listen up.
3. You're snapping at everyone. When you feel helpless and overwhelmed, you're more likely to overreact to things people do, or don't do. This is a good sign you may need a time out.
4. You know you should exercise, but you don't make the time. Caregiving is a marathon, not a sprint. You need to find a way to keep yourself in shape if you're going to make it through every mile along the way.
5. You can't remember the last time you met a friend for dinner or a movie. Caregivers — motivated by a mix of love, loyalty and a dash of guilt — rarely allow themselves an evening out. Take some time to nourish your soul and catch up with people who mean a lot to you.
When to Seek Help
Caregiver burnout can sometimes reach a level where health and safety for either you or your elderly loved one are at risk. This is a point when it's vital to take a break. You can try short-term respite care with the help of senior housing communities. This will give you a chance to relax and catch your breath. Your loved one may appreciate the change of scenery and enjoy some socialization with people their own age for a period of time.
A respite stay in short-term senior housing may be necessary if you are feeling:
Unable to concentrate

Sad all the time

Anxious and fearful

Lethargic and low energy

Guilty and worthless

Depressed for two weeks or more

You need alcohol to relax

Lingering backaches, skin rashes or the flu
Seniorly is a trusted resource for comprehensive information on short-term senior housing. Visit www.seniorly.com or call us at (415) 570-4370 for a free consultation with our gerontologist today. The Seniorly website also offers resources for caregivers presented by top experts in the field.