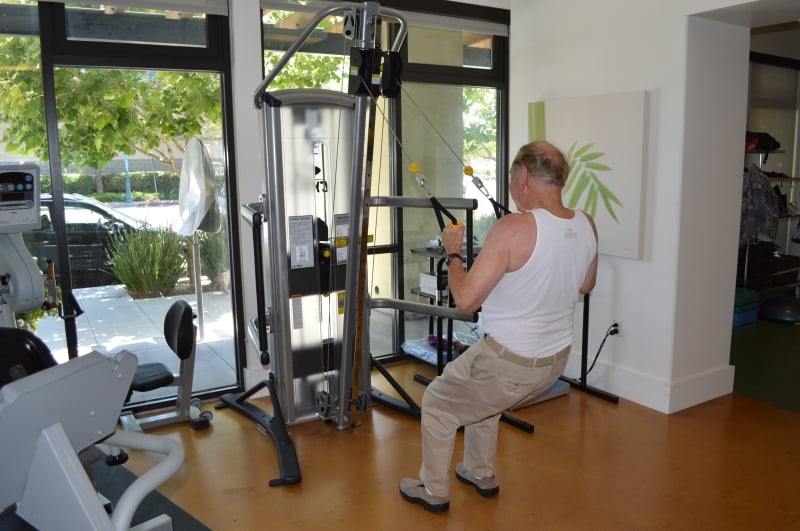 Arthritis can be a devastating, painful condition. In fact, some form of the disease troubles half of all adults over the age of 65. Most elderly Americans have three different types of arthritis: Osteoarthritis, rheumatoid arthritis or gout.
However, there are ways to treat arthritis to help alleviate the symptoms. Medication, diet and exercise all play an important role. And these days, caregivers in senior housing communities are equipped with the knowledge and tools necessary to tackle arthritis pain and help residents get the best possible care in a comforting environment.
If your elderly loved one is currently in a senior housing community, or even if they're going for a short-term respite stay, there are services available on site to provide physical therapy, medication assistance and nutritional menus for symptom relief.
Senior housing communities are equipped to help with arthritis symptoms
There are many ways today's senior housing communities are set up to help residents who suffer with arthritis pain.
Physical activity
According to the national Arthritis Foundation, one of the best ways to help control the pain and symptoms of arthritis is by staying active.
Many senior housing communities have fitness instructors on staff who are specifically trained to help guide your loved one through appropriate walking, moving and in some cases, weight training exercises designed specifically to help with arthritis symptoms.
Some communities even offer physical fitness programming like dance classes, tai chi and yoga that are tailored to the needs of residents suffering from arthritis. Communities with swimming pools on-site often have classes that teach low-impact water exercises to help relieve arthritis pain as well.
Nutrition
The Arthritis Foundation and doctors also recommend a specific diet for arthritis sufferers. A diet high in nutrients, protein and fiber, while low in salt, sugar and saturated fats can help seniors maintain a healthy weight.
According to the Arthritis Foundation, "Recent research suggests that excess body fat produces chemicals that travel throughout the body and cause joint damage."
With these facts in mind, today's senior communities often consult with or have nutritionists on staff to design a diet for arthritis sufferers.
Medication
Medication plays a major role in helping to relieve arthritis pain. Senior communities have caregiving staff available to distribute appropriate medication at recommended times and dosages.
For minor discomfort and swelling, over-the-counter pain relievers like acetaminophen (Tylenol), aspirin or ibuprofen may help. Topical creams that can be applied directly to sore joints and contain active ingredients such as menthol (like Bengay) may also provide relief.
Prescription drugs such as Celebrex may be prescribed if symptoms are severe. Doctors may also recommend treatments like steroids, which are powerful anti-inflammatory drugs that can help with forms of rheumatoid arthritis, lupus and other types of inflammation.
Senior housing communities are set up to provide help with all types of medication as well as arthritis treatments such as heating pads, icing, shoe inserts and braces that can help keep pressure off joints.
For additional information on arthritis pain management and its symptoms, check out this helpful article on Seniorly.
To find more articles on senior living, click here.