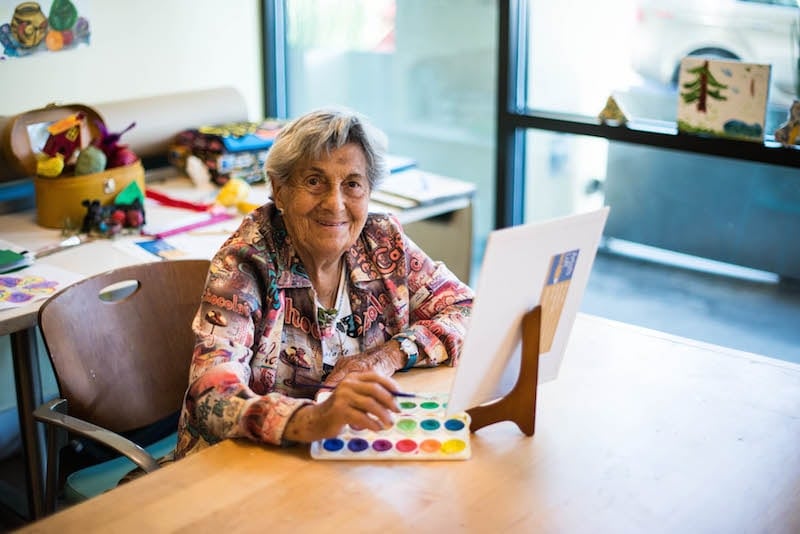 Being active is important to maintain physical health, decrease social isolation and loneliness, and improve overall quality of life. While this is true for all of us, it can be especially important when you move into senior housing. Such transitions often happen because of changes in health and mobility, and they can be trying times as elderly family members move away from familiar people and places.
Getting involved in activities in your new community, starting a new hobby and staying fit are all great ways to meet people, keep active and stay healthy.
Activities in senior communities are as varied as the interests of the residents themselves. Here are some of the most popular activities you might find in an elder care home.
Art
Did you know that creating art is good for your brain, even if you start the hobby later in life? Researchers at the Mayo Clinic followed 265 people in their 80s over four years and tracked the changes in their brains as they aged. The older adults who took up some sort of artistic work were actually less likely to develop mild cognitive problems such as memory lapses and difficulty thinking. It's not clear why creating art later in life has this effect, but these results are similar to previous studies that have looked at seniors who quilt or take creativity-focused classes.
There are some independent and assisted living communities for seniors who want to immerse themselves in art. Many elder care homes provide opportunities to find your inner Picasso. These can range from structured art classes to quilting or knitting clubs.
Gardening
Gardening can also offer a variety of activities for those who are interested in spending time outdoors. While seniors' participation in other activities tends to decrease with age due to mobility restrictions, their interest in gardening tends to increase. Many elder care homes have installed raised gardening beds that don't require too much bending and are easily accessible for people with walkers and wheelchairs. Gardening can reduce anxiety and stress in seniors, as well as improve cognition through the mental stimulation of discovering new plants or planning gardening projects. Gardening can also help control sleep patterns by regulating circadian rhythms, and even enhance self-esteem by giving participants a feeling of accomplishment and a strong connection to nature. Gardening can also encourage older adults to eat more fruit and vegetables and increase physical activity and exercise, which are all great for long-term health.
Gardening is one physical activity that you can do for a lifetime. One study in Australia found that lifelong gardeners keep going by changing the way they garden over time. They garden in more frequent, but shorter sessions; plan more carefully how they manage certain tasks; downsize to smaller gardening areas; use modified tools; and get help from others for things they can't do themselves. The exercise and sense of achievement is worth the effort to make gardening accessible to elders.
Activities for Men
Older men are at greater risk than women for experiencing social isolation and loneliness. This can be exacerbated in many elder care homes where activities are often geared toward women, who often make up the majority of residents. Thankfully, activity directors are begining to schedule activities that cater to men, such as Wii bowling, blackjack and Texas Hold 'Em parties, intergenerational events, as well as watching baseball games and car shows together.
Singing
Listening to music can have many benefits on your overall wellbeing. Making music is even better. Young@Heart is a notorious chorus of older adults that began in 1982 at an elderly housing project in Massachusetts. Since their founding, this group have done hundreds of performances around the world. The current performers range in age from 73 to 89. A documentary about the group is available to watch on Netflix, and it is both fun and uplifting.
Many elder care homes provide opportunities for enjoying and making music. For more information on the benefits of singing and local opportunities to get involved in San Francisco, see this post on Seniorly.
Dance
Dancing can take many forms and it can be done in a variety of settings without much equipment. You can dance with a partner in a ballroom-like setting with other couples. You can also turn on your favorite music and dance just to be silly with some friends.
Some studies have found that dancing has many benefits for older adults, including increasing aerobic power, building muscle strength and flexibility, and maintaining balance and agility.
In fact, a man called John Lowe started ballet at age 79 and is now performing in a lead role at the age of 91. You can also watch this Seniorly video dance off for inspiration on how to connect dance programs with the younger generations. Many elder care homes offer opportunities for you to strut your stuff and share the activity with friends.
Puzzles and games
Current research on the role of puzzles and games in improving cognition tends to focus on computer games. Increasingly, elder care homes have a Wii console, which can offer a variety of games that challenge thinking and dexterity and can even provide gentle physical exercise for elders. A few years ago, I was trounced in Wii bowling by an older woman in a wheelchair who credited the game with helping to maintain her upper body strength. She also took great pride in being the home's champion bowler!
Scrabble, chess, bridge and other games require focus and provide social interaction for many older adults. They can also be adjusted to the skills of the players. Maybe residents in a dementia care unit can no longer play bridge, but they can still connect with friends and family over a raucous game of Go Fish.
Visit Seniorly.com for other ideas about senior activities or use the filters available in the Seniorly search engine to find communities with programs and amenities that match your interests.
Finally, if you have an idea for an activity that isn't currently offered, make your wishes known. Activity directors at senior communities are always looking for more ideas and want to offer activities that residents will be excited to participate in.