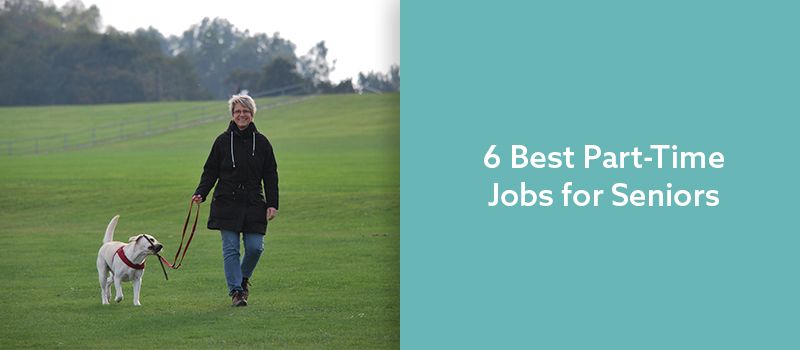 Working a part-time job as a senior citizen is an excellent way to maintain your independence as you age. It's also an opportunity for valuable social interaction, and can give you a wonderful sense of accomplishment in retirement. It can be challenging for seniors or older workers, especially veterans with disabilities to find rewarding, flexible work options, but there are more choices for part-time jobs for seniors than you might realize.
Finding a flexible job in retirement can also provide a much needed sense of community and socialization. Many jobs for seniors include interacting with others, which can help boost morale and keep you healthy in retirement.
Having a part-time job in retirement can also help supplement your monthly income and extend your fixed-income budget. A little extra money every month can also help with expenses as living options can be more expensive as a senior citizen with medical and assisted living expenses.
According to the Bureau of Labor Statistics (BLS), about 40 percent of people over the age of 55 in the United States are working or actively looking for work (even part-time employment).
This percentage of working seniors is expected to increase faster for individuals ages over 65 years as baby boomers start to age. Finding work as an elder has never been more accessible, especially with technology and service options.
Best Part-Time Jobs for Seniors
When you're looking for part-time work for seniors, ensuring your new job is accessible and flexible is key. Many retirees choose to work from home or attend community colleges to gain new skills for their job search and open up new job opportunities. However, that's not compulsory in finding a good job in retirement.
Here are a few ideas for great, flexible part-time jobs for elderly, disabled seniors or retired individuals:
1. Become a dog walker
Through dog walking, you can easily connect to people in your area who need their pups taken care of during the day. You choose the jobs you take, so you can easily work around your own schedule and abilities — if you can't walk for extended periods, aim to work with smaller dogs who need less exercise, for example. It's a great way to get out and meet people, even if it's just chatting with a neighbor at the dog park. Exercise, fresh air, and an adorable companion — it's tough to find a downside!
2. Freelance your work
On Guru or Upwork, you can find freelance work for just about any field. Freelance work is a great, work-from-home option that anyone can do, regardless of age. Writing, marketing, design, finance, and translation are just a few areas you can search for work.
Create a profile describing the kind of work you're looking for so employers can easily find you in a search. Or find jobs yourself by browsing through different categories and providing completed work samples to interested employers. You'll collaborate to come up with deadlines and only take on as much work as you choose to. Go with the field you specialize in, or try something entirely new.
3. Be a stylist
If fashion is your passion, help women find their own personal style through Stitch Fix. As a stylist, you'll help your client try new trends and styles all from your own home computer. It's personally rewarding because you'll be boosting confidence by helping others create a look that's all their own and makes them feel beautiful. It's professionally rewarding because on top of the styling experience, you'll have ongoing education and training through the website to stay current. And on top of everything else, you choose your hours and make it work for your schedule.
4. Babysit
Become a babysitter with UrbanSitter and help build your caregiving and social skills while spending time with awesome kids. Take jobs that fit around your schedule and even set your own rates. Tailor your jobs to your needs: for example, if you have a bad back and can't lift young children, look for opportunities with older kids.
5. Tutor
Becoming a tutor with Student Tutor job for seniors and gives you the opportunity to sharpen all kinds of skills. You'll learn to communicate more clearly and effectively, how to troubleshoot problems with another person, and the importance of taking different approaches with different audiences. You can meet at a public library that's sure to be accessible to your needs, or opt to do sessions online only.
Not totally sure what job you want?
Try different things! Use Virtual Vocations to find temp work in law, health care, accounting, human resources, marketing, consulting, and much more. Look for different opportunities in different areas: try technical writing one week and switch it up with data entry the next week. The best part is, all the jobs are remote and can be performed right from home. No commuting across town, and no worrying about having the necessary accommodations in your new workplace.
Additionally, the Senior Community Service Employment Program (SCSEP) provides part-time community service training positions to persons age 55 and older. These can be great, government-sponsored jobs for individuals as they near retirement age.
Finding part-time work is great; but finding flexible part-time work you enjoy that will truly fulfill you is even better! Keep these tips in mind when looking for accessible part-time work as you get older to help with your community, socialization and additional income.
About the Author
Rebecca Moore is the co-founder of Able Rise, a site providing resources for those with disabilities as well as their loved ones. She is passionate about accessibility and the creation of better accommodations for those living with disabilities.
For additional information on senior living, give us a call at (855) 866-4515 or email help@seniorly.com for your free senior care support.