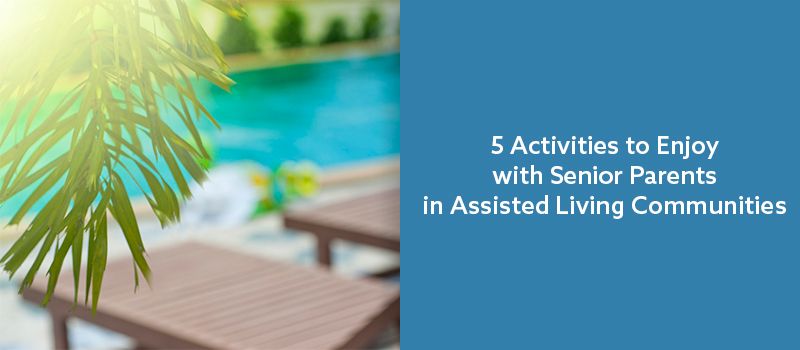 Time and distance used to be valid reasons for family separation, but there are plenty of easy ways to close those gaps in the modern era. For those with parents living in senior living communities, finding activities for multiple generations to enjoy might seem daunting. Fortunately it doesn't have to be. Whether you live nearby or across the country, you can easily include your parents and grandparents in the family's summer fun. Get creative and consider one (or more) of these five activities that are perfect for everyone in the family!
1 - Take a Dip Together
Nothing beats the summer heat quite like a dip in the pool. The vast majority of modern senior living communities now have indoor and/or outdoor pools on the property. This is a great chance for the family to bring summer vacation to those parents and grandparents living in senior living communities. The grandkids can swim with grandma and grandpa, or you could even participate in an aquatic fitness class. This is a great chance to bond, be outside, and get in some physical activity suitable for all members of the family.
2 - Attend a Sporting Event
If you live nearby your parents' senior living center and have grandkids involved in summer sports, pick them up and bring them to the big game. If you don't have kids or your children don't play sports, try attending a local professional or minor-league game instead. The venue isn't as important as the time to take in some leisure activities together that remind everyone involved of bygone eras. If possible, try to take your parent or grandparent to see their favorite team. The emotional memories such an outing creates are worth their weight in gold.
3 - Enjoy a Picnic
Summer is the best time of year to be outside. So, rather than taking your senior family member out to a pricey restaurant, picnic in the park! The grandkids can run around on the playground while everyone enjoys the fresh air. If your senior family member faces greater mobility challenges, you can bring the picnic to them and enjoy a meal outside together in the greenspaces and patios that most senior living communities offer to residents and their family members.
4 - Join in Community Celebrations
Summer and spring are the seasons of festivals. From the moment summer kicks off on Memorial Day weekend to the closing moments in September on Labor Day weekend, you'll find plenty of community celebrations to enjoy. Take in a Memorial Day parade with your elder parents or grandparents. Go to the local parks and enjoy the fireworks display honoring America's birthday on the 4th of July. Close out the summer in style with a bountiful BBQ on Labor Day weekend. There's a festival, state fair, or parade happening weekly during the summer. Find the one that suits your family and take the whole crew to spend some quality time together. Again, families with seniors that have mobility issues can simply join in the celebrations that senior living communities boast so no member of the family has to miss out on the fun.
5 - Schedule a Multigenerational Photo Shoot
This one isn't an outing and it doesn't involve planning around a community celebration calendar. While it might lack the flair and excitement of the other activities mentioned above, you are likely to find this family outing the most rewarding of all. Gather up the enitre family and schedule some time to take professional photos.
The chance to take multigenerational photos doesn't come around often, but when it does it can provide memories that last a lifetime. For your senior parents or grandparents, the photo shoot itself is a chance to spend time with family and the resulting photos will give them happy decorations for their residence. For the rest of the family, especially grandchildren, it gives them bonding time with senior family members and keepsakes to cherish for life.
There's no right or wrong way to include senior family members in your summer activities. These five choices offer a starting point to help you make the most of your upcoming summer vacation time.
If you're looking for more summer fun, read our list of 10 senior-friendly national parks.