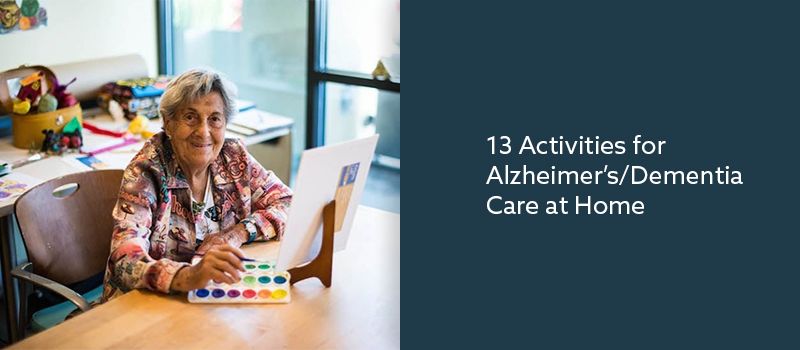 Find activities for people with Alzheimer's or dementia, including social, physical, creative and learning activities that can be done at home.
One of the most important things to consider when choosing activities for Alzheimer's or dementia patients living at home is to match the activities to the person's abilities. This includes matching activities to the physical and cognitive level for people with Alzheimer's or dementia. This matching is necessary to keep the person from becoming overwhelmed or frustrated if the activity is too difficult or virtually impossible.
How to determine the level of activity?
Dementia and Alzheimer's Disease are not the same thing. Therefore, knowing what stage of Alzheimer's is important when deciding on the appropriate activities for an Alzheimer's patient. There are three different stages of Alzheimer's disease that each include their own cognitive or physical limitations, including:
Early stage
Middle stage
Severe or late stage
Understanding the stages of the disease and whether or not your loved one is also a dementia patient can help match the right level and type of activity. For instance, it will be counter-productive to ask a person with the most limitations to attempt to do things that are far beyond their ability. Matching activities for Alzheimer's patients should be evaluated upon stage of disease, physical and cognitive functions, as well as disposition and outlook of the patient.
So, before considering which activities to try, it's very helpful to know what the individual's capabilities and limitations are. Another important consideration is that a person with some cognitive or physical limitations still deserves - and should be treated with - dignity, respect, love, compassion, care, and sensitivity.
What about individuals with dementia?
Dementia is not a disease; it is a decline in cognitive function related to aging. Dementia can be caused by a number of conditions, the most common being Alzheimer's disease. Alzheimer's affects some aspects of brain function, like memory, verbal processing and motor skills/coordination. A person experiencing cognitive decline might have many of these functions intact but suffer from a diminishment of them.
"The biggest thing to remember with a person with dementia is that they're a person with dementia," explained Cameron Camp, Director and Senior Research Scientist, Menorah Park Center for Senior Living.
Depending on the severity of dementia, some brain functions might be compromised severely, or even absent. A person with Alzheimer's disease still has a normal need for social inclusion and interaction, meaning, fulfillment, warmth, affection, health and serenity, love, and happiness.
Activities for such an individual then might overlap with those of fully healthy people. In other words, people with dementia should be respected and treated with the same esteem as any other person. They should not be related to in a patronizing or condescending manner, as if they are of less value than anyone else.
Matching activities to physical and cognitive health
Activities for people with Alzheimer's should be aligned with their likes and dislikes, interest level, passion, and so forth, just as they are for fully healthy people. The activities themselves may be different for legitimate practical reasons, including memory care, but the effect of those activities can be the same - enriching lives and improving quality of life. You can imagine that having Alzheimer's can also cause depression and/or anxiety, which can cause severe states of suffering.
Benefits of activities for people with Alzheimer's
Activities will not reverse Alzheimer's, but they can alleviate depression and anxiety. People with Alzheimer's may be socially isolated, and social isolation can also contribute to depression.
In fact, research has shown that chronic social isolation is associated with premature death. Other research has shown that loneliness could reduce the functioning of the immune system. For these reasons, it can be very beneficial for a person living at home with Alzheimer's to have regular social interaction, like having visitors that are known or very familiar come over on a regular basis.
It is also helpful if visitors are informed about how to relate to someone living with Alzheimer's or other forms of dementia, so they are not insensitive and can be more understanding. Senior living can be difficult enough, even without social isolation or a lack of compassion.
Activities to try
After understanding the level and importance of activity to Alzheimer's or dementia, here are four recommended types of activities that have shown positive results and impact for individuals:
Social activities
Creative activities
Physical activities
Learning activities
Based on these activity groups, here's a list of 13 activities for people with Alzheimer's or dementia with more information on each activity below:
Play card or board games
Coffee or tea with a friend
Massage therapy
Listening to music or singing
Looking at photos
Dancing
Cooking and baking
Painting and artwork
Crossword puzzles or Sudoku
Meditation
Yoga
Gardening
Mental training and mind games
Social Activities
Play games like cards, or board games with the person. Ask them what their favorite game is and play that with them.
They can have coffee or tea with a friend, family member or caregiver and try to have a conversation, or just listen.
If a person is very socially isolated she or he might appreciate physical touch, so ask if there is interest in a massage and have a body worker come for an in-home massage.
Listen to music, sing, play an instrument, dance solo or with a partner. One study found that singing might improve cognitive abilities in people with compromised brain function.
Look at photo albums and talk about personal experiences and share stories.
Dancing and learning to do new steps might reduce some symptoms according to a research study.
Creative Activities
Cooking and baking are creative and fun because you get to work with your hands and take on the challenge of making something enjoyable to eat. They can also be enjoyable shared social experiences. Some people also like to make foods that are traditional for their families or part of their culture.
Make any form of art like a painting, a drawing, sculpture with clay, collage, photos, or writing.
Crossword puzzles or Sudoku.
Physical Activities
Meditation can help call the mind and relax the body. A very simple form of meditation is to simply sit quietly with the eyes closed and put one's attention on the inhalations and the exhalations of the breath for about ten minutes. Some research studies have found meditation can be good for reducing stress.
Yoga is a gentle form of exercise and stretching that can be done in the home and is low-impact. There are also poses that can be done sitting in a chair or lying down for a person that has any issue with balance and needs to be supported. There is also a form of the exercise called restorative yoga that is good for relaxing and going to sleep. There are DVDs with yoga poses and free videos can be found on YouTube.
Gardening or taking care of indoor plants. Gardening has been shown to have some benefits like reducing stress, improving attention span, and it may even relieve symptoms of depression.
Learning Activities
Seniors that took mental training exercises experienced a boost in their cognitive function. It is not true that people suffering from dementia or Alzheimer's should not bother trying to learn new things. Learning can be a source of happiness and fulfillment, so presenting opportunities for learning and growth to improve memory can help maintain a zest for life.
Ongoing care for Alzheimer's patients
If your family decides it's time for the next step in providing dementia care for an aging loved one, memory care facilities or assisted living communities near you may be a great option to provide a safe, comfortable aging environment. Memory care communities are designed to support those with cognitive impairment by providing trained caregivers and offering activities that support sensory stimulation toot improve overall health and well-being.
Older adults or those with late stage Alzheimer's may find the best care in a specialized memory care facility. Try to find the right match in care for the level of cognitive and physical ability for your loved one when matching a senior living facility.
If you're looking for senior living options or want more information about memory care communities, enter your zip code below to learn more about options in your area.