Finding ways to pay for assisted living can be difficult, especially those who struggle with the often high cost. I discussed this in my recent article about the trends of senior living, even providing one example of how families are figuring out a viable solution. Hint, Mexico. However, for those who do not want low-cost options outside the country, or even outside their neighborhood, I have decided to reveal an amazing solution to your problem of having to pay for assisted living. It is a solution that was used by my friend Kyle who found himself having to care for his aging father on a limited budget. In short, Kyle's secret was to combine the use of an adult day program in his neighborhood and hiring live-in caregivers. Don't let that last part scare you. Read on.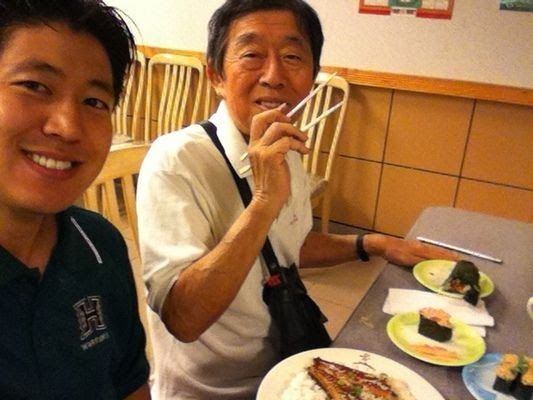 The story begins in 2011. I went onto LinkedIn and searched "senior living + real estate development + san francisco." Back then, only a couple of profiles appeared. One was mine and one was a local residential apartment developer, Kyle Oura. Kyle and I met at a bar, and as so many business relationships forged in the digital age, it all felt like a very awkward online dating kind of process. But we hit it off immediately, much to my wife's amusement, and several years later we've worked on dozens of successful deals and projects together. One project really stands out from the rest. It was how Kyle put together a plan to take care of his dad. Kyle figured out how to use an adult day program and live-in care to "buy time" before paying the higher costs of assisted living and memory care. The fact is, in the aging care process sometimes buying some extra time before having to make that final move into assisted living can make all the financial and emotional difference in the world. So what did Kyle do?
Kyle's assisted living problem
Kyle's dad had suffered a stroke and immediately needed care and assistance. But Kyle, in his early 30's, was struggling to find success as a real estate developer in San Francisco Bay Area while his father was enjoying retirement in Honolulu. Stroke victims are not all the same, but Kyle's dad was definitely on the more urgent and comprehensive side of care needs. To afford anything, leaving his career in San Francisco was not an option. His father understood this and was willing to relocate. But the cost of assisted living in San Francisco is as great if not greater than the insanely high residential rents. The problem was clear...how was he going to afford caring for his father in the Bay area?
Kyle's discovery
In his exhaustive research phase, Kyle discovered that the local adult day program in Emeryville, an East Bay community close to San Francisco, was less expensive than having a 1-on-1 caregiver for those 8 hours during the day. For those new to the term, Adult Day Care Centers are designed to provide care and companionship for older adults who need assistance or supervision during the day. Programs offer relief to family members and caregivers, allowing them to go to work, handle personal business, or just relax while knowing their relative is well cared for and safe. Kyle also learned from an informal interviewing of aging care professionals that there are countless well-trained caregivers looking for full time room and board. The solution wasn't clear at first, but then it hit him!
Kyle's secret method for paying for assisted living
So here it is. Kyle's secret solution to pay for assisted living for his dad. Aging care professionals have known about this secret for years, but now the cat is out of the bag, so to speak. Kyle created a cost-effective hybrid solution of live-in caregivers who were provided room and board, and housed in a rental apartment that was near the local adult day program. So his father would go to the adult day center during business hours, and the caregivers would be available once his father returned home. To help you consider the possibility of using this same secret way to pay for assisted living, let me walk you through the actual steps and financials.
To begin, there are four major components to this assisted living "hack" that you have to figure out:
Housing
Caregiving
Day program
Daily logistics
As I progress through this process, be sure to review below the actual financials he was kind enough to share with me.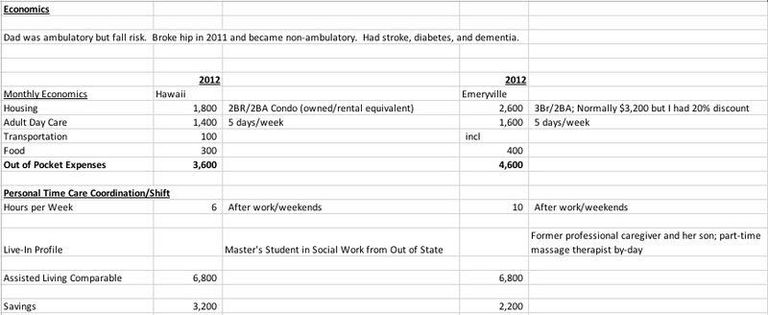 Housing
Looking for housing options may prove to be the easiest part. It didn't hurt that Kyle was already working in that field. You are going to want to find an age-friendly house or unit. This can mean simply no stairs, or it can include a whole variety of designed products in the bathroom, kitchen, and around the house. Ideally you have at least 2 bedrooms and 2 bathrooms for privacy. You may choose to have the location be closer to the care receiver's day program or healthcare offices rather than your home. This can make logistics a lot easier.
Caregiving
Finding a live-in caregiver used to mean posting a Craigslist ad and trying to vet and hire on your own. Now there are services like Carelinx and Kindly Care that not only help you vet and hire caregivers, but also give you software to manage them. Even with the help of these apps it can still be very challenging finding the right fit and managing them. Kyle interviewed 20 potential live-in caregivers.
He found a man living out of state and a woman who lost her home in a fire. They both had so much "heart," as Kyle explained, that he knew they would be the right fit for his father. It wasn't perfect. Like the time his father fell and broke his hip when the live-in's left him for a moment standing with his underwear at his ankles. It was a fluke accident, but it illustrates the reality of this kind of in-home care. So as you get ready to select a caregiver, take a moment to review this helpful resource. To access, click here.
Day program
Find an adult day program that fits the needs of your situation with your aging parent. Not all senior needs are the same, and therefore, not all day programs are the same. Big cities often have many options to choose from, while more suburban areas may have limited offerings. I recommend the most important thing to consider is the care and attention your loved one will receive at an adult day program. You want to make sure the program is adequately staffed and has a well thought out programmatic structure. The Institute on Aging's Social Day Program is a prime example of what you want to look for.
Daily needs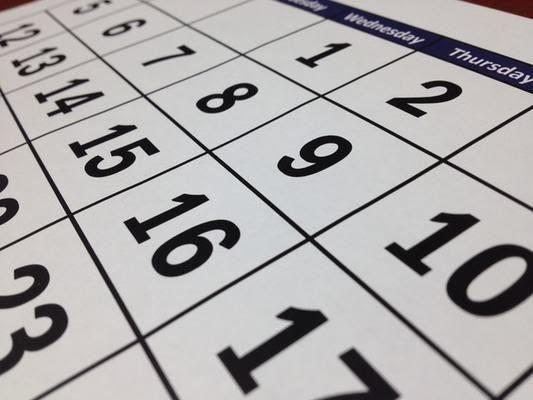 The last step in your plan has to do with the day-to-day management. The devil is in the details so give this step a lot of your attention. You want to plan out things like transportation. Who will drive your senior parent to and from the day program or medical appointments? The day program might have a solution. There is also the low-cost ride sharing companies in most major cities, like Lyft. Other daily activities that need to be part of your plan include meals, medication management, laundry, housekeeping, etc. Kyle found much of this was taken care of by the live-in caregiver. But this is your plan now, not Kyle's. What works for you and your family?
Luckily, in this technological age, many of the daily activities are available via the on-demand apps and websites in almost every corner of this country. Never has this phrase been more encouraging, "There's an app for that." And if you find there isn't an app for it, please write to me so I can possibly invest in a new business venture! Recently, Seniorly published examples of the most useful apps and websites in some major cities. Click here to see a list of San Francisco based companies providing services for senior citizens.
Final thoughts
Every state in the U.S. has different employment laws that relate to live-in caregivers. Please consult with your local employment laws available online. Also, you've probably figured out by now that this strategy requires a much more intensive hands-on approach. In Kyle's own words there is "lots of management, worry, late night phone calls, and sibling and marital stress." But he also added, "It was what we could afford, and it worked beautifully while we held out until it wasn't really possible to care for my father outside of assisted living."
Kyle acknowledges two things: first, it was seriously hard work. He started by asking, "How much does independent senior living cost?" and put in countless hours to figure it out. But his effort solved his problem of being unable to pay for assisted living at the time it was needed.
Second, his experience could have been improved using some of today's available technologies and on-demand services. For instance, GreatCall has an entire collection of communication and monitoring tools that can really help this strategy. Also, for a reasonable extra fee, Geriatric Care Managers (GCM) could have taken over a lot of the day-to-day management. You can learn more about the roles of GCMs here. In a future article, I'll cover both new technologies and the rise of GCMs.
An amazing twist of fate
There is one amazing twist to this story. Because of his experience, as outlined in this article, Kyle stopped working in residential real estate and became a partner in...wait for it...an assisted living community! Vista Living is a new and well-respected community with two properties in Arizona you can view here and here. Vista Living is committed to serving seniors with care that focuses on THEM. Who knew all of this would happen from our first meeting?
So there you have it. Kyle's story and his secret to paying for assisted living. This strategy of day programs and live-in care proved very effective to buy time before having to finally pay for assisted living. Kyle's is only one creative solution. There are so many others out there to make caring for an aging parent or loved one easier. The variability of people's needs can be challenging and costly, but a solution putting several services together can be very successful.
Do you have a secret solution to paying for assisted living? Please reach out to me so we can share the information with others. Only together can we work towards improving the aging care experience for everyone.