Columbia, South Carolina is not only the state's capital but is also a city rich in Antebellum architecture and historic districts. Here residents of Columbia luxury senior living communities will find ample opportunities to participate in the local culture, visit the area's beautiful nature preserves, and enjoy the best in southern charm. Luxury senior living communities in Columbia also provide residents with an extra touch that can't be found in your average senior living community. Activities and programming are scheduled with a greater level of detail and the residential units and common areas are meticulously designed for comfort and relaxation.
Ramona Britt is a local Seniorly recommended senior living expert of Columbia and its surrounding communities. Being a resident of Columbia since 1990, Ramona is well-acquainted with the city and understands that each Columbia luxury senior living facility has its own benefits to offer. Whether you're looking for independent living or memory care, Ramona will take the time to learn your personal needs in order to find the right luxury community for you and your personal budget. As you read this list of the best luxury senior living communities in Columbia, you'll find unique insights by Ramona on each to give you a better understanding of the area's properties and what they offer.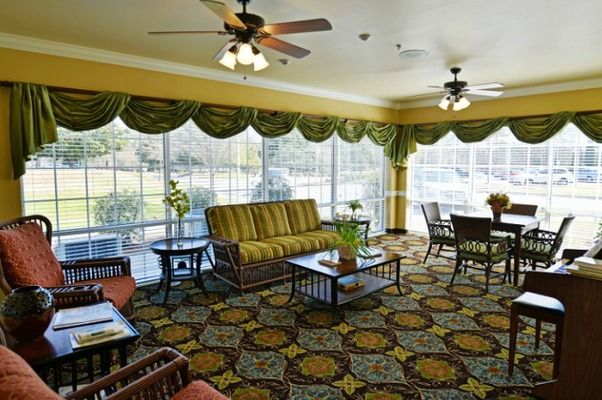 Assisted Living
Memory Care
"The Palmettos of Parklane is nothing short of elegant. With lovely, sophisticated decor and beautiful outdoor spaces, there is something here for everyone. The staff pays excellent attention to details and the care is fabulous. Chef prepared meals are served restaurant-style every day. In addition, there are scheduled outings and residents are encouraged to be as independent as possible. Things like happy hour and other special planned events encourage residents to become a part of this great community." – Ramona Britt
Come and celebrate life in Columbia's beautiful luxury senior living community. The Palmettos of Parklane has 45 years of experience in senior care and provides a rich array of programs meant to encourage a sense of community among all residents. Both assisted living and memory care options are available, with a unique program offered to those residents with Alzheimer's, dementia, and other forms of memory loss.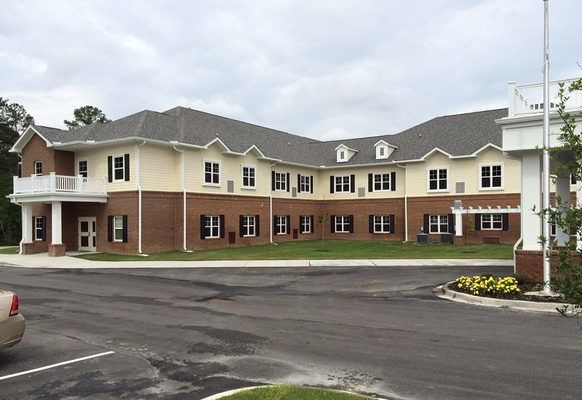 Independent Living
Assisted Living
Memory Care
"Here you'll find apartments that are both spacious and luxurious. With nice finishes, such as stainless steel appliances and granite counter tops, there is a floor plan to suit everyone. Wonderful outdoor spaces are an added bonus along with many other perks, such as a full service beauty salon, card room, and elegant dining room. Scheduled transportation is also available for outings, medical appointments and nearby shopping. Your every need has been thought of and planned for at this lovely community." – Ramona Britt
Residents of this Columbia luxury senior living community enjoy a wide variety of services and onsite amenities, as well as a robust continuum of care. The Harmony Collection is a carefully manicured campus with two buildings that offer 198 residential units. These units include independent living, assisted living, and memory care apartments so you can age in place within a community that boasts excellent service. In addition to its proximity to local attractions such as the State Capitol Building and Soda City Market, residents enjoy amenities such as a small theater, full-service salon, and an elegant dining room onsite. To top it all off, each of the 198 apartments in this community are spacious and luxurious.
"This community offers senior living in a luxurious environment. The apartments have lovely finishes and are perfect for the senior that seeks comfort and carefree living. The community has multiple dining options for meals and full kitchens in every room. Amenities here include an indoor heated pool, fitness center, club room, bar, elegant dining room and bistro. Concierge service is also available to schedule transportation." – Ramona Britt
Designed for active seniors who want to spend more time enjoying life and less time worrying about home maintenance tasks, this luxury senior living community in Columbia offers the best in independent living. Residents are provided ample opportunity to experience fine dining experiences, participate in activities, and enrich their lives on a daily basis through lifestyle programs within the community. For those who want to go out and about, the city of Columbia is at their fingertips and Discovery Village will help them take advantage. Onsite concierge services include scheduled transportation throughout the local area.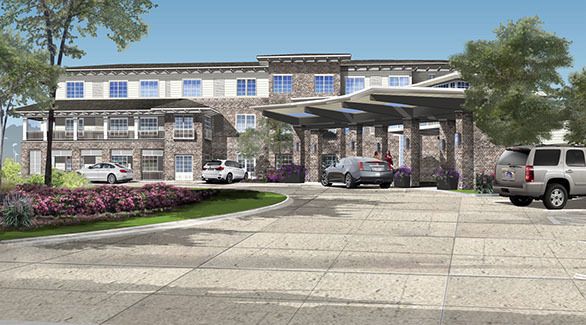 Assisted Living
Memory Care
"This community is sure to have something for everyone. It has a combination of both warmth and elegance. Wonderful chef prepared meals will be served in a restaurant-style setting. Large apartments with modern conveniences are what you will find here. A beautifully designed pool and outdoor spaces will ensure relaxing in comfort. A specially planned activity calendar is available to all residents along with transportation services." – Ramona Britt
Spa retreats, wine tastings, and fine dining are just some of the amenities and services you'll enjoy as a resident of this luxury senior living community in Columbia. Watercrest offers both assisted living and memory care units for residents, with specialized programming available to those seniors dealing with the effects of Alzheimer's, dementia, and other forms of memory loss. Being a new upscale senior living community, there's lots to explore at this facility. Ramona would be happy to provide you with greater details on the residential units and modern amenities offered.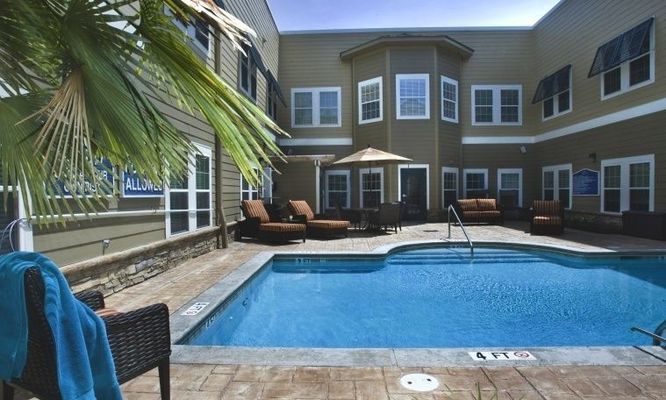 Independent Living
Assisted Living
Memory Care
Respite Care
"The Village at Southlake is located just outside of Columbia in Lexington, SC. Here you will find a true sense of community. There are multiple floor plans to choose from that include a full kitchen, patios and garden apartments. Planned events, such as a daily happy hour, offer many opportunities for seniors to be apart of this lovely community and allow them to choose their desired level of engagement. In fact, this is a community where I often see seniors gathering to form their own book clubs, card games and other group events! It's also worth noting that there are wonderful, chef prepared meals available. And finally, their outdoor pool, fitness room, and beauty salon are just a few of the many amenities offered." – Ramona Britt
In this Lexington luxury senior living community, residents have a variety of options to choose from when it comes to senior care. Each and every resident has access to the many onsite amenities and services offered, and you'll even find that this facility boasts a unique sense of community. Ramona is also available to provide you with more information about this community, from its multiple floorplans to its various amenities.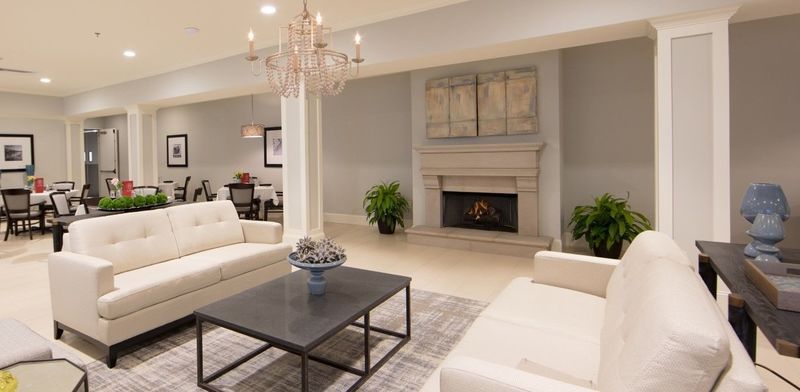 Independent Living
Assisted Living
Memory Care
"The Blake at Woodcreek Farms is beautiful inside and out. With spacious rooms, a wonderful, caring staff and nice amenities, it is senior living at it's finest. Delicious chef created meals are served daily and they have the best alternative menu around with a multitude of options. There are a lot of activities and outings, a movie room, a lovely courtyard, onsite physical therapy and a wonderful beauty salon where you can be pampered on a regular basis. Concierge services are also available to help with scheduling transportation and other necessities. " – Ramona Britt
The Blake at Woodcreek Farms is an Elgin luxury senior living community, located twenty minutes from Columbia's city center, that offers assisted living and memory care with six different floorplans. Assisted living units include a choice between two separate one-bedroom suite layouts and a two-bedroom deluxe suite, while memory care units include two studio options and a one-bedroom suite choice. The staff at The Blake focus on service and hospitality and offer customizable programs built for each individual resident. Ramona can provide you with further details on the variety of amenities in this luxury senior community, including the robust concierge services.