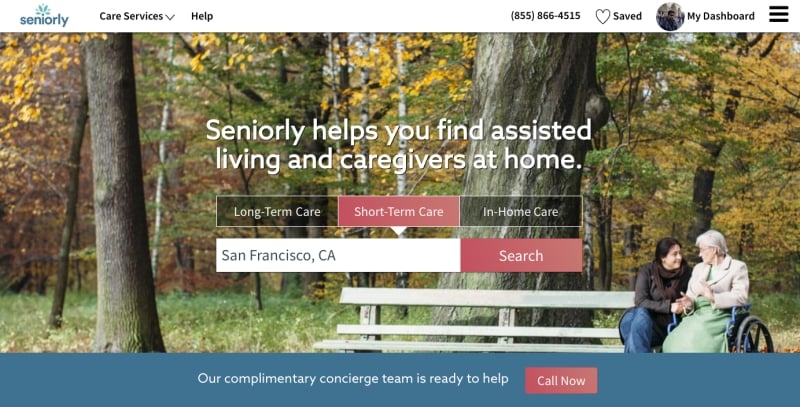 SENIOR HOUSING STARTUP LAUNCHES FIRST-OF-ITS-KIND TOOL FOR SHORT-TERM STAYS AT INDEPENDENT AND ASSISTED LIVING COMMUNITIES
Seniorly, founded by a third generation senior housing operator has created a tool that makes finding, booking and paying for short-term stays at senior communities as easy as booking a vacation rental on Airbnb
San Francisco, CA -- Today, Seniorly.com, an online platform that empowers families to make better decisions when searching for senior housing options and caregivers, has announced the launch of a new tool that makes finding and booking short-term care communities for seniors as simple and easy as booking a place to stay on Airbnb or HotelTonight. Short-term (also known as "respite") stays are a helpful option for family caregivers who need a short break from their caregiving duties or while the person they're caring for needs a higher level of care as they recover from an illness or surgery. Seniorly's new platform also lets users book short-term stays in advance to prepare for post-surgical stays or upcoming vacations for family caregivers.
A recent poll of 200 family caregivers found that 64 percent have been providing care for more than two years, and 59 percent of those caregivers hadn't taken a vacation or a meaningful break in over a year.
"Seniorly's new short-term care platform makes the entire search, booking and payment process as easy as finding a hotel room," said Seniorly founder and CEO Arthur Bretschneider. "What many families don't realize is that many senior communities provide short-term care services to give family caregivers a much-needed break and ensure their loved one is receiving quality care in a safe, welcoming environment."
The new tool empowers families complete control of the senior housing search from start to finish. Seniorly gives families the opportunity to take virtual video tours of communities, check out reviews, compare costs, book in-person tours and even pay for the short-term stay all through the easy-to-use site. The new platform also allows these senior communities to update their room availability and pricing, quickly, easily and in real-time.
"Family caregivers often fail to care for themselves," said Elizabeth Edgerly, Chief Program Officer of Alzheimer's Association in Northern California and Northern Nevada Chapter. "They postpone vacations and even surgery, and can end up with significant health issues of their own. Caregiving is rewarding but it's also demanding — it's normal to need a break. Many of the family caregivers I meet feel reluctant to use respite services because they feel guilty putting themselves first. What they may not realize is that respite services can benefit the person with dementia as well as the caregiver."
The company also collects and aggregates ratings and reviews from across the web to provide families with more transparency and accountability as they search for short-term care options for their loved ones. All communities on Seniorly's site offering short-term care are visited, interviewed and deemed trustworthy by Seniorly's Senior Care Experts.
"We all need and deserve easy and intuitive technology solutions to support us in moments of need," said Daniele Farnedi, former CTO of Trulia. "Finding and deciding on short term care can be overwhelming. Seniorly has created an easy and intuitive application and first ever fully integrated solution to help users make informed decisions when it comes to the care of their loved ones."
Short-term stays at assisted or independent living communities are a great way for older adults who are transitioning from the hospital to in-home care. Short-term stays give those recovering from a surgery or illness the opportunity to focus on their recovery since housekeeping, meal preparation, and entertainment are all taken care of.
Assisted living communities also provide 24-hour support from highly trained staff and transportation to and from medical appointments. Many communities even offer their residents physical rehabilitation classes.
To learn more about the new short-term care tool visit: www.seniorly.com
About Seniorly
Seniorly.com makes finding, booking and paying for long-term and short-term assisted living care at senior communities as simple and easy as booking a place to stay on Airbnb! Users can also use Seniorly to find in-home caregivers for loved ones. The company's new short-term stay platform gives families control of the short-term senior housing search from start-to-finish and peace of mind that their loved one will be safe, well cared for and happy. Seniorly launched in January 2015, and its current coverage area includes the San Francisco Bay Area, Sacramento and Los Angeles. The Seniorly team includes gerontologists, engineers and senior care professionals trained to help families as they make important senior housing decisions.