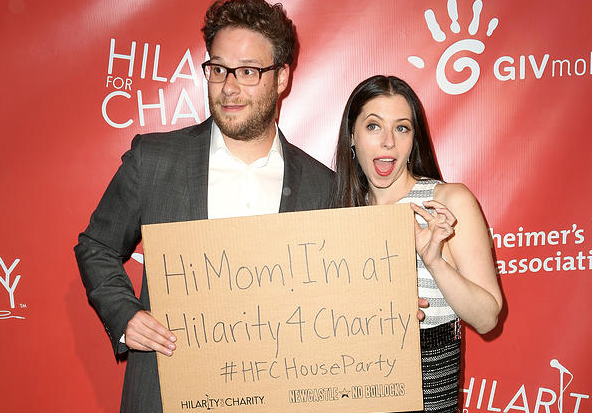 This past month, one of my childhood dreams came true. I was invited to attend my first Hollywood premiere.
The entire evening was one I'll never forget. There were some of the usual Hollywood star sightings (I nearly crashed into Jonah Hill leaving the restroom). But the highlight for me was the after party, when I got to meet one of my all-time favorite writers and actors, Seth Rogen.
When I saw him surrounded by Hollywood types accepting well-deserved accolades on the film, I found that I had something different to congratulate him on.
Fifteen years ago I lost my mother to Alzheimer's disease. Watching her decline and slowly lose pieces of herself was excruciating for my entire family. The emotional toll on my father was devastating. Unfortunately, this is an experience that Mr. Rogen and I share. His beloved mother-in-law, Adele, was diagnosed with the disease at just 55 years old. In 2014, Seth and his wife Lauren founded Hilarity For Charity (HFC), a movement to inspire change and raise awareness of Alzheimer's disease among the millennial generation.
While entertaining young people by putting on musical and comedy performances, HFC is doing something even more important than raising money for this disease. It is helping to educate and engage a younger generation of Americans in the fight against Alzheimer's.
Why Target Millennials?
The first of the baby boomer generation is now turning 65. By 2030, that age group is expected to double. That means by 2050, there will most likely be 16 million Americans living with Alzheimer's disease. That staggering figure could bankrupt our country and put a major strain on our health care system.
And who will be caring for their loved ones during this epidemic and paying for it? Today's millennial generation. They have the most at stake for the future, and they need to be educated about the search for a cure and care improvements that can be made to support those with the disease.
Alzheimer's Facts
The facts on Alzheimer's disease are staggering:
​Today more than 5 million Americans are living with Alzheimer's disease.

Another American develops Alzheimer's every 67 seconds.

By 2050, as many as 16 million Americans will have Alzheimer's and an American will develop the disease every 33 seconds.

Alzheimer's disease is the 6th leading cause of death in the United States..
Alzheimer's is the only cause of death among the top 10 in America without a way to prevent, cure, or even slow its progression.​
​A fresh Approach to Fighting Alzheimer's
Like Rogen himself, HFC takes a creative approach to fighting this disease. For 5 years, the successful Los Angeles charity has entertained young professionals through evenings of music and comedy with performances by stars like Paul Rudd, Bruno Mars and the Backstreet Boys.
And in 2014, HFC expanded by launching HFC U, a nationwide program that encourages colleges around the country to throw their own HFC event. So far, HFC has raised more than 4.2 million dollars and HFC U's 200 schools have raised over $200,000.
Rogen speaks at congressional hearing on Alzheimer's
In 2014, appearing before a Congressional panel, Rogen urged the government to prioritize funding for Alzheimer's. "I dream of the day when my charity is no longer necessary and I can go back to being the lazy, self-involved manchild I was meant to be," he told the panel. His comedic mind never misses a beat.
He also blasted the politicians when only two of the 16 invited senators showed up for and stayed for the entire speech. Unfortunately, this is just another indication that the government isn't doing all it can to support the fight for a cure, and why we need high profile people like Rogen to help lead the way.
Standing before Seth Rogen, I took the opportunity to thank him for all he's doing to raise money, awareness and engagement in the fight against Alzheimer's disease. Educating the next generation is essential to ensuring that we are prepared to provide quality health care, supportive living situations, and hopefully a cure for this traumatizing disease. I'm honored that I was able to thank him in person.
If your friend or loved one has been diagnosed with Alzheimer's disease, there are supportive services that can help. Search for memory care options in your area that will provide a safe, comforting environment where your loved one can age in place, supported by trained Alzheimer's caregivers. You may also consider in-home care options so your loved one can remain at home as their care needs progress. If you have additional questions about care options and would like to speak to an expert gerontologist, feel free to call Seniorly at (415) 570-4370 or email us at ask@seniorly.com. We're here to help!