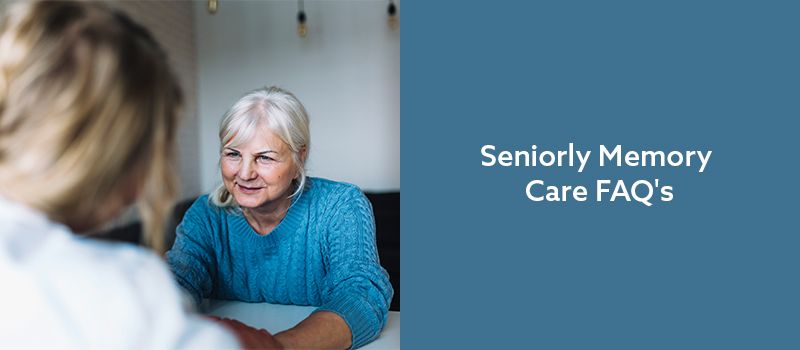 Making the decision to place your loved one in a memory care community is a huge step, as is finding the right community. We're sure you have a lot of questions, and we'll answer many of the most frequently asked ones here.
General Memory Care Questions
Daily Life in a Memory Care Community
Features of a Memory Care Community
Medical Care and Staff
Safety and Security
Communication With Families
The Costs of Memory Care
Touring a Memory Care Community
General Memory Care Questions
What's the difference between memory care, assisted living, and a nursing home?
Assisted living communities are an ideal choice for seniors who are still active and fairly self-sufficient, but who need a little help with daily personal tasks, housekeeping, and medication management. Memory care is similar to assisted living, but it provides 24/7 care from staff members specially trained to handle the special needs of those with Alzheimer's disease and dementia. Nursing homes, also known as skilled nursing communities, care for seniors who have significant medical needs and need round-the-clock care.
If your'e ready to start searching for memory care, feel free to enter your city or zip code in the search box below.
What is the memory care community's philosophy of care?
This may seem like a somewhat academic question, but actually the philosophy of care will undergird every choice made in the community. Ask for a copy of the community's mission statement and philosophy of care, and read them carefully to see whether they agree with your own wishes and attitudes toward the care you want your loved one to receive.
What are the community's discharge policies?
Sometimes a memory care community seeks to discharge a resident because they can no longer provide the specialized care the individual requires. This is a legal discharge. A communit can also discharge a resident if their remaining in the community poses a risk to their own health and safety or that of the other residents. Find out what type of medical care the memory care community of your choice can't provide, and how they handle the transition to a skilled nursing community if needed.
However, in most cases, a memory care community isn't allowed to discharge a resident for switching manner of payment. For example, if you find your loved one needs to switch to Medicaid to continue payment, the community can't discharge them (as long as they accept Medicaid). While no one likes to think about worst-case scenarios, make sure you understand the circumstances under which your loved one might no longer be able to stay in the memory care community of your choice, and seek out the recourse you have available.
Daily Life in a Memory Care Community
What activities, including therapeutic activities, are offered?
Certain activities help those with Alzheimer's and dementia stay connected to the world around them and help them maintain physical health. Among these are music, exercise, and contact with pets.
Take a look at the activities schedule at any memory care community you consider to see what's offered. Does one day look just like the next, or is there variety in the weekly schedule of activities? What steps is the community taking to meet the physical, spiritual, and emotional needs of the residents? Are birthdays and holidays celebrated? Are religious services held on a regular basis? Make sure to ask about reminiscence therapy, which uses photos and music to help people with dementia remember their past.
What is the dining program like?
Most memory care communities provide three meals a day for their residents, but you may want to probe a bit to find out the details. Are there options if your loved one doesn't like the food being served? Will the kitchen take your loved one's preferences into consideration when planning the menu? This can be vital, since some people with Alzheimer's disease and dementia go through stages where they refuse to eat.
Ask whether it's possible for residents to get something to eat outside of regular dining hours, and whether they can enjoy meals in the privacy of their rooms. If you visit the communities you're considering, try to show up at mealtime, and ask for a sample of the day's menu to see how delicious and nutritious the food is.
What about visitors and pets?
Memory care communities always welcome family and friends as visitors. Check to see if there are visiting hours, if you need to call ahead, or if you're welcome to just drop in.
Some memory care communities have community pets, since interacting with cats and dogs provides positive stimulation for those with dementia. It's unlikely that your memory care community will allow your loved one to bring their own pet; if they do, expect to pay an additional charge for pet care. You might also want to check to see if your loved one's dog can come visit when you do.
Is transportation provided?
Memory care residents often have far less need for transportation away from the community than assisted living residents do. Many communities will provide transportation to medical appointments, but ask to make sure if it's available and if there's an extra charge.
Features of a Memory Care Community
How easy is it for residents to get around the community?
Some residents in memory care communities need walkers, wheelchairs, or other mobility aids to stay mobile. All areas of the community should be fully wheelchair accessible, of course.
But in addition, take a look at the design of the community. Is it easy for someone whose memory and cognition are impaired to find their way around? Are rooms marked clearly, so they can always find their way back to their own private space? Is there a safe space in which they can walk around without getting lost? For example, many memory care communities offer circular walks indoors or outside that always lead the stroller back to where they started.
What are the outdoor areas like?
Access to the outdoors and to sunlight can help residents with Alzheimer's and dementia maintain normal circadian rhythms. A beautiful view or a pretty garden is soothing, and features like bird feeders or fountains provide positive stimulation for the brain.
Check out the outside areas to see if there are pleasant and safe walkways and restful spots to sit and enjoy being outside — and don't forget to check out the view from your loved one's window. In addition, find out if the residents have unlimited access to the outdoor areas and what any restrictions are.
Medical Care and Staff
Are the staff certified and well-trained? Do they come across as caring?
All medical staff in a memory care community should be fully certified, and you should be able to see and confirm their certifications. Ask what specialized training staff have received in providing memory care.
When you visit a memory care community, watch the interactions between staff and residents. Does it look as if the staff are going the extra mile to keep residents safe and happy? When you ask questions, do the staff seem knowledgeable in their answers?
How long have staff members been with the memory care community?
People with Alzheimer's disease and dementia are often very sensitive to change. Routine can help them feel comfortable and safe. Because of this, a high turnover rate among staff at a memory care community can be very upsetting to the residents. You'll also feel more secure when you recognize staff members and know that they understand your loved one's needs.
What medical staff are on duty 24/7?
Larger memory care communities are likely to have a nurse on staff around the clock. If this level of staffing isn't available in the communities you're considering, what are the hours of the on-duty nurses? What medical staff are on-call when no one is on duty? What staff are on duty through the night, when many Alzheimer's and dementia residents are active?
What is the staff-to-resident ratio?
Most memory care communities have one staff member for every five or six residents. Make sure staffing numbers are also high at night, because many people with Alzheimer's or dementia have difficulties sleeping through the night and demand extra care during those hours.
Does each resident have an individualized care plan?
Every person with Alzheimer's or dementia follows a unique journey and responds to different types of treatment. Make sure that the memory care communities you're considering take these individual variations into consideration. Rather than following a set routine for every resident, they should be preparing an individualized care plan for your loved one that takes into consideration other medical conditions they have, the stage of their dementia symptoms, and their personal preferences.
What specialized medical care is available?
In both assisted living and memory care communities, residents often need special care once in a while, maybe from a podiatrist, a physical therapist, or a speech therapist. Make sure your loved one can get the specialized services they need, and find out whether any of these medical caregivers come regularly to the memory care community.
Also find out what arrangements exist when your loved one needs to visit the dentist, ophthalmologist, or other medical practitioner away from the community.
Safety and Security
How does the memory care community protect residents who wander?
Because people with Alzheimer's disease and dementia can be prone to wander with no memory of how to find their way back home, memory care communities should go the extra mile to provide security.
Look for safety and security measures like locked doors that are alarmed when opened and electronic and human security. Many memory care communities also offer circular walkways, indoors and outside, so residents can wander without becoming lost or unsafe.
How do the staff handle residents who become aggressive?
Aggression is a symptom that occurs in almost half of all people with Alzheimer's. Memory care staff should be specially trained to deal with these episodes by calming the residents with regular routines, gentle responses, and music.
The treatment of dementia-related aggression is controversial. Talk to your loved one's physician about the options, and make sure that any memory care community you're considering is willing to abide by your wishes.
Communication With Families
How regularly does the community communicate with families?
Some memory care communities check in with families every week or month, while others wait for family members to call and ask for updates. You may have a strong preference. Ask the memory care community who your contact person will be and how communication is usually handled, and make sure you're comfortable with the answer.
In addition, you should be informed of and participate in any changes to your loved one's individualized care plan. Ask how often this plan is discussed and how you can participate.
How does the community handle communication in case of emergencies?
Each memory care community has its own policies for notifying families in the event of medical emergencies. They may let you know if your loved one is showing signs of aggression — or they may wait until psychiatric care is called in. Some communities will let you know if your loved one is put on oxygen or IVs for medical reasons. Go over the policies to make sure you understand them and are comfortable with them. If you want to be notified in case of specific medical actions, ask if that's something you can arrange.
The Costs of Memory Care
What are the fees at the community, and how are they structured?
Some memory care communities charge one flat fee that covers all services. Other communities separate the fees for medical care and housing. The differences may matter to your loved one's health insurance or long-term care policy. In addition, there may be tax consequences. Seek professional advice from a health care advocate or your tax accountant if these issues might matter.
Also find out how the community handles billing, especially if you will be responsible for all or part of the payments. Do they bill insurance, or will you have to pay upfront and seek reimbursement? Are there one-time fees to pay before your loved one can take up residence in the community? How can you structure payment arrangements if needed?
Are additional fees charged for certain medical services?
Medication management and basic monitoring of your loved one's health should be included in the cost at your memory care community. However, some memory care and assisted living communities charge extra for certain medical care, for example, diabetes care. If your loved one has a colostomy bag, or if they're confined to a wheelchair, there may be additional charges.
Don't hesitate to ask about various types of therapy — physical therapy, occupational therapy, and so on — to see what services are included, what might be covered by insurance, and what incur extra charges. Immunizations, care for injuries, and any emergency care are also likely to be add-ons financially.
What other additional charges can you expect?
Many memory care and assisted living communities charge for cable or satellite TV service and for internet access. If meals are available outside the standard mealtimes and three-meal-a-day structure, you can probably expect to pay extra for those meals. Transportation, including visits to the ER, may also incur an additional charge. All these fluctuate from one community to another, so be sure to ask about your specific concerns.
You may also have to pay an upfront fee to reserve your loved one's spot in the community. Check with each memory care community you visit for details, since they can vary widely.
What financial aid is available?
Many memory care communities accept Medicare, Medicaid, and Veterans Administration benefits to help pay both medical and non-medical costs. Other resources may be available in some states for low-income residents. Long-term care insurance, if your loved one has it, will also cover many costs.
Talk to the business manager at the memory care communities to see what other options they have available, including payment plans to spread out the costs.
Touring a Memory Care Community
How should you prepare for a visit to a memory care community?
Prepare all your questions ahead of time so you don't forget to get all the information you need when visiting a memory care community. Take a good look around as you visit to see how much the community matches the impression you've gotten from the website or various brochures. Keep your eyes open for any hygiene or safety issues.
If your loved one can handle it, you may want to bring them along on the visit to see how they react emotionally to each place. Their ability to make the trip will of course depend on their medical condition and the stage of dementia they're at, so you may have to be their eyes and ears on your own.
How should you arrange for a visit?
Once you've confirmed that a memory care community you're interested in has available accommodations for your loved one, either schedule a visit on the community's website or call to make an appointment.
Try to visit at mealtime, so you can check out the food and see the community in action. You may want to try to schedule a second visit late at night, if possible, to be aware of the care provided overnight.
What should you expect to see on your visit?
When you visit a memory care community, you should first meet either the head of the community, the head of marketing, or the head of medical care. They'll start by explaining what the community offers in terms of medical care, amenities, activities and communities. They'll also go over costs with you, so have all your questions regarding finances ready.
Next, you'll be given a tour of the entire community. Depending on the size of the community, this could take as little as 30 minutes, or it could take over an hour. Make sure you see every corner of the place, and keep your eyes open for cleanliness and friendliness everywhere you go. Try to stay for a meal so you can determine whether the food's up to your standards and whether it'll make your loved one happy.
Spend some time talking to staff at every level. Ask the medical staff and nurses your medical questions, but chat with the housekeepers and caregivers to get a sense of their helpfulness and kindness toward residents. If possible, try to talk to some of the residents to see how they feel about their community.
If you're ready to start searching for memory care, feel free to enter your city or zip code in the search box below.
Review our other articles on Memory Care:
For more resources on memory care and senior living, click here.