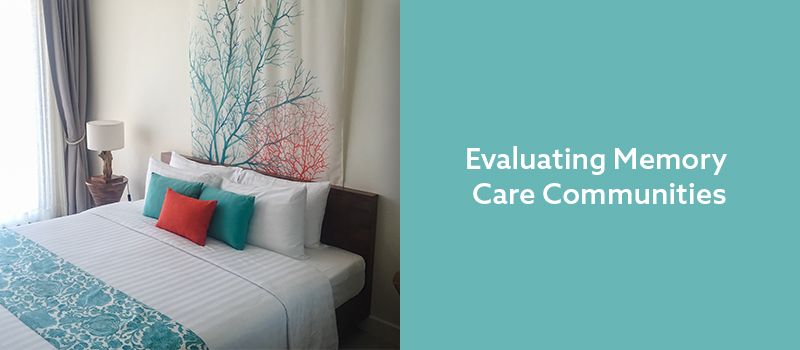 If you have a loved one who has been diagnosed with Alzheimer's disease or dementia, you may be considering finding them a spot in a memory care community. There are thousands of memory care communities across the United States, and you're likely to have a choice of several within your own hometown.
Finding the right community for your loved one takes a bit of research and legwork. Of course, you want to make the right choice. While your loved one's physician or your friends may have suggestions, don't rush your decision.
You can start with online research, but you'll quickly realize that you need to see the various memory care communities available to make a wise decision. After all, you wouldn't buy a home based on a few photos online.
Take a look at this guidance for evaluating memory care communities, along with a comprehensive list of questions to ask as you do your research and make your assessments.
Planning Your Tour of Memory Care Communities
Start with your online research to narrow down your options and make a short list of communities to visit. You should plan on visiting at least three memory care communities, and you may want to take a look at up to half a dozen.
Once you visit your first memory care community, you'll see immediately how important it is to go in person. Your visits will give you a peek into what it would be like for your loved one to live in the community. Because seniors with dementia often don't respond well to changes and transitions, you really want to make this big move only once. Visiting memory care communities and asking detailed questions can minimize the possibility that you might have to move your loved one to a new place later.
Should you bring your loved one on the tour of the memory care community? That probably depends on the stage of the dementia and their fear of transition. If you sense that touring multiple memory care communities would be confusing or frightening to them, you may want to conduct your in-person research on your own.
Start your memory care search by finding all of the communities near you. Enter your city or zip code in the search box below.
When Should You Visit?
The vibe of a memory care community can vary greatly depending on when you visit. During the morning, residents are more likely to be active and engaged in social activities, and you may want to check those out. Afternoons tend to be quieter. You may also want to visit at mealtime to see what kind of food is being served and what kind of care the residents are receiving. Try to schedule your appointment during hours when key medical staff and nutritionists are on duty so you can ask your questions.
Since many seniors with dementia have disturbed waking and sleeping hours, you may want to ask for a follow-up visit during the evening hours, so you can see how incidents of wakefulness are handled.
What to Look for on Your Tour
Each memory care community is unique, and you'll get a feeling for the personality of each place as you visit. Keep your eyes open to seek how happy the residents look. Chat with the staff to see if they answer your questions readily or feel as if they have something to hide.
Of course, you want to make sure your loved one's new home is kept spotlessly clean, so look in nooks and crannies to make sure proper hygiene is being maintained. Check bathrooms in particular (the guest bathroom is a good place to start).
You should also try to chat with some of the residents. While many people in more advanced stages of dementia may have limited ability to communicate, some will be happy to talk with you — and they're likely to be very honest about how they feel about their living environment.
Questions to Ask at Memory Care Communities
As you tour prospective memory care communities, feel free to pepper your tour guides with questions. You may want to print off a list of questions or carry a list on your phone so you don't forget something important. Here are some valuable questions to get you started.
What Medical Staff Are Available?
Are nurses on duty 24/7? If not, what medical staff are on duty during nighttime hours and weekends? Does the community have visiting physicians? How often do they visit? What other types of medical staff are regularly involved with the community (nurse practitioners, podiatrists, physical therapists, etc.)? How are the medical staff trained? Do they receive ongoing training? Do they receive specific training on dealing with residents with Alzheimer's disease and dementia?
What Happens if a Resident Becomes Physically Aggressive?
Sometimes Alzheimer's and dementia residents who have always been gentle and calm become unexpectedly aggressive, hostile, or disruptive. When you ask this question, think about it from both sides of the issue. If it's your loved one who becomes aggressive, what steps will the memory care community take to calm them down? Will psychotropic drugs be used? Will their freedom to move about the community be restricted? And think about the issue from the other point of view as well: If other residents become physically aggressive, what steps are taken to protect your loved one?
What Specialized Care Is Offered?
Some memory care communities offer therapy and treatment for specific types of memory loss, such as vascular dementia. They may offer treatment or accommodations for people with other disabling diseases or conditions, such as Parkinson's disease or blindness. If your loved one requires any such specialized care, make sure you ask specific questions about it.
How Are Mealtimes Handled?
Food is a great source of enjoyment and comfort for just about everyone, so of course it makes a difference for those in a memory care community. Take a look at menus to see if your loved one will be happy with the food served. Can residents eat whenever and wherever they want, or must they come together in a dining hall at specified times? How frequently is the menu changed? Are there options at each meal, or does everyone eat the same thing? What accommodations are made for special diets (kosher, gluten-free, vegetarian, etc.)? What accommodations are made if a resident refuses to eat? What if a resident wants to eat outside standard mealtimes?
Can Residents Personalize Their Own Accommodations?
Familiarity makes a big difference in the happiness of dementia residents, so find out what lengths you can go to in making your loved one feel comfortable. Can they bring in their own furniture? Hang pictures on the walls? Use their own linens? Are they allowed to bring in a pet? If so, what restrictions are there on the size of the pet (and is there an extra charge)?
What Amenities Are Provided in the Accommodations?
Do residents have private bathrooms, or do they have to share bathrooms with other residents? Are there TVs in every room, and is cable or satellite service provided? Is there an emergency response system provided in each room?
How Can Residents Use the Common Spaces in the Community?
If your loved one enjoys gardening, can they have a corner of the outside area set aside to indulge their hobby? Can residents entertain family at the community?
Can Residents Leave the Community?
Will you be allowed to take your loved one out for the afternoon if you choose? What's involved in arranging for such a visit? Is transportation available for medical appointments? Does anyone from the community accompany residents on these appointments? Are residents ever taken out of the community for other reasons, such as a slow walk around the neighborhood?
Are Individualized Care Plans Created for Each Resident?
The answer to this question should be an unambiguous "Yes." If the memory care staff don't give you an unequivocal answer, maybe it's time to move on to look at other communities. Once you hear the "Yes," don't drop the subject. Ask who puts together this plan. Are physicians involved? Nutritionists? Therapists? Ask what's included in the plan.
How Does the Memory Care Community Communicate With the Family?
Will the memory care community provide you with regular reports (oral or written) on your loved one? Will you have a single contact person who keeps you apprised on your loved one? Will the community contact you in case of emergency? What types of emergencies?
What's the Community's Philosophy of Care?
This may sound a bit abstract, but each memory care community's philosophy of care underlies every decision made affecting your loved one. If the philosophy of care stresses kindness and encouragement, you'll see it reflected in the attitudes and actions of the staff. If the philosophy of care is focused on schedules and checklists, you'll see a different set of behaviors from staff. Take a look at the written philosophy of care and ask questions to see if the community is living up to its ideals.
You can find more questions to ask here. Keep adding to your list and keep track of the answers you receive on your tour.
Evaluating What You Saw on Your Tour
Once you're home from your tours of memory care communities, you have a lot to think about. Try to pick up some printed materials while you're there to help keep different communities straight in your mind. Pick up floor plans, brochures, and activity calendars to make it easy to remember what you saw at each community. In addition, taking photos as your tour can help you evaluate your experience.
Asking the right questions and considering the answers and your own observations carefully can help you make a wise decision when choosing a memory care community for your loved one.
Review our other articles on Memory Care:
For more resources on memory care and senior living, click here.