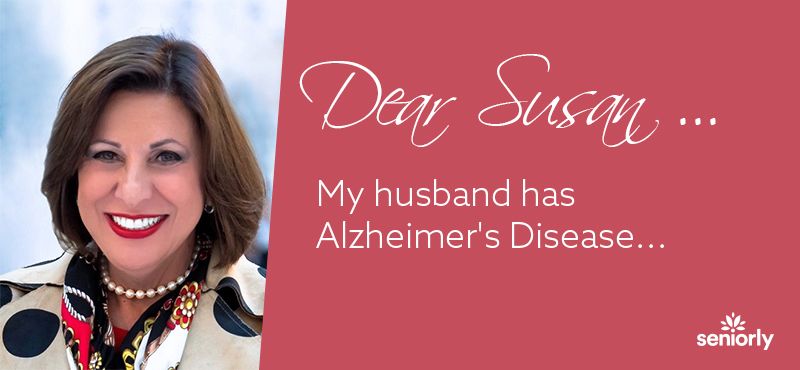 Alzheimer's Disease Advice for Caregivers
Dear Susan,

I have been caring for my husband who was diagnosed with Alzheimer's Disease for several years now. This has become increasingly difficult for me and I am exhausted! I feel guilty, but know that I need to make some changes. I am overwhelmed and don't know where to start. Please help!
Struggling and Sleepless in Seattle

Dear Struggling and Sleepless in Seattle,

I am so sorry you are faced with this challenge. There is a reason why Alzheimer's Disease is often referred to as the "Caregiver Disease." As the disease progresses the person with Alzheimer's becomes increasingly dependent on the caregiver. While all of your efforts are an admirable labor of love, caring for someone with Alzheimer's is a long, stressful journey that is isolating and has a high risk of burnout. It is so painful to lose your spouse to Alzheimer's or any form of dementia. However, it is most important that you protect your physical and mental health.
I would recommend that you start with the help of an Elder Law Attorney in your area who can look over your finances, divide your assets between you and your husband and help you determine which of the following best fits your needs:
Adult Day Programs
Home Care Options
Dedicated Memory Care in a Skilled Nursing Home
There is no "cookie cutter, one size fits all" solution. Some of the options available depend on your financial situations. However, I would highly recommend a Caregiver Support Group along with a Mental Health Counselor. You are clearly trying to do what is best for your husband, but you deserve to do what is best for YOU!

------

Dear Susan,

I just moved my wife of 53 years into a memory care neighborhood at an assisted living nearby. She has been the love of my life, but I just couldn't care for her at home any longer. I feel so guilty leaving her there while I get to go home to the once-happy-home we've shared. The staff has discouraged me from taking her home just yet. What are your thoughts?
Devoted Husband

Dear Devoted Husband,

When a person with Alzheimer's Disease or any dementia moves into an extended care facility they need time to acclimate to their new environment and feel "at home." The staff is well trained in Memory Care and often recommends that the new resident establish a healthy routine before they start to go out or go home for a visit. Doing so too soon can disrupt the transition process and make things even more difficult for you and your wife.
One suggestion I always give, speak to the staff about joining your wife at some of the events and activities taking place at the Assisted Living Community. You and the staff are entering into a trusting relationship. They will become well-acquainted with your wife's needs and moods, and with you, as well. She will be safe and you and the staff will become partners in her care.
I understand your feelings because you're still able to enjoy certain things. In situations like this we often have harsh, unrealistic expectations of ourselves. Try to live in the moment and keep a sense of humor. If the memory care community does not have their own in-house caregiver support group, ask them to recommend a group in your area. In addition to paying attention to your own well-being, these support groups will give you the ability to befriend others going through similar struggles.
If you are looking for memory care near you for a loved one, enter your zip code in the box below.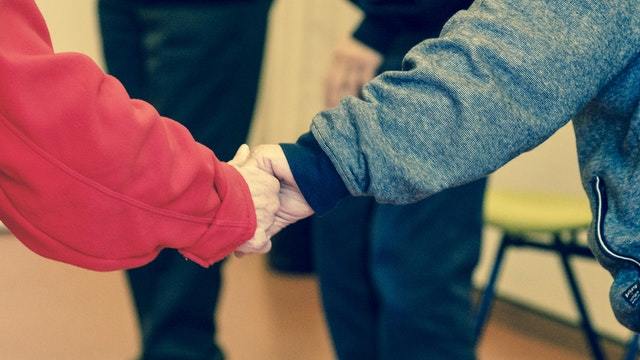 Dear Susan,

My husband has Alzheimer's and has been in an Assisted Living specializing in Memory Care for the last two years. He is well cared for, engaged in events and activities and treated with the dignity and respect he so deserves. Lately, he has become very interested in a female resident who also has Alzheimer's. They appear to be very "chummy" and quite happy in each other's company. It may not make any intellectual sense...but I'm jealous!
Heartbroken in Houston

Dear Heartbroken in Houston,

Please know, because Alzheimer's Disease causes brain cells to die you are married to a different person now. Your husband is not malicious or "cheating," but his memories are disappearing. Unfortunately, you will lose your dear husband twice; once to the disease and again when he dies. It is natural for you to be going through a grief process because the Alzheimer's Disease is gradually taking your spouse. That said, I understand your feelings.

I highly recommend that you find a physical activity you enjoy and attend a local Caregiver Support Group. It's so important that you take care of yourself, and nothing is better than talking with others traveling the same path. Finally, Seniorly continues to update their resource articles on Alzheimer's Disease and dementia. Click here to get more caregiver information.
------

My heartfelt thanks to all of you who have written. Please know that the Alzheimer's Association and your local Social Service Agencies are great resources. If you have any questions about caregiving for your loved one, don't hesitate to email me at susan@seniorly.com.
Susan